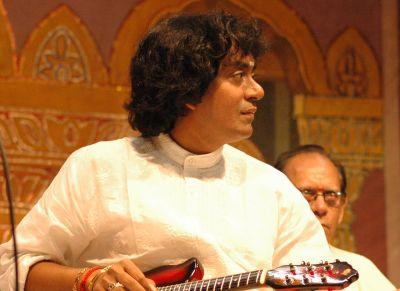 Renowned saxophonist Kadri Gopalnath remembers with fondness the 10-year-old boy wonder he first met at his guru's place.
The year was 1979, and I was still a student at my guru Gopalakrishna Iyer's place when I met this little boy wonder. The Margazhi Festival was being celebrated there also, and one day was celebrated in the name of Maha Guru, Chembai Vaidyanatha Bhagvathar.
My guru had invited great musicians from other places too. He said there was this young music prodigy somewhere in Andhra and he would bring him over to the gurukul. I was expecting a young man and was surprised to see a small little boy in shorts. He mesmerised all of us with his performance, and he became the talk of the town. In no time, he became the talk of the world too.
The next time I met him was at the Berlin Jazz Festival where he was with Vinayakram on the ghatam. His concert was just before mine. Everyone who saw the 13 year old perform, called him a boy wonder. "The little genius", like many called him, was the centre of attraction.
But whenever we met in the hotel, he was so respectful and humble. After that, we met many times and every time we met he greeted me with respect. He was a very cultured person, a genius, and success or talent never went to his head.
Unfortunately, we never worked together because the scale of the instruments we played was different. It would never match. Unless one of us changed the scales, it would not match. I would say I lost a great opportunity.
Age-wise he is like my sishya, but knowledge-wise he is like a guru.
Image: Mandolin U Srinivas. Photograph: Sreeram Selvaraj.
Kadri Gopalnath spoke to Shobha Warrier.
Also read:
'Everything about Mandolin Srinivas was premature'