Mulayam, Akhilesh shout at each other as the SP supremo defends brother Shivpal, Amar Singh. And outside the venue, supporters of Akhilesh and Shivpal come to blows.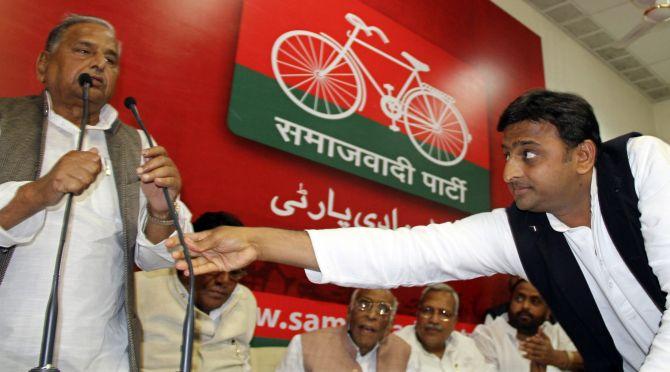 Acrimonious scenes were witnessed on Monday at the meeting of the Samajwadi Party where Mulayam Singh Yadav and his son Chief Mnister Akhilesh Yadav exchanged heated words, with the party supremo making clear his support for Amar Singh, describing him as his 'brother' and Shivpal Yadav as 'mass leader'.
However, Mulayam made it clear that Akhilesh Yadav will remain in the party.
The SP supremo said the party was facing a difficult situation and party members should not fight with each other but his words had little effect as chaos broke out at the venue and heated words were exchanged on the dais, leading to an abrupt end of the meeting.
The crisis in the ruling party seems to have worsened with Mulayam Singh Yadav and his son and Akhilesh shouting at each other at the meeting.
Fresh clashes broke out outside the venue with supporters of rival sides exchanging blows, and giving police a tough time.
At the meeting of party legislators, MPs and ministers, which ended abruptly, Mulayam said, "I can't tolerate anything against Amar and Shivpal. Amar saved me from going to jail."
From tears to shouting
My father is my guru, said Akhilesh in a choked voice while speaking at the meet. He offered to resign and said he will not form a new party.
Mulayam too broke down while addressing the meeting. Though he said he will not sack Akhilesh, he pulled him up, asking, 'What is your capability? Can you win elections?'
The SP supremo said he can't leave Shivpal or Amar Singh. 'I cannot forget the work done by Shivpal Yadav,' he said. About Amar Singh he said, 'Amar has helped me a lot. If Amar was not there I would have been in jail.'
He also defended the QED's merger with the SP, which the party had to cancel earlier as Akhilesh was not happy with it.
This angered Akhilesh, who then shouted at his father and the duo had a heated exchange.
Mulayam said mere donning of red cap (the colour of SP's cap) does not make one Samajwadi. Admonishing Akhilesh, the party supremo said he had been abusing Amar Singh.
"Amar has helped me a lot. If Amar was not there I would have been in jail, he is like my brother," Mulayam said, referring to the Rajya Sabha member.
"Some ministers are just sycophants," he added.
"I cannot forget the work done by Shivpal Yadav," he said while describing Shivpal as a mass leader. "We are facing difficult situation, we should remove our weakness and not fight with each other."
Mulayam said he had to struggle hard to give his Samajwadi Party a shape. He said he followed the ideals of Ram Manohar Lohia and fought for the poor and the farmers.
He said he was sad over the current developments in the party "though I kept myself aloof from what was happening".
Pulling up Akhilesh, Mulayam said, "What is your capability? Can you win elections?"
Though the feud in the Mulayam clan has escalated, the SP chief maintained the ties were cordial in the family.
He said some leaders indulged in sycophancy and 'I do not like such sycophants'.
Referring to those criticising the party, he said those who cannot tolerate criticism cannot become leaders. "If criticism is right, there is scope for improvement," he said, adding, "Those who cannot think big, cannot become leaders."
Mulayam said he had not become weak and asserted that Samajwadi Party would not break up.
"I have ensured that youths get due respect and importance. One should not think the youth are not with me," he said.
He said a government or a party does not succeed with the help of slogan-shouting and sycophancy. "I will drive out those shouting slogans," he warned.
He also defended the merger of the Quami Ekta Dal with the SP and described Ansari's family as 'respectable'.
Monday was the birthday of Akhilesh, who touched the feet of his father and uncle Shivpal to seek their blessings.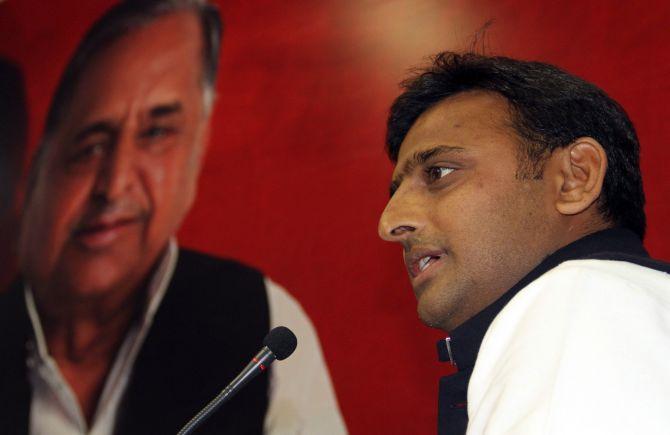 Earlier, while speaking at the meet, Akhilesh ruled out forming any new party and offered to step down if Mulayam so desired.
Akhilesh broke down while addressing the meeting. Amid protests from his supporters, Akhilesh said, "Let netaji (Mulayam) install a chief minister who he feels is honest," he said.
"Why should I form a new party?" he asked in an emotionally choked voice, saying that all these years he had toiled hard for the welfare of the people.
"Merey pita, merey guru hain (my father is my guru)," he said.
The chief minister said many people were trying to create divisions within his family through various machinations and that he had taught himself how to oppose any wrongdoing.
His uncle Shivpal was also present at the meeting.
Tension was palpable much before the meeting began with youth supporters of Akhilesh mounting pressure on the leadership in support of the chief minister.
The meeting assumed significance as it came a day after Akhilesh engaged in a face-off with his father by sacking each other's loyalists Ramgopal Yadav and Shivpal Yadav.
Akhilesh had sacked Shivpal, his uncle and party's state unit chief, along with three other 'pro-Amar Singh' ministers from his cabinet.
Mulayam, in a tit-for-tat action, expelled Ramgopal, his pro-CM cousin and SP's national general secretary, from the party for six years, plunging the party into its worst-ever crisis days ahead of its silver jubilee celebrations and at a time when assembly elections are barely few months away.
Amid talk that Akhilesh could give a miss to the silver jubilee celebrations of the party, the chief minister said, "Rath bhi chaley, sthapana diwas bhi maney (my rath yatra will go on and establishment day of the party will be celebrated)."
Akhilesh will embark on his 'rath yatra' on November 3, two days ahead of the silver jubilee event, which gave rise to speculation that he would skip the big show to express his displeasure over the recent developments in the party.
The chief minister said that he had connected with the masses with the help of Samajwadi Pension Yojana.
"People kept criticising me, but I went ahead keeping my promises to them," he said.
An angry Akhilesh targeted Rajya Sabha MP Amar Singh for the current developments saying that he (Amar) had hinted that some 'major changes' would take place in October.
At the same time, the chief minister said that if he had said something beyond his limit, he should be pardoned.
Meanwhile, supporters of rival SP factions clashed outside the party headquarters in Lucknow ahead of the crucial meeting called by Mulayam Singh Yadav, with camp followers of both Akhilesh and Shivpal exchangiong blows.
The police used force to disperse the slogan-shouting supporters who tried to break the cordon to march towards the party office.
While the meeting was underway, hundreds of Akhilesh's supporters were raising slogans in his favour outside.
The tussle in the party began last month when Mulayam replaced 43-year-old Akhilesh with his 61-year-old uncle Shivpal as the party's UP chief, and also expelled several youth leaders seen as close to Akhilesh.
Shivpal's sacking on Sunday came a day after a close aide of Akhilesh Yadav, MLC Udayveer Singh, was expelled from the Samajwadi Party. Udayveer was sacked a few days after he shot off a stinging letter to Mulayam accusing his second wife of hatching a conspiracy against the chief minister.
While asking Mulayam to clarify on his political successor, Udayveer also demanded that Akhilesh be made the party's national president so that there was no room for speculation or doubt.
Udayveer had earlier this week announced that he along with other Akhilesh loyalists would boycott the SP's silver jubilee celebrations in protest protest the expulsion of many of their colleagues by Mulayam and Shivpal.
Photographs: Reuters