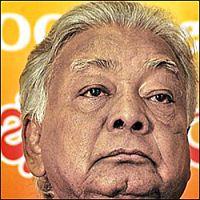 Adding to the already serious woes of the Congress party in Andhra Pradesh, veteran party leader G Venkat Swamy has directly attacked party president Sonia Gandhi and demanded her resignation.

Venkat Swamy, who served in the cabinets of Indira Gandhi, Rajiv Gandhi and PV Narasimha Rao and was also the member of Congress Working Committee, lashed out at Sonia, holding her responsible for the sliding fortunes of Congress part as well mounting corruption.

"There is no hope of revival of Congress fortune as long as Sonia is the president of the party. She should step down immediately," he told a press conference in Hyderabad on Tuesday.

Venkat Swamy, whose one son G Vivekanand is the member of Lok Sabha and other son G Vinod was a minister in the state cabinet till 2009 when he lost the assembly polls, has been sulking ever since the party overlooked his claim over post of President of India.

However, Venkat Swamy said that he was speaking out in the interest of the nation and the party. "Only people born in India should become president of Congress party," he said.

The octogenarian leader said that he did not care if the party takes action against

his sons.

"Nobody can dare take action against me. I have come up in the party from grass root level, not like Sonia Gandhi," he said.

Though Venkat Swamy was unhappy for quite some time, what apparently came as the latest provocation was the decision of the party leadership to take the support of film star Chiranjeevi's Praja Rajyam Party.

Venkat Swamy came out a day after Defence Minister and senior Congress leader AK Antony met Chiranjeevi in Hyderabad and invited him to Delhi to meet Sonia.

He rued that despite seeking an appointment with Sonia thrice, he was not given time.

"I used to meet Nehru and Indira whenever I sought an appointment," he said.

He warned that Congress will meet the fate of Bihar throughout the country and there was no hope of party returning to power in the states where it was ruling now.

Strong Reaction

Venkat Swamy's outburst has evoked a strong reaction from the other party leaders, including state Congress president D Srinivas, who charged the veteran with being ungrateful.

"Forgetting that whatever he is today is because of the Congress party, he is attacking the party president for his personal greed," Srinivas said.