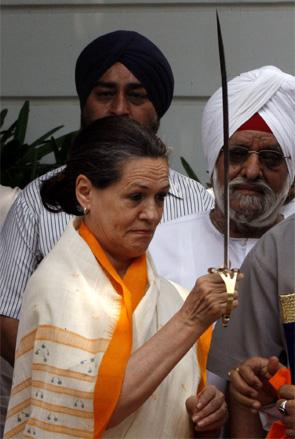 "Though Sonia Gandhi was not a member of the Congress in 1984, she later became president of the party and now she shields the perpetrators of the genocide of Sikhs in 1984," alleged attorney Gurpatwant Singh Pannun, legal adviser to Sikhs for Justice, which has filed a civil suit against Gandhi in the United States District Court for the Eastern District of New York.
The 27-page complaint filed on September 3 asks for class certification for all the victims and demands compensatory and punitive damages from Gandhi. It also demands a declaratory judgment holding that the defendant's conduct of protecting the perpetrators was in violation of the laws of the nations.
An earlier suit filed by the SFJ against the Congress party in the US District Court for the Southern District of New York is pending. Judge Robert W Sweet has asked the SFJ to file arguments on why the court should hear the case.
Pannun said the new suit is filed in Eastern District as it has jurisdiction over Long Island, New York, where the Indian National Overseas Congress has an address.
A summons to Gandhi, currently in the US for medical treatment, has been issued to an INOC address in Hicksville, Long Island; Congress office in New Delhi, and Gandhi's address in New Delhi (10 Janpath).
"A lawsuit has been filed against you," the summons says. "Within 21 days……you must serve on the plaintiff an answer to the attached complaint…If you fail to respond, judgment by default will be entered against you for the relief demanded in the complaint."
Pannun said they are trying to serve it on Gandhi, and private investigators are looking for the hospital where she is undergoing treatment.
The new suit is filed based on the Alien Tort Claims Act and Torture Victim Protection Act, which allow for prosecution of human rights violators in any part of the world once they enter the US or if they have connections to the US.
The suit says, "Congress conducts ongoing and significant business in the US particularly in the state and city of New York both directly and through its wholly owned subsidiary Indian National Overseas Congress, which is a corporation organized and existing pursuant to the laws of the State with its principal place of business located in Queens County, NY. Upon information and belief, Congress operates INOC as a department or agent and controls its activities."
Along with the SFJ, the lawsuit has been filed by Mohender Singh from California, who lost his father in the 1984 anti-Sikh riots in India and whose wife survived an alleged attack in Delhi recently, and Jasbir Singh, a prime witness against Congress party leader Jagdish Tytler's alleged role in leading rioting mobs during November 1984.
Demanding a jury trial, the complaint alleged, "from November 1 through November 4, 1984 approximately 30,000 Sikhs were intentionally tortured, raped and murdered by groups that were incited, organizsd, controlled and armed by Congress party."
Pannun said thousands of Sikhs were murdered and thousands of Sikh women raped in 1984.
"We have seen large-scale protests after one rape incident in Delhi. But there was nobody to protest the rape and murder of Sikhs," he said.
He claimed that Sikhs have lost faith in India's judicial system as it failed to punish the perpetrators of the atrocities. Sonia Gandhi, Pannun alleged, is protecting the people involved, like Sajjan Kumar, Tytler and Urban Development Minister Kamal Nath.
"We have no recourse to justice other than approaching the US courts. A crime will not go away because a few years have gone by," Pannun said.
He said the lawsuit seeks some form of justice for the victims, and will raise international awareness regarding the denial of justice.
The Congress party, Pannun alleged, committed the crime of genocide as defined in Article 2 of the United Nations Convention on the Prevention and Punishment of the Crime of Genocide. By shielding her party leaders and workers from prosecution, Pannun alleged, Gandhi became culpable.
The lawsuit also said, "August 15, 2013, a group of Congress (I) workers, the party headed and controlled by the defendant, attacked Tilak Vihar, New Delhi, a colony inhabited by the survivors, mostly widows of November 1984 Sikh genocide, with the intention to harm the witnesses and plaintiffs in order to protect and shield the members, office bearers, leaders and supporters of her party that have played an active role in November 1984 Sikh Genocide. Congress workers were actively supported by police and many Sikhs sustained injuries in the attack. This recent attack is in continuation of the genocidal attacks on the Sikh population of India starting from November 1984."
Meanwhile, the Indian National Overseas Congress called the case against Gandhi -- who is in the United States for medical treatment -- as a misuse of the US judicial system.
"It is unfortunate," said George Abraham, chairman, INOC, "that the Sikhs for Justice group is using the US court system at taxpayer's expense to harass visiting Indian dignitaries with these summons for their political ends. It is even quite a crass act to disturb when a leader of the world's largest democracy is on a visit to US to seek medical help. Whatever happened even to basic civility?"
INOC President Shudh Parkash Singh vowed 'to fight tooth and nail against this drama'.
The SFJ is "actually doing injustice to the Sikhs by bringing action against a lady who gave India its first Sikh prime minister," Singh said in a statement. He said he was "outraged by the news of the summons".
"Her name has never ever been associated with any case related with the riots. To file a lawsuit just to bring harassment to a completely innocent person who is undergoing treatment is against Sikh beliefs," he added.
Senior leaders of INOC issued a statement, saying, "We strongly condemn the actions of the Sikhs for Justice. The case is completely baseless. There is no logic and standing. It appears to be propaganda to create unrest in the community and to attain political mileage. We all must work toward preserving the high reputation that Sikhs command universally and not indulge in activities that affect our good name. Subjecting a woman to this kind of uncivil behaviour who has already lost her family members for the nation is deplorable."
The 1984 riots case is already under trial in the highest court in India and there is no need to file cases in foreign lands, the INOC) said.
Singh also announced the organisation's decision to take legal action against the SFJ.
"We are retaining a highly reputed American law firm to take appropriate legal action including quashing of the summons. They seem to be based on the wrongful and misleading information submitted to the honourable court. We live in a great country that has provided us religious freedom, equal opportunity, economic prosperity and a fair justice system. We should refrain from misusing the American judicial system and not create nuisance for our own people visiting from our motherland regardless of what party or religion they belong to."
Abraham said what happened in 1984 -- the massacre of Sikhs after then prime minister and Sonia's mother-in-law Indira Gandhi's assassination by her Sikh bodyguards -- "is deplorable indeed and Prime Minister Manmohan Singh, a Sikh himself, has apologised to the nation. Indian justice system is quite capable of handling these cases and overseas Indians who have justifiable grievances ought to take these matters before Indian courts instead of promoting vested and separatist elements who would like to harm India's interests."
New York-based attorney Ravi Batra said, "Anybody can sue anybody for anything if they pay the filing fee of the court. It remains for the court, if there is personal and subject matter jurisdiction, to then evaluate if the claims are incredulous or not."
Image: Sonia Gandhi holds a sword after being felicitated by a Sikh delegation ' Photograph: Vijay Mathur/Reuters