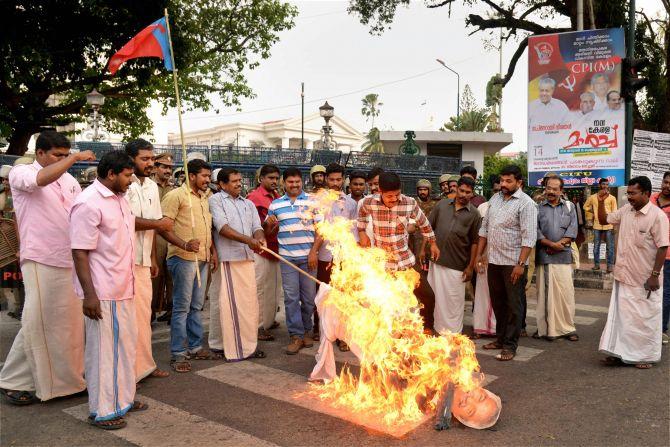 Students and youth activists on Friday staged protests in front of the Secretariat in Kerala's capital and in other parts of the state demanding resignation of Chief Minister Oommen Chandy, who is facing allegations in the solar scam, even as police used tear gas shells and water cannons to disperse the agitators.
Protests were witnessed in other parts of the state, including Kozhikode and Alappuzha.
The protest march by Democratic Youth Federation of India, the youth wing of Communist Party of India-Marxist, turned violent here following which police used tear gas shells and batons to chase away the agitators, who gathered in large numbers and pelted stones at the forces, police said.
The main road in front of the state Secretariat in the heart of Thiruvananthapuram virtually turned into a battlefield.
Many media personnel covering the incident also suffered injuries in the melee.
Shops remained shut in the area and vehicles parked on the road were damaged.
The protesters, who raised slogans demanding resignation of Chandy, engaged in a scuffle in front of the district collectorate at Kozhikode. Police used water cannons against the protesters there also.
Protests erupted across the state soon after prime accused Saritha, while deposing before the Justice Sivarajan Commission, alleged that she had paid bribes to the tune of Rs 1.9 crore to a close aide of the chief minister and Rs 40 lakh to Power Minister Arayadan Mohammed.
Both Chandy and Arayadan Mohammed have denied the allegations.
In a major embarrassment to the Congress-led United Democratic Front government, a vigilance court had on Thursday ordered registration of a first information report against Chandy and Arayadan Mohammed in the scam.
The scam pertains to cheating of several persons worth crores of rupees by Saritha and her co-accused Biju Radhakrishnan by offering solar panel solutions.
Meanwhile, Bharatiya Janata Party general secretary P Muralidhar Rao accused Congress of being synonymous with scandals and scams.
"Congress is synonymous with scandals and scams. Solar scam in Kerala is now added to the long list of Congress scams," he said.
He also attacked Congress vice president Rahul Gandhi for visiting every other place but not addressing his own party's problems in Kerala.
'Rahul Gandhi before touring elsewhere should visit Kerala. Before raising any other issue, shd address concerns of Kerala people on Solar Scam (sic),' he tweeted.
Image: All India Youth Federation members burn an effigy of Kerala Chief Minister Oommen Chandy, while demanding his resignation over the solar scam, at government secretariat in Thiruvananthapuram. Photograph: PTI Photo