The Sheena Bora murder mystery has seen more twists in a day than a television sitcom. As skeletons tumble out, a mighty media baron and his glamorous wife have become the centre of a media storm.
Here are the latest developments in the case.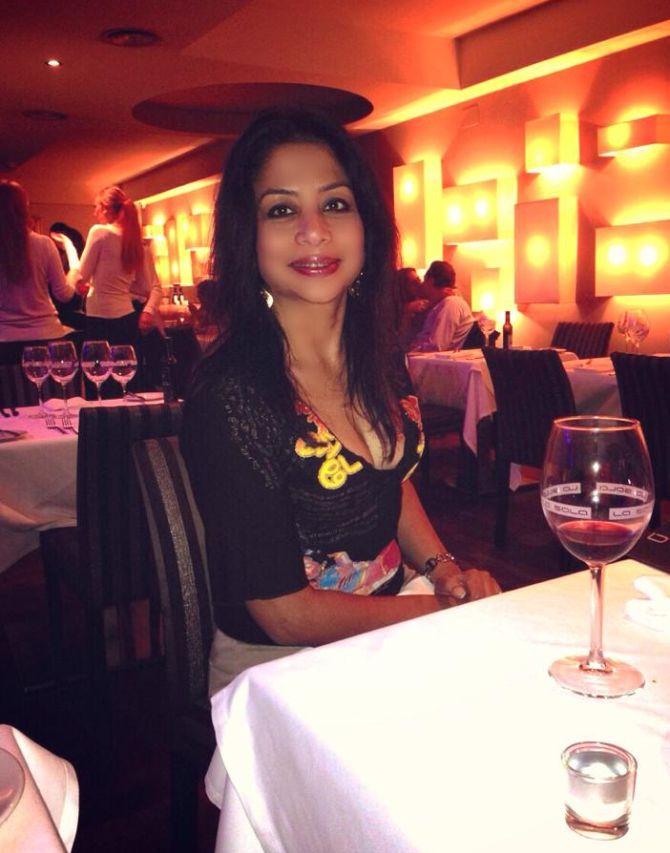 Indrani Mukerjea is alleged to have killed Sheena over a property dispute. Photograph: Facebook
>> The Mumbai police get a transit remand of Sanjeev Khanna till September 1. He will be brought to Mumbai from Kolkata. Khanna, who is Indrani Mukerjea's second husband was arrested for his alleged involvement in the murder of Sheena Bora.

Khanna, who was taken into custody by the Mumbai Police on Wednesday after about three hours of interrogation, was produced before the Alipore court in Kolkata on Thursday.
---
>> A Mumbai police official met accused Indrani Mukherjea's son Mikhail Bora in Guwahati on Thursday, who had claimed to have evidence relating to the sensational Sheena Bora murder case. The officer, who arrived at the house of Mikhail Bora on Thursday afternoon, told waiting journalists, "It is a sensitive case. Investigation is on".
To persistent questions, he said, "first let me investigate. Let me do my work. After discussions inside, I'll inform you all".
Coming out of the house after about an hour, the police official, however, declined to take questions from reporters. Mikhail's grandparents house is located in Sundarpur bye-lane one in Ganeshguri area of the city.
---
>> Upendra Kumar Bora, father of Indrani Mukherjea, disputed his daughter's claim that murdered Sheena Bora was his daughter. "She is not my daughter. I am her grandfather," said 80-year-old Bora, whose name was said to have been given by Indirani as father in the birth certificate of Sheena, who was born on February, 1989. He named Sheena's father as one Siddarth Das. Asked if there was another person in Shillong who is believed to be the biological father of the murdered girl, Upen Bora said "that needs to be explored".
---
>> On Thursday, in his second round of questioning, Rahul Mukerjea, the alleged love interest of the victim, was grilled about their relationship. He was also questioned as to why he hadn't filed a missing persons complaint about her.
He was taken to two apartments in Khar and Bandra where the two -- Sheena and Rahul had spent time together.
Rahul and Sheena were said to have been dating for over a year, which Mukerjea's wife and the main accused, Indrani, did not like.
---
>> According to a report by Headlines Today, Mumbai police commissioner Rakesh Maria who had personally grilled Indrani Mukerjea's driver Shyamvar Rai, is likely to jointly interrogate Indrani, Rai and Rahul.
---
>> In a case which is full of twists and turns, here's another one that will leave you scratching your head. It has emerged that Sheena Bora's resignation letter to the Mumbai Metro One Private Limited was dated May 3, 2012. What makes it so strange is that the resignation, comes 8 days after she was suspected to have been killed and her charred body was dumped in the forest around Pen district in Raigad.
The letter reportedly said that owing to personal problems, she had to quit and thanked her seniors for their support.
---
>> A neighbour of Sheena's brother Mikhail on Thursday claimed that he has kept his maternal grandparents in his house against their wishes. Mikhail Bora's neighbour Gautam told media persons in Guwahati, "I think they (grandparents) are being held against their wishes. Initially we noticed, whenever the grandfather comes out, immediately Mikhail rushes out and says 'Go inside, go inside."
Furthermore, a Kolkata police personnel speaking to CNN IBN said that Indrani and her ex-husband Sanjeev Khanna were planning to kill Mikhail next, as he has asked his mother about Sheena's whereabouts on numerous occasions.
Khanna, who is now in police custody over Sheena's murder says they paid Mikhail Rs 40,000 every month. Mikhail, who stays in Guwahati with Indrani's parents, told TV channels that the motive behind the murder was not property, but 'something else'.
Indian Express reports that over the last three years, whenever Mikhail Bora asked his mother, Indrani, about his sister Sheena, she would day, "She (Indrani) would only say that she (Sheena) was in the US. But when she refused to give me her contact details, I began to have doubts. Why would my sister not be in touch with me, I would ask myself," he said.
---
>> Late Wednesday night, police quizzed former media baron Peter Mukerjea's son Rahul, who reportedly had been in a relationship with the deceased. Officials, requesting anonymity, said that Rahul and Sheena were seeing each other for over a year, which Mukerjea's wife and the main accused Indrani did not like.
---
>> The motive of the murder still remains a mystery though Sheena's brother Mikhail told media in Guwahati he and his sibling were born out of wedlock but declined to reveal the identity of their father. He further said he had no doubt that "Indrani killed my sister Sheena". He said he knew why his sister was killed but he would spill the beans after the probe by Mumbai police was over.
---
>> Sheena's friends have floated an online campaign, 'Justice for Sheena'. They told the media that Indrani kept her on a leash and that was disapproving of her affair. One of them said: "Indrani would send for a car to get her home randomly in the middle of lectures."
---
>> Officials told Hindustan Times that the probable cause of the murder was Sheena's affair with her stepbrother, Peter Mukerjea's younger son Rahul, which Indrani was opposed to as she was afraid of losing her share in her husband's property if the young couple got married. Indrani allegedly deposited some money in Sheena's name who later refused to return the sum as the accused had not accepted her as her daughter, police sources said.
---
>> Police also claimed that former STAR India Chief Executive Officer Peter Mukerjea's wife Indrani was present at the site in Raigad district where Sheena was killed in 2012. Mumbai Police Commissioner Rakesh Maria told reporters here that the murder was by strangulation followed by burning of the body by petrol. The murder took place on April 24, 2012 and the body was found by Raigad police on May 23, he said.
---
>> Taking the investigation beyond the state, Mumbai police arrested former husband of Indrani, Sanjeev Khanna, in connection with the case in Kolkata. Sheena is stated to be Indrani's daughter from an earlier marriage with one Siddharth Das. Sanjeev was arrested from a friend's house in Belvedere Road area in Kolkata. He has been kept at Alipore police station and will be flown to Mumbai on Thursday.
---
>> Sanjeev was Indrani's second husband -- she married Peter in 2002. Police said family members had confirmed that Sheena was Indrani's daughter from her first marriage to a Tripura-based man named Siddharth Das.
---
>> Sheena was kidnapped from outside the NationalCollege in western suburbs. She came here from Assam in 1990s along with Indrani and completed her BA Economics from St Xavier's College. In 2011, she got a job with Reliance Mumbai Metro but suddenly stopped coming to duty, police said. In the same year, her Facebook account was deactivated. Police had unearthed remains of a decomposed body three years ago after villagers at Gagode in Pen tehsil complained of foul odour emanating from the area. On an informer's tip-off, the police had been quietly investigating Indrani for four months but only received some answers after arresting her driver in an arms case.
---
>> A shocked Peter Mukerjea said he had believed that the deceased was Indrani's sister and not her daughter while Mikhail said Sheena was the daughter and not the sister of Indrani. "I have been out of the country for pretty much all of the past three years. I am dealing with it with a great deal of difficulty as it is all very shocking. And quite disgusting really. I have not met Indrani since all this began," he said.