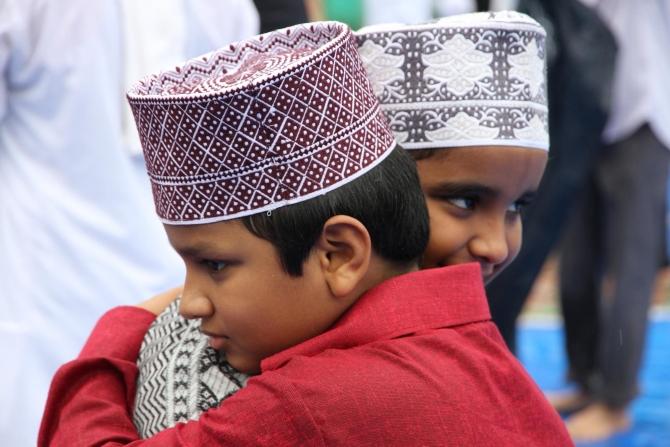 Eid-ul-Fitr, which marks the culmination of the fasting and holy month of Ramzan, will be celebrated across the country on Thursday.
Shahi Imam of Jama Masjid Syed Ahmed Bukhari said that as the moon could not be sighted on Tuesday, Eid will be celebrated on July 7.
"Eid-ul-Fitr will be celebrated on Thursday as the moon was not sighted today," Imam of Delhi's Fatehpuri Masjid Mufti Mohammad Mukarram Ahmed told PTI.
As this lunar month was of 30 days, fasting by Muslims will automatically be over on July 7, the day on which Eid will be celebrated.
In Kerala and Jammu and Kashmir, however, Eid will be celebrated on Wednesday.
The Grand Mufti of Jammu and Kashmir, Mufti Bashiruddin Ahmad on Tuesday announced that Eid-ul-Fitr would be celebrated in Jammu and Kashmir tomorrow following reports of sighting of the crescent.
Eid-ul-Fitr is celebrated at the end of the holy month of Ramadan.
Since Indian Muslims follow the lunar calendar, the sighting of monsoon determines the end of Ramadan.
Eid-ul-Fitr is celebrated on the first day of Shawwal, the month succeeding Ramadan.
It is the most important festival for the Muslim community across the world.
Most of the secular societies offer holidays for at least the Muslim working population on this day.
In India, the entire nation goes into a celebratory mood with the arrival of Eid-ul-Fitr. Holiday across public and private sector is observed.