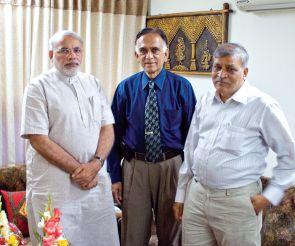 My goal is to implement the Sevak project all over India and make the villages true Gandhian villages -- self sustainable in every way, including health, says Dr Thakor Patel, head of the American Association of Physician of Indian Origin's Public Health Committee. Aziz Haniffa reports
Since his retirement from the Department of US Veteran Affairs in 2008, Dr Thakor Patel has headed the American Association of Physician of Indian Origin's Public Health Committee. He conceived, developed, and implemented the Sevak Project.
He was to showcase this project, one of AAPI's most successful ventures to bring access to health care to villages in India, at the Global Healthcare Summit in Ahmedabad.
For Patel, currently an adjunct associate professor of medicine at the Uniformed Services of the Health Sciences in Bethesda, Maryland, this has been a labour of love where he's effectively replicated the US Navy's template.
He told Rediff.com, "Drs Ranjita Misra, Padmini Balagopal and I did a study on Indian Americans in the United States and found that the prevalence of diabetes was 17.4 percent. We then did a study in the villages in Tamil Nadu and the prevalence was about 8 per cent, but in the village of Karkhadi, there were 300 patients with hypertension. In other villages it was about the same."
He recalled, "Dr Balagopal, who was living in the village to do the study, called me and asked, 'What do you want to do with these patients?' I said call the dean and see if he can help. He sent a van gave treatment for one week. This raised a moral dilemma for me as we seemed helpless."
It bothered Patel, who was trained in nephrology and internal medicine, that the villagers did not get screened for diabetes and hypertension: "If they get sick from these diseases or get complication such as stroke, heart attacks, kidney disease, or any of the diabetic complications, they lose work and salary. They go from poverty to hell in no time."
He dwelled on the dilemma for a couple of months until he remembered his time in the US Navy where among the many assignments during his 23-year stint he had also served as director for Independent Duty Corpsman.
"These IDCs get medical training for a year and provide primary level on cruisers, destroyers as well as other ships," he said. "I said to myself (what if) I can scale this program and tailor it to the village. That is how we came about the Sevak Project. It is a health-care project for the villagers, of the villagers and by the villagers."
The Sevak project began in 2010, but, he said, it took him three years to get the curriculum and planning done.
The project first educates the villagers about diabetes, hypertension, other chronic diseases, the importance of maintaining normal BP and blood sugar, why it's important to take medication regularly and follow up on medical care and the availability of a sevak in the village for their medical needs.
Patel said, "Special cases are referred to city hospitals and in some cases sevaks accompany the patient. The cost is borne by the project."
He said, "The project also includes sanitation, water, lifestyle education and screening and monitoring of health. One of the Sevak's performance measures is the increase in number of toilets in the village and since their inception, all Sevak villages have doubled the number of toilets and there are some in various stages of construction or funding."
He said the sevaks also constantly educated villagers on the need for having chulhas (wood or coal burning stoves) to be vented outside and for them to be energy efficient.
He added, "When I visit the villages and see the work done by the sevaks it gives me a lot of satisfaction and fulfillment. It is also very cheap and the sevaks complement the health care providers."
At the summit, Patel was to present the project in two different settings -- an overview and the second on the Sevak Project as an economic model for access to care in rural India.
"My main aim at the summit is to reach out to NGOs and other government agencies to adopt this project as their own and do it in their region, state or country," he said. "Besides India, we have this project in Guyana in six villages, and the project is successful in multiple ways."
He said, "As a result of this project we became aware that there are many patients in the villages who have been prescribed insulin. They do not have a refrigerator or the means to buy syringes for daily use. They use the syringes multiple times without aseptic precautions. They do the best they can. In light of this I hope to bring to the audience the need for standard guidelines for diabetes, hypertension and other diseases. The need for research is great as to what can be prescribed for the villagers in severely resource constrained environment."
Another problem that bothered Patel was access to clean drinking water: "But now, with an memorandum of understanding just signed by AAPI President Dr Jayesh Shah and Hiten Ghosh of WHEELS, Inc, a new NGO formed in the USA by IITians, we plan to address this issue jointly and bring water purification plants to these villages.
Patel said, "Several sevak coordinators will be coming to the Global Health Summit and it is my fervent hope that there will be direct contact with the various attendees and government officials to further the project. My goals is to implement this project all over India and make the villages true Gandhian villages -- self sustainable in every way, including health."
Dr Thakor Patel said the Sevak Project, which began with 26 villages in Gujarat and is now ready for expansion to more than 100 villages, was kick-started with the support of Gujarat Chief Minister Narendra Modi. Local partners like the Bharatiya Seva Samaj, which is overseeing the project, and the MaharajaSayajiraoUniversity in Vadodara were then roped in.
"The design of this project was based on one person per village per district of Gujarat for a total of 26 individuals -- that is sevaks. Upon selection, these individuals underwent health training in Vadodara," Patel said.
He was especially appreciative of the BarodaMedicalCollege for providing faculty to train the sevaks and Dr Jivraj Damor for leading the effort and continuing his support by providing refresher training: "This training lasted two months with an emphasis on screening for diabetes, hypertension, chronic disease, sanitation, water purification and lifestyle modification education. The requirement of the sevak was that they should have at least a 12th grade."
He said, "The state of Gujarat was divided into four zones: North, south, central and west, with a coordinator for each. The base education requirement for the coordinator was a bachelor's degree. As the coordinator their job is to go to each village once a month and go over the work done by the local sevak, collect the data in an excel file, and email it to me. The data is then sent to Dr Ranjita Misra, who compiles the information into statistics. In addition, Dr Padmini Balagopal creates the lifestyle modification education program for the sevak."
He added, "Modi's support was crucial. Once he received an annual report from me and he learned that no BP and diabetes pills were present at the Primary Health Clinics."
Among the others Patel credited for the success of the project were Dr Hemant Patel, who helped to procure financing since he was the AAPI President; corporate friends like Bob Miglani of Pfizer, Inc and Anwar Feroz and Haresh Kaneriya of Johnson & Johnson in helping with glucometers, stylets and strips; his sister Malti Patel's foundation, Dr Misra in managing the data, and Dr Balagopal in advising.
The Guyana Sevak project, he added, was started because of Dr Rahul Jindal, a transplant surgeon in Washington, DC and financed by New York-based philanthropist George Subraj, who wanted to give back to his country, Guyana.
Image: Dr Thakor Patel, left, with Kirti Patel, general manager, Sevak Project with Gujarat Chief Minister Narendra Modi