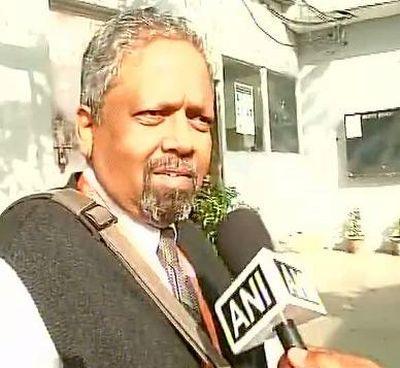 The 62-year-old Air India staffer, who was beaten up by a Shiv Sena MP "25 times" with his slippers, on Friday said that his attacker must be punished so that no one takes it as their "birthright" to assault a person.
R Sukumar, who is with the state-owned airline's ground handling subsidiary, also said that MP Ravindra Gaikwad's assault on him was akin to a violent road rage incident.
When Gaikwad refused to disembark from Air India's Pune to Delhi AI 852 on landing at Indira Gandhi International airport in New Delhi at 9.35am on Thursday, Sukumar was the duty manager responsible for preparing the flight for its onward scheduled departure to Goa at 10.55am.
Gaikwad attacked Sukumar over being unable to travel business class despite having insisted on boarding the all-economy flight.
Sukumar said that the police must act so that there is a deterrence.
"Police action should be taken to restrict these people from doing this kind of thing again. That is the most important thing. They should not keep on doing it. They should not take it as their birthright to assault a person," he said while recounting the incident that sparked an outrage.
"I told my crew to be quick and asked them what was causing the delay. They told me all passengers have disembarked but one person is refusing to move. They told me he is sitting in the front row and he is saying that he is an MP and he wants to meet the senior management," he recalled.
Sukumar said that he then went into the aircraft and asked why was the MP not disembarking.
"He asked me who I was and that he would only speak to the senior management. He asked me to call the CMD," the AI staffer added.
"I said I can't call the CMD. I told him I will have to complain to his higher ups. He asked me who will I complain to. I replied that, if required, I will complain to Modiji (the prime minister). As soon as I uttered that he took out his chappal and started hitting me," Sukumar said.
"He tried to push me through one door of the aircraft. I ducked and came to another door where the step-ladder was positioned. But he tried to lift me and throw me off the ladder. The crew and my colleagues intervened and tried to stop him," he added.
The MP also broke Sukumar's spectacles and tore his sweater. Gaikwad later boasted that he slapped the AI employee "25 times" and refused to apologise.
Speaking about the politician's body language, Sukumar said, "He was very aggressive. It was something like what happens in a road rage."
"As an elected representative he should be a role model but he is the complete opposite of that," he said.
Despite being brutally assaulted, soon after the scuffle, the Air India duty manager was completely unfazed and went about preparing AI 137 for its departure to Milan.
Sukumar said that such delays because of unruly passengers often costs an airline dearly.
"You are holding up a flight to ransom. That is not done. Unless and until the aircraft is vacated fully, cleaners get into the aircraft to clean it and catering loading is done we can't board passengers."
"Gaikwad held up the flight for 40-50 minutes. And, when the plane is standing on the tarmac the charges are very high," Sukumar said.
The incident with Sukumar also highlights how often frontline workers of various airlines are at the recieving end of passenger misbehaviour.
"People get agitated and they start shouting, abusing and cursing. We deal with that. But this was too much. Verbal assault is something but physical assault is quite another. It's intolerable," added Sukumar.
At the end of it all he says he is happy that his airline management has extended its full support.
Sukumar and Air India filed two complaints with the police on Thursday.
Sukumar has worked for Air India for 34 years and retired as a Deputy Manager in December, 2012. He was then hired by AI's joint venture intiative, AISATS, where he is a Flight Handling Co-ordinator.