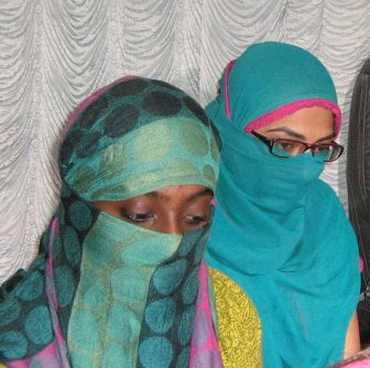 'Victims' who bore the brunt of the controversial section 66A of Information Technology Act for posting allegedly "offensive" content online heaved a sigh of relief as the Supreme Court on Tuesday, in its landmark verdict, scrapped the provision dubbing it "unconstitutional".
Rinu Shrinivasan, who was arrested in Palghar in Thane district for liking a comment made by Shaheen Bahda against the shutdown in Mumbai following Shiv Sena leader Bal Thackeray's death, expressed happiness over the decision saying justice has prevailed. "I am very happy with the verdict. It's a victory of the people who want to raise their voice against the wrong doings. I have got justice today."
"The post I liked was not wrong or offensive for us to get arrested. It was misunderstood. But my family supported me through the tough phase," Rinu said.
Sharing similar views, Shaheen's father Farooq Bahda too welcomed the decision saying "it is a big relief". "We welcome the judgement as the section was being misused. We have faced a lot of trouble. My daughter's intention was never to hurt any religious sentiments. There was tension and pressure from political parties," he said.
Following Shaheen's post on social media, her uncle's clinic was vandalised for which no compensation has been given to them yet, Bahda claimed.
For cartoonist Aseem Trivedi, who was arrested in 2012 by the Mumbai police for displaying cartoons on his website and Facebook page that mocked Parliament and corruption in high places, it was a "big day". "It's a big day and it is the victory of citizens' right to freedom of speech and expression," he said.
The verdict on Tuesday may have quashed the charges against all these victims, but for the class 12th student, who spent two days in jail after being recently arrested for posting content about Samajwadi Party leader Azam Khan, the "mental damage" was huge and it will take him some time to recover.
"I am happy that section 66A has been scrapped but I had a very rough time when I was booked under the provision which entailed a jail term of three years. I was stressed and was made to spend two days in jail.
"I was also embarrassed about what I posted as I did it by mistake. I am still recovering from what happened and it will take some time for me to get completely normal on social media and other things," he said. His father, though relieved with the scrapping of the provision, said his son has suffered. "All this has affected his studies, his mental stability and the family too," he said.

Image: Rinu Srinivasan (left) and Shaheen Dhada at the Palghar police station. Photographs: Ganesh A Nadar/Rediff.com