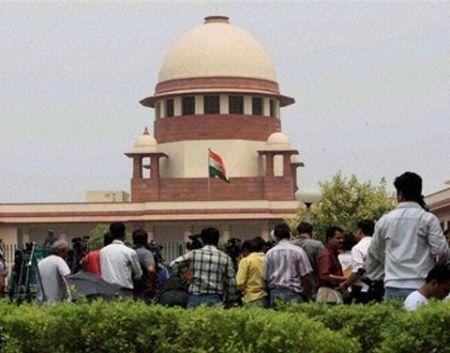 Chief Justice of India Dipak Misra on Thursday put in place a roster system for allocation of cases in the Supreme Court in what could be a move to address the grievances by four-senior most judges over assigning matters that sparked an unprecedented judicial crisis.
Justice Misra has kept to himself the public interest litigation cases under the roster system that will come into effect from February 5.
Previously, the cases in the apex court were assigned by the CJI in his capacity as master of the roster.
The CJI also allocated to the bench headed by him the petitions based on letters, election cases and matters pertaining to contempt of court and constitutional functionaries.
The order of Justice Misra was made public on the official website of the apex court.
The 13-page notification said a roster of the work for fresh cases notified under the order of the CJI will come into effect from February 5 till further orders.
The decision to make public the roster system assumes significance as the four seniormost judges -- justices J Chelameswar, Ranjan Gogoi, M B Lokur and Kurian Joseph -- in their January 12 press conference had questioned the allocation of sensitive PILs and important cases to judges junior in seniority and sought transparency.
The notification has given the category of matters that would be allocated to the benches headed by the CJI and 11 other judges -- Justices Chelameswar, Gogoi, Lokur, Joseph, A K Sikri, S A Bobde, R K Agrawal, N V Ramana, Arun Mishra, A K Goel and R F Nariman.
The new roster of Supreme Court, assigns the bench headed by Justice J Chelameswar, the senior most judge after CJI Misra, matters related to judicial officers, employees of Supreme Court, high courts, district courts and tribunals for hearings.
Besides these, according to the new roster, the bench headed by Justice Chelameswar would deal with matters like labour, indirect tax, land acquisition and requisition, compensation, criminal matters and cases related to consumer protection.
Justice Gogoi, who during the press conference, had answered in affirmative the concern over the allocation of the PILs relating to special Central Bureau of Investigation Judge B H Loya to a bench headed by a particular judge, has been allocated matters relating to labour, indirect tax, company law, Monopolies and Restrictive Trade Practices, Telecom Regulatory Authority of India, Securities and Exchange Board of India, Reserve Bank of India, criminal matters, contempt of court, personal law, religious and charitable endowments, mercantile laws, commercial transactions including banking etc.
He will also hear matters related to judicial officers, state excise-trading in liquor-privileges, licences and distilleries and breweries.
Similarly, a bench headed by Justice Lokur has been allocated matters including service, social justice, personal laws, land acquisition, consumer protection etc.
He will also hear matters related to ecological imbalance: protection and conservation of forests throughout the country, protection of wild life, ban on felling trees and falling of underground water level.
Justice Jospeh's bench has been assigned to deal with matters including labour, rent Act, family law, contempt of court, personal law etc.
He will also hear matters related to religious and charitable endowments and all land laws and agriculture tenancies.
In the unprecedented January 12 press conference at Justice Chelameswar's residence, the four seniormost judges had raised a litany of problems, including assigning of cases in the apex court, and said there were certain issues afflicting the country's highest court.
They had also made public a letter written by them to the CJI two months ago expressing their grievances, which, they claimed, were not addressed by the CJI.
'There have been instances where cases having far-reaching consequences for the nation and the institution have been assigned by the chief justices of this court selectively to the benches 'of their preference' without any rationale basis for such assignment. This must be guarded against at all costs,' the letter said.
After the press conference, there were hectic parleys involving judges of the Supreme Court, the Supreme Court Bar Association (SCBA) and the Bar Council of India (BCI) to defuse the crisis.
The SCBA, headed by its president Vikas Singh, had come out with a resolution that the apex court should follow a roster system for the allocation of matters to the judges as was prevalent in the Delhi high court.
According to sources, some of the judges had also suggested to the CJI to examine the roster system prevalent in the Bombay high court.
Sources close to the CJI said that he examined suggestions from stakeholders to bring transparency in allocation of cases.
The new roster system has assigned to Justice Arun Mishra matters related to admission and transfer of candidates in engineering and medical colleges which recently saw a sitting and a retired high court judge caught on the wrong foot.
Justice Mishra, who heads a bench, has been divested of the PIL matters.
He had recently recused himself from hearing the PILs related to the death of special CBI judge B H Loya, who was dealing with the Sohrabuddin Sheikh fake encounter case.
The notification on the allocation of matters showed that as per the new roster, Justice Mishra will hear matters related to all admissions/transfers to engineerings and medical colleges, allocation of 15 per cent all-India quota in admissions/transfers to medical colleges and estalishment and recognition of educational institutions.
The assignment of engineering and medical colleges matters to Justice Mishra assumes significance as it was in a similar case related to a private medical college that a three-judge in-house panel appointed by CJI Misra had found wrongdoing on part of an Allahabad high court judge.
The alleged anomaly committed by the Allahabad HC judge with regard to a private medical college, which was restrained by apex court in enrolling students in 2017-18 academic year, led to a Central Bureau of Investigation probe in the medical education scam matter.
A former Orissa high court judge was arrested. Besides these matters, Justice Mishra will also hear labour, land acquisition, service, criminal, family law and ordinary civil cases.
On other hand, Justice S A Bobde, as per the new roster, will hear matters on admissions to educational institution other than the medical and engineering colleges.
The roster showed that a bench headed by Justice Bobde will also hear academic, compensation, criminal, family law, land law and agriculture tenancy, admirality and maritime law matters.