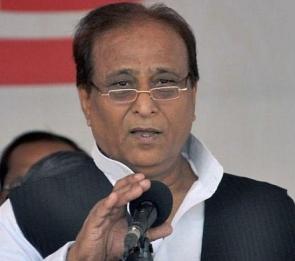 Hardening its stand against senior Uttar Pradesh Minister Mohammad Azam Khan who skipped the party national executive meeting, Samajwadi Party on Thursday said either he should have attended the meet or resigned.
SP national general secretary Ramgopal Yadav said the absence of Khan, the Muslim face of the Samajwadi Party, was not felt at the meeting on Wednesday.
"It is a national executive meeting and all prominent leaders are present here...he was not here, but its does not make any difference and his absence was not felt," he told PTI, adding, "With such a behaviour a person lowers his own stature." "Either he should not remain the office-bearer and resign or he should have come," Yadav said.
Khan was conspicuous by his absence at its national executive meet in Agra on Wednesday but the SP tried to give a "loud and clear" message that it was not going to give weightage to the senior leader.
The SP national general secretary said the party is not concerned who comes or not. "Akhilesh is the chief minister and Netaji is the leader...there is no other bigger leader," he said.
SP national general secretary Naresh Agarwal said no person should be given liberty. "No person is larger than the party," he said.
Asked whether disciplinary action should be taken against the cabinet minister, Agarwal said it was up to Netaji (Mulayam Singh Yadav) to decide.
Khan had criticised his own government's handling of Muzaffarnagar riots and had been sulking off and on various issues ever since the assembly elections in Uttar Pradesh in 2011. SP has come under all-round attack over its handling of the communal riots that has claimed 40 lives.