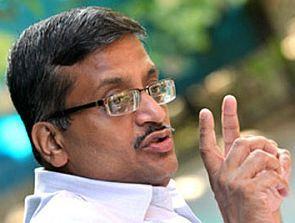 Out of the 13 IAS officers, who were transferred by the Haryana government on Sunday, senior bureaucrat Ashok Khemka's name stood out, as it was the 46th time in 23 years that he was being moved out of a department.
Khemka who held the charge of principal secretary, social justice and empowerment department, was transferred and posted as principal secretary, sports and youth affairs.
Khemka shot to limelight in 2012 when he cancelled the mutation of a land deal between Congress president Sonia Gandhi's son-in-law Robert Vadra's company and realty major
DLF.
Responding to his transfer, Khemka said, "The transfer is fine, if it has been done in public interest, but saddening if done for vested interests."
"I feel as if a crash landing has happened, but I will overcome this. I will work in the new department with full energy," he added.
Among other IAS officers transferred were Sunil Kumar Gulati, additional chief secretary in the fisheries department who has been posted as chairman-cum-managing director, Haryana Minerals Limited, New Delhi and coordinator, centrally sponsored schemes, in addition, against a newly created post.
-- With inputs from PTI