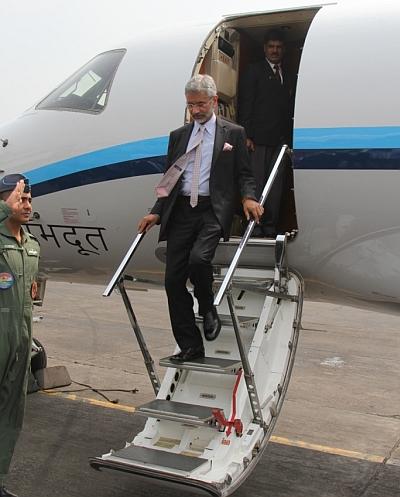 Both sides will discuss the ongoing incidents of ceasefire violations at the border, the resolution of which will be given topmost priority. Nayanima Basu reports

India will be holding far-reaching consultations with Pakistan during foreign secretary S Jaishankar's visit to Islamabad on Tuesday as part of Prime Minister Narendra Modi's 'SAARC Yatra' initiative.

The visit is widely seen as thawing of bilateral ties between the two nuclear-armed neighbours after a span of nine months.

While Prime Minister Modi and his Pakistan counterpart Nawaz Sharif started off on a positive note in May last year, the foreign secretary level talks were cancelled in August. This was after Pakistan chose to seek the viewpoint of Kashmiri separatist leaders a day before the talks were scheduled to take place.

India had then maintained it would not entertain such acts by Pakistan.

It said although the government was ready to hammer out all strenuous issues with Pakistan concerning the Kashmir conflict, Sir Creek and Siachen, it would not allow voices of the Hurriyat leaders.

Abdul Basit, Pakistan's high commissioner to India, had held the consultations with Hurriyat leaders Yasin Malik, Sabir Shah and Geelani, among others.

However, this time it is learnt that the talks are taking place "without any precondition and in a free environment as the basis for the meeting is development of the South Asian Association for Regional Cooperation," a top official told Business Standard.

The official added that although the talks would take place under the lager ambit of SAARC, bilateral issues would also be discussed. The talks would take place between Jaishankar and Pakistan foreign secretary Aizaz Ahmad Chaudhry. Jaishankar might also meet Sharif, sources
said.
"Kashmir will be the first and foremost topic that Pakistan will be taking up from its side. We want the talks to take place because without talking nothing will ever be solved," said another official.
On the other hand, India has decided to take up the issue of ongoing ceasefire violations at the Line of Control. Besides, other issues concerning resumption of trade and granting India 'non-discriminatory market access' or 'most favoured nation' trade status will also be taken up.
During the bilateral meeting between Modi and Sharif in May last year, India had expressed serious concern over the slow progress in the 26/11 trial of Jamaat-ud-Dawa chief Hafiz Saeed, the mastermind of the Mumbai terror attacks. It is also learnt that Pakistan will extend an invitation to Modi to visit the country at the earliest.
"Jaishankar will need to seek assurances from Pakistan that there will be no disruptions in Jammu & Kashmir before the newly-elected PDP-BJP coalition government has had a chance to settle in, and resume contact -- formal or otherwise -- with the Hurriyat, and take action to resume movement of goods and people with Pakistan-Occupied Kashmir. Unfortunately, India and Pakistan will trade accusations of breaching the Line of Control," said Neelam Deo, director, Gateway House, a Mumbai based foreign policy think tank.
On March 4, Jaishankar will head to Afghanistan where he is expected to meet the newly-elected Afghan President Ashraf Ghani, who is expected to visit India this year. He was in Bangladesh on Monday, where he met his counterpart Shahidul Haque and foreign minister Abdul Hasan Mahmud Ali.
The SAARC Yatra began on March 1 with the foreign secretary first visiting Bhutan where he called on Bhutanese Prime Minister Tshering Tobgay soon after arriving in Thimphu.
Image: Foreign Secretary exits his aircraft during his ongoing 'SAARC Yatra'