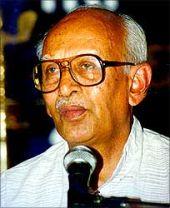 K S Sudarshan, former chief of the Rashtriya Swayamsevak Sangh who had gone missing since Friday morning, has been finally found. He was found outside the Lalit Mahal hotel in Mysore.
A by-stander spotted him and informed the police about his whereabouts.  Sudarshan has now been taken to the hospital for treatment.
The former RSS leader has been suffering from amnesia and police say that he could have forgotten his way back home.
Sudarshan, 81, left his home in Mysore to go for a morning walk and had been missing since then.
Earlier, the complaint by his brother Ramesh, with whom he was staying for the past three days, created a scare, with the police and RSS volunteers launching a vigorous search for him.
The RSS had also, in a statement earlier, stated that Sudarshan was missing, saying he went for a walk and did not return.
Acting on the complaint, the police had formed 20 teams to trace Sudarshan. RSS swayamsevaks had also joined in the search operation.
Sudarshan hails from Kuppalli village of K R Pete taluk of Mandya District in Karnataka. He served as a RSS pracharak for six decades. He became RSS Sarasanghachalak in 2000 and held the post till 2009.
After retiring from the post of RSS chief, Sudarshan had been living in Bhopal
Earlier, Madhya Pradesh Home Minister Uma Shanker Gupta spoke to the Karnataka director general of police on efforts to trace the former RSS chief.
Gupta said in Bhopal that two guards from Madhya Pradesh, who normally accompany him, were not with Sudarashan at the time he went missing.
With inputs from PTI