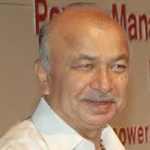 In a statement that is expected to erupt a huge political row, Home Minister Sushilkumar Shinde said on Sunday, "The RSS and BJP are running terrorist training camps to spread Hindu terrorism."
He mentioned the Samjhauta Express and Malegaon blasts to further enhance his point as he addressed Congress workers at the ongoing Chintan Shivir in Jaipur. He said that BJP's " cultural nationalism" is actually a weapon to divide the country. 
His speech was disastrous, to put it mildly.

In fact, while trying to eulogise Congress President Sonia Gandhi, he turned to sycophancy and even embarrassed many Congressmen in the audience. The Marathi-speaking Shinde was speaking in Hindi without the proper construct of ideas or even sentences.

He crudely said that how a Dalit like him was made a Leader of the Opposition by Sonia Gandhi. He even read out a list of Muslim, Dalit and Other Backward Class leaders from the dais saying that the Congress takes care of them. The list included Lok Sabha Speaker Meira Kumar to Shankeranand. 

He also made a mention of Ghulam Nabi Azad and Salman Khurshid, who hold powerful posts in the party and the government (Union health minister and external affairs minister respectively), but not because they are Muslims.

Surely, Congress managers wanted some doze of the BJP-RSS bashing and may be they wanted to highlight how the Congress is not for the " Brahmin-Baniya" social clique. But, Shinde sent the wrong message by comparing Congress with an amoeba. 

The Congress is boasting that around 40 per cent participants at the event are young, but Shinde's speech was neither suitable for the young nor for the older leaders of Congress where he highlighted the importance of caste and communal identity to rise in the party.

"He was not aware of what he is saying," said a member of Parliament from Andhra Pradesh.