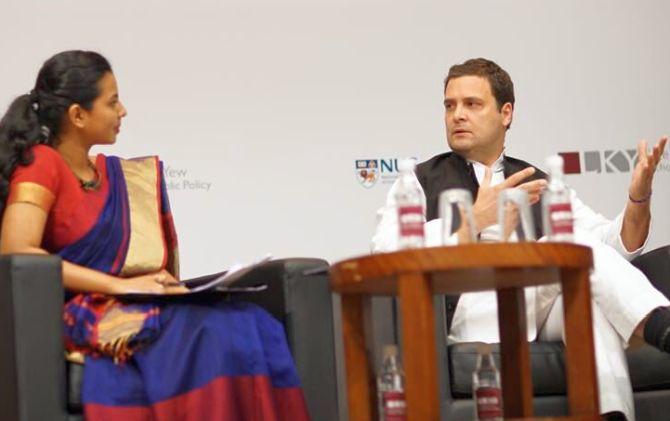 A row has erupted over a video in which Congress president Rahul Gandhi reportedly "dodged" a question by an economist about lower per-capita income of the country whenever his family was in power.
The controversial interaction took place on Thursday when Rahul began taking questions from the audience during an event organised by the Lee Kuan Yew School of Public Policy in Singapore.
"With political discourse hitting new lows everyday, Congress President Rahul Gandhi shows how to gracefully handle detractors and call their bluff," said the Congress, on its Twitter handle while referring to the economist's question.
However, Prasenjit K Basu, the economist who asked the question, claimed the Congress edited the video of the event and put out an unedited version which purportedly showed Rahul did not take the question.
In the video Basu asked, "Why is it that during the years that your family ruled India, India's per capita income was growing less than the world average? And yet, in the years since your family relinquished the prime ministership of India, India's per capita income has grown substantially faster than the world average."
The video then cuts to another member of the audience praising the Congress.
"I am a great admirer of you great-grandfather Jawaharlal Nehru and I think all the good things… wherever India is today is because of the Indian Congress Party. And even in the Constitution… your party has very successfully put the values of the Congress party into the Constitution."
In his response to both, Rahul Gandhi says, "You are both going to extremes. I mean give me something in the middle. I mean he (Basu) is saying I am the cause of every single problem. And you (second speaker) is saying I am the cause of every single solution. I mean, this is crazy."
"This conversation shows you the polarisation. That gentleman (Basu) thinks that nothing has ever been done by the Congress party. This gentleman (second speaker) thinks that everything has been done by the Congress party. Let me tell you what the truth is. India's success is hugely because of India's people. However, anybody in this room who thinks that the Congress is not part of that success… needs to write a new book," Rahul said.
"I am a person who has been taught to love my opponents and people who might dislike me. So I have absolutely no animosity towards somebody who says I have achieved nothing. I respect even your opinion to be able to say that in this room… I am proud to sit in a room and have a gentleman say this to me. Mr. Narendra Modi would never do that. You would never have the ability to say what you said to me in front of Mr. Narendra Modi. I am absolutely brazenly proud of that," Gandhi added.
At the end of the video, Gandhi even invites Basu for a "hug".
Basu, however, contested the Congress's version of the events.
Replying to Congress's tweet, Basu said, "This is a classic fake-news video. You are using my image to falsely advertise your politician, showing a sequence of events that did not occur. Withdraw this false video, or prepare for prosecution in Singapore's courts!"
Reacting to the development, Bharatiya Janata Party's Narasimha Rao said, "You have inherited the mantle as a dynast. So, you will be asked questions of your family's poor track record in office and its 'poverty perpetuating model' for promoting political interests. Post 2004, I'm glad you are admitting your role in scam-ridden governance."
With inputs from PTI
Photograph: Kind Courtesy @OfficeOfRG/Twitter