Donald Trump Monday spoke with the Saudi King Salman over missing journalist Jamal Khashoggi and "immediately" dispatched his top diplomat to Riyadh to discuss the issue with the monarch who denied having any knowledge about the dissident who, the United States president believes, could have been a victim of "rogue killers."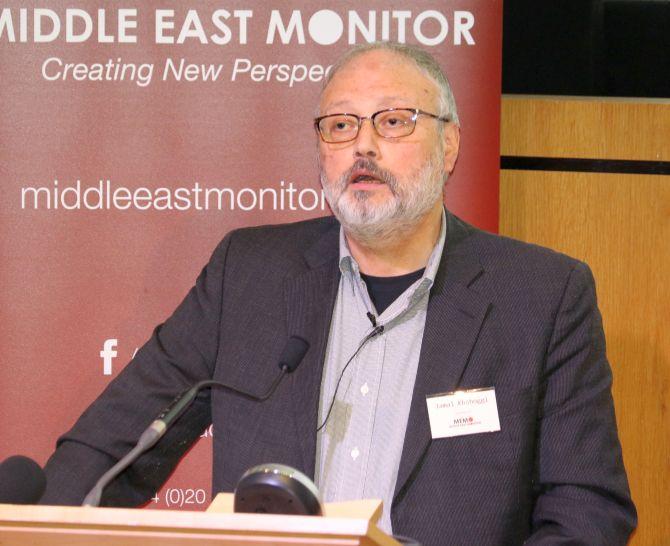 "I just spoke to the king of Saudi Arabia who denies any knowledge of what took place with regard to, as he said, his Saudi Arabian citizen. I've asked, and he firmly denied that," Trump told reporters at the White House after talking with Salman over phone.
Trump said he has asked Secretary of State Mike Pompeo to immediately get on a plane, go to Saudi Arabia, go to other places if necessary, which he probably will, but with regards to this, go to Turkey if necessary.
Khashoggi, a 60-year-old Saudi journalist who became increasingly critical of Crown Prince Mohammed bin Salman, has not been seen since he walked into the Saudi consulate in Istanbul on October 2 to receive documents regarding his marriage.
Turkish officials believe Khashoggi was killed inside the consulate.
"The King told me that Turkey and Saudi Arabia are working hand in hand, very closely, on getting to the bottom of what happened. So, we'll see what happens, but Mike Pompeo is leaving literally within an hour or so. He's heading to Saudi Arabia," said the US President.
Asserting that the US is going to leave nothing uncovered, Trump reiterated that the Saudi King firmly denied any knowledge of it.
"He did not really know, maybe, I do not want to get into his mind, but it sounded to me like maybe these could have been rogue killers, who knows. We're going to try getting to the bottom of it very soon. But his was a flat denial," he said.
"All I can do is report what he told me, and he told me in a very firm way that he had no knowledge of it. He said it very strongly," he said.
Responding to a question, Trump said his administration is going to try getting to the bottom of it.
"I can only tell you that his denial to me, it was just one very relatively fast phone call, probably lasted 20 minutes, his denial to me could have not been stronger, that he had no knowledge," he said.
Trump said it sounded like the King and also the Crown Prince had no knowledge about Khashoggi, who was a regular columnist for the Washington Post.
During the phone call, Trump said he underscored the importance of the issue.
"I did say this is very important. The world is watching, the world is talking, this is very important to get to the bottom of it. And I think he understands that very well," he said.
"He did say very strongly that he's dealing with Turkey, that they've come to an agreement that they're investigating it together and I think that's a good thing," Trump said.
The State Department confirmed that Pompeo was travelling to Riyadh.
"At the request of President Trump, Secretary of State Pompeo will travel to Riyadh, Saudi Arabia today. The President has called for a prompt and open investigation into the disappearance of Washington Post journalist Jamal Khashoggi," State Department Spokesperson Heather Nauert said.
Meanwhile, Turkish media reported that police started probing a claim that Khashoggi's body was dissolved using acid inside the Saudi consulate.
"Police and the MIT (Turkey's National Intelligence Agency) are now probing this claim seriously. They are looking into whether the body of Khashoggi was dissolved using acid," Haberturk website's columnist Sevilay Yilman wrote Monday.
In a statement on October 6, Turkish police had that 15 Saudis, including several officials, had arrived in Istanbul on two planes and entered the consulate while Khashoggi was inside. The group included a leading forensic expert, as well as Saudi intelligence officers and Royal Guards.
Last week, Trump threatened Saudi Arabia with "severe punishment" if Khashoggi was killed inside its Istanbul consulate.
Saudi Arabia Sunday warned against any punitive measures, with the state-owned Al Arabiya television saying that the kingdom has "over 30 measures" it could implement.
Britain, France and Germany also released a rare joint statement Sunday saying they were treating Khashoggi's disappearance "with the utmost seriousness".
"There needs to be a credible investigation to establish the truth about what happened, and -- if relevant -- to identify those bearing responsibility for the disappearance of Jamal Khashoggi, and ensure that they are held to account," the statement said.