Siachen braveheart Lance Naik Hanamanthappa Koppad on Thursday died due to multiple organ failure, after waging a grim battle for life for nine days.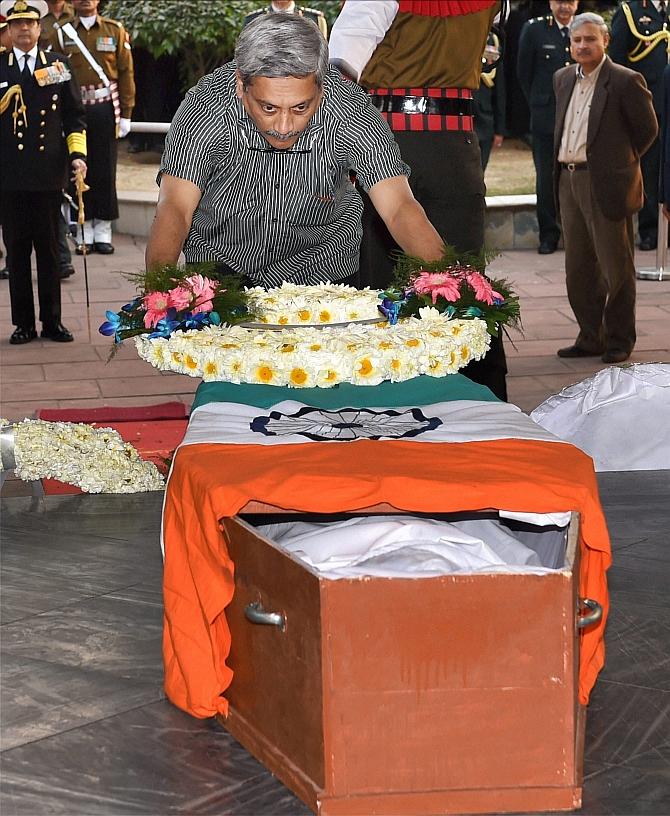 Defence Minister Manohar Parrikar places a wreath over the coffin of Lance Naik Hanamanthappa Koppad. Photograph: PTI Photo
The end for the doughty soldier came a little before noon, three days after he was miraculously pulled out alive from under 30 feet of ice-and-snow debris where he lay buried for six days on the unforgiving Siachen glacier.
"Lance Naik Hanamanthappa is no more. He breathed his last at 11:45 AM today," the Army Research and Referral Hospital said.
As an indebted nation's prayers for his life ended in vain, glowing tributes poured in for the 33-year-old soldier.
"The soldier in you remains immortal," said Prime Minister Narendra Modi as he led the nation in mourning his death.
"He leaves us sad & devastated. RIP Lance Naik Hanamanthappa. The soldier in you remains immortal. Proud that martyrs like you served India," he tweeted.
Koppad's mortal remains were kept at the Brar Square where Defence Minister Manohar Parrikar, the three service chiefs, Congress president Sonia Gandhi, vice president Rahul Gandhi, Delhi Chief Minister Arvind Kejriwal and a host of military officers among others paid homage by placing wreaths at a solemn ceremony.
Koppad's family, including his wife Mahadevi Ashok Bilebal, sat in stoic silence through the sombre proceedings with wails of their two-year-old daughter Netra piercing the silence.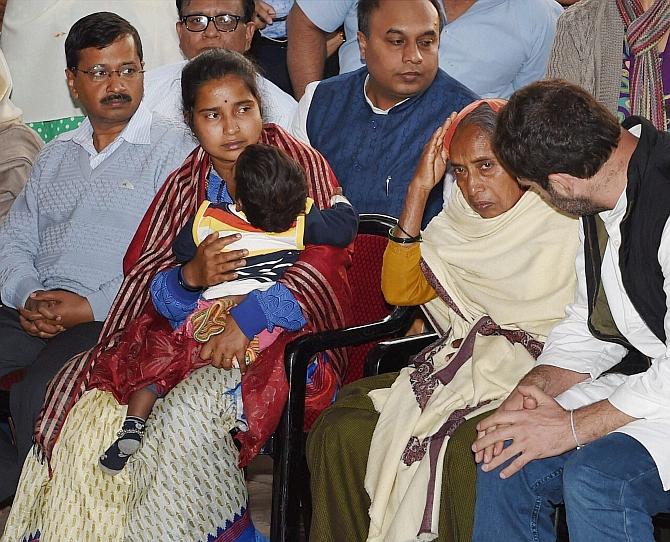 Congress vice president Rahul Gandhi interacts with the grieving family of Lance Naik Hanamanthappa Koppad. Also seen is Delhi Chief Minister Arvind Kejriwal. Photograph: PTI Photo
Defence ministry officials said Koppad's cremation would take place in Hubli on Friday before sunset.
A resident of village Betadur in Dharwad district of Karnataka, Koppad had joined the army 13 years back.
"We tried our level best to fight the death of the brave Siachen warrior but this morning his blood pressure dropped despite our best efforts and he had a cardiac arrest," Director and Commandant Army Hospital Lt Gen S D Duhan said.
The condition of Koppad, who was admitted to Army Research and Referral Hospital in Delhi on February 9, had deteriorated on Wednesday.
Dubbed as the 'miracle man', the soldier had managed to stay alive for six days in minus 45 degree celsius temperature, buried under ice and snow after an avalanche struck their post on February 3.
Minister of State for Defence Rao Inderjit Singh said Koppad was asleep fully dressed in his sleeping bag when the avalanche hit the post.
Since Koppad did not suffer any injury to his bones, experts feel, he might have been stuck in an air pocket that aided his survival. Moreover, because he was a yoga instructor, he could control his breathing.
Lt Gen Duhan said on arrival his body temperature was normal, heart rate very fast and blood pressure very low. He said doctors immediately started treatment which included administering glucose because he was starving of five days, and maintaining his temperature at 37 degree centigrade to stabilise his condition.
As the time progressed, blood was supplied to the parts of body which had not received it for over 5 or 6 days.
"The cells which have been deprived of oxygen and glucose could not handle the metabolic load that was being put on the cells. And all the cells, which are already fragile and consisted of a lot of toxins because of working in very poor environment without oxygen, glucose, produced a lot of toxins.
"These toxins now spilt over into the blood and because of low blood pressure, his kidney, liver and brain, which had been damaged at high altitude, worsened rapidly. The cells, which are very fragile in this condition, were producing these toxins and worsened his condition," the General said.
He added that Koppad had rapidly worsening respiratory shock because of liver, kidney failure in addition to the toxins which came from the dead cells.
Koppad's kidney had already started failing and it was totally shut within six hour of his arrival. Despite all our precautionary measures, his heart function worsened with time, he said.
"The brain swelled and his EEG, which is the electric activity of the brain, gradually stopped few hours before his death," he said.
Army officer said Koppad had served for 10 years in difficult and challenging areas out of his 13 years of service.
Koppad served in Mahore in Jammu and Kashmir from 2003 to 2006 where he was actively involved in counter-insurgency operations. He again volunteered to serve with 54 Rashtriya Rifles (Madras) in J&K from 2008 to 2010 and displayed indomitable courage in fighting terrorism, he said.
He also served in the north-east in 2010-2012 where he participated in operations against NDFB and ULFA.