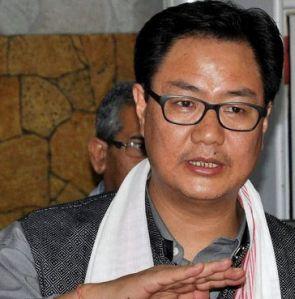 In potentially controversial comments, Union Minister of State for Home Kiren Rijiju on Wednesday said he agreed with the statement of a former Lt Governor of Delhi who had once remarked that north Indians "take pride in and enjoy" breaking rules.
"I was witness to a statement made by one of the Lt Governor's of Delhi some years back. He had stated that people of north India enjoy breaking the rules and by evening he was forced to apologise.
"But I believe what he said was right," Rijiju said on the sidelines of a function for inauguration of a think tank on police-related subjects. Though he did not name the Lt Governor, records show the comments were made by the then Delhi LG Tejinder Khanna who had said in February 2008 that "it is a speciality of north and west India that the people feel a sense of honour and pride in violating law and boasting that no action has been taken against them."
However, he had later retracted his statement after the Congress and the Bharatiya Janata Party protested.
Rijiju went on to say people here love to brag about having threatened a police official. "That means the society as a whole needs to change."
The junior Home minister said it was not right to blame police for everything.
"Many people say police has become very rude. Police will be rude only if citizens are indisciplined. If people are disciplined, then police will not be rude. But there is a general saying here that until you beat them with a stick, people don't listen.
"So if people are not showing the right conduct and they are indisciplined and they don't listen even when told once, twice or ten times, the police will have to use stick to make them listen," he said.
(Yahan toh boltey hain ki danda jab tak nahi dega toh log sudhartey nahi hain. But if citizens theek nahi hai ...indisciplined hai...dus baar bolney ke baad nahi mantey hai toh phir toh danda toh chalana padega)
The minister's comments came against the backdrop of Delhi Chief Minister Arvind Kejriwal's allegation that the Delhi police was the "most corrupt".
"Kejriwal keeps on saying that the Delhi police did not do something or the other but if he, himself, will not correct his approach what could the police do?" (aap (Delhi CM) khud nahi sudhrogey toh police kya karega)," he said.
Defending the men in uniform, he said it is easy to blame police for any incident or crime that takes place anywhere, but it is only the men and women in 'khaki' who keep awake all night to ensure peace and law and order.
"Police ko gaali dekar samaj nahi sudhrega (society will not be reformed by absuing police alone). One incident cannot make the police force corrupt," he said.
The Minister said if a woman does not feel safe in her surroundings, the society will have to take the blame for it. "There is something wrong in the society. We have to accept. We are very good in criticising others (but) we don't accept....(our mistakes). I am very critcial of my own conduct, my own system and my own society if they are not perfect. If we don't criticise and develop ourselves how will we improve?," he said.
Rijiju said it was very "disturbing" and "frustrating" as a minister when there are frequent media reports about harassment of women. "You feel very helpless. But I cannot show my helplessness outside. We have to take action against these things...but it's not enough...," he said.
The MoS said the present-day police is just a "reflection" of the society.
He said the police and politicians are the "favourite punching bags" for everyone and that they are made to do some of the most "difficult" and "thankless" jobs.
Rijiju said just having robust systems for security and police affairs is not enough and sincere reforms are required to improve them.