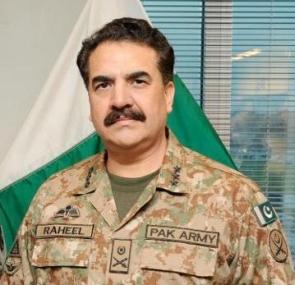 Ending weeks of speculation, Prime Minister Nawaz Sharif on Wednesday appointed Lt Gen Raheel Sharif (left) as Pakistan's new army chief and Lt Gen Rashid Mehmood as the chairman joint chiefs of staff committee.
Prime Minister Sharif recommended the names of the two commanders, who were endorsed by President Mamnoon Hussain. The president promoted both the lieutenant generals to the general rank.
Lt Gen Sharif will replace 61-year-old Gen Ashfaq Parvez Kayani who would hang his boots on Friday after being at the helm of the army for six years.
Earlier on Wednesday, Prime Minister Sharif held separate meetings in Islamabad with Chief of General Staff Lt Gen Mahmood and Inspector General Training and Evaluation Lt Gen Sharif.

"The meetings discussed professional matters and matters relating to national security," a senior government official told PTI.
Lt Gen Sharif's prior appointments include commander, Gujranwala XXX corps, commandant of the Pakistan military academy Kakul and general officer commanding Lahore. Lt Gen Mahmood has served as the corps commander of Lahore. He was also the military secretary to former president Rafiq Tarar.
Mahmood comes from the Baloch regiment and had served under General Kayani as Inter-Services Intelligence deputy director general. Both generals have superseded Lt Gen Haroon Aslam, currently the chief of the logistics staff and the senior most general after Kayani. He is scheduled to retire in April.
In a surprise move, Kayani had scotched speculation of a possible extension by issuing a statement on October 6 saying, "My tenure ends on November 29, 2013. On that day I will retire."
A change of the command ceremony has been planned for November 29. Sharif will host a farewell dinner for Kayani on Wednesday.
Lt Gen Sharif is the brother of Nishan-e-Haider medal recipient for valour, Shabbir Sharif, who was killed in the 1971 war with India.
Sharif is said to be a key player in developing new doctrines for COIN/CT, where the infantry training manual has essentially been re-written under his watch to move the largest fighting arm and backbone of the army from the traditional India-centric role to a more diversified counterinsurgency capacity.
Sharif is said to enjoy close connections with former army chiefs and top brass as well as Lahore's political elite.
Mahmood, who enjoys good relation with the Nawaz family, is another key confidant of Kayani and is his principal staff officer. He is seen as the Kayani's second set of eyes.
Five chief of general staff -- Yahya Khan, Gul Hassan Khan, Mirza Aslam Beg, Asif Nawaz and Jahangir Karamat -- have made it to the post of the army chief while another three -- Aziz Khan, Tariq Majid and Khalid Shameem Wynne -- made it to the chairman joint chiefs of staff committee.
Kayani was handpicked by former military ruler Gen Pervez Musharraf as the army chief in 2007. He was given an unprecedented three-year extension by the then premier Yousuf Raza Gilani in 2010.
The selection of the chief of the Pakistani army, often described as the state within the state, has not been an easy task for the civilian government and especially for the once bitten, twice shy Sharif. This was the fourth time Sharif picked up an army chief.
He picked up Abdul Waheed Kakar as the army chief in 1993 but the general soon ditched him and played a key role in Sharif's resignation. Kakar had superseded at least four senior generals.
In 1998, he handpicked Pervez Musharraf to head the army and he too had superseded at least two generals. Musharraf first plotted the Kargil misadventure derailing
Sharif's India-Pakistan peace dialogue in 1999 and then engineered a coup against the Prime Minister in the same year.
Sharif selected Ziauddin Butt in October 1999 but he could not take over as the army chief due to the coup by Musharraf.
The new army chief would be in command while the pullout of international forces starts from neighbouring Afghanistan and the operation/negotiation game between the Pakistani Taliban and the Nawaz Sharif government. He can also influence the government's diplomatic dance with India, the United States, China and the Gulf states, as well as more local, security-centric initiatives, like energy efficiency and stabilising Balochistan, the Express Tribune had reported.

Image: Pakistan's newly-appointed army chief Lt Gen Raheel Sharif