In his first interaction with the media after announcing his resignation from the Upper House last week, the former cricketer reiterated his love for his state, saying he would choose it over any party or family.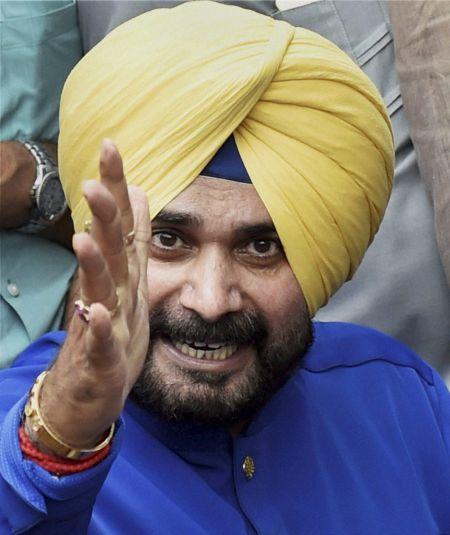 A week after he quit Rajya Sabha, Navjot Singh Sidhu on Monday broke his silence and targeted the Bharatiya Janata Party for asking him to stay away from Punjab to serve 'personal interests' but continued to keep everyone guessing on his next move, including whether he will join the Aaam Aaadmi Party.
In a brief interaction with the media, he asserted that he will choose to serve Punjab 'hundred times' above any party or family.
The cricketer-turned-politician, who made clear his displeasure with the BJP, parried queries on whether he would join the AAP, saying he will be standing wherever the interests of Punjab are served.
Sidhu alleged that he was told to keep away from Punjab to 'serve personal interests', apparently suggesting that the BJP was acting under its ally Shiromani Akali Dal's pressure.
Targeting the BJP, Sidhu said he delivered the prestigious Amritsar seat to the party during adverse circumstances but was 'drowned in the Modi wave' in 2014, when he was asked to shift from the constituency.
"It happened three or four times," he said referring to the party's suggestion that he keep away from the state's politics. This, he said, cannot be 'tolerated' even once as 'no party in the world is bigger than Punjab for me. I am willing to accept any loss for that'.
"Navjot Singh Sidhu had won four elections but when there was a wave in favour of Modi sahab, then Sidhu was drowned along with rivals. I was told you cannot fight from Amritsar. You fight from Kurukshetra, you fight from West Delhi. I did not leave my roots then nor did I care about profit and loss," Sidhu said.
Asked if he wanted to be the chief ministerial candidate in the next year's assembly elections, he said he always wanted to serve Punjab.
"I said I will not fight. I have no wish for any post but I will not break the trust of those who made me an MP from Amritsar and gave me the highest honour in 21 generations. Now you tell me that I should leave Punjab. I am given a Rajya Sabha seat and then told that Sidhu you keep away from your nation. Tell me what is my sin," he said.
"I quit the Rajya Sabha because I was told that I cannot look at Punjab and will have to keep away from it. No dharma is bigger than Punjab for me," he said, calling the state his nation from which he cannot keep away.
Asked if he will join the AAP or if he wants to be the chief ministerial candidate for the Punjab assembly elections due early next year, Sidhu said, "You will find Sidhu standing wherever the interests of Punjab are served. I have said what I had to. Navjot Singh Sidhu always wanted to serve Punjab and Amritsar."
Sidhu spoke at length about his innings in the BJP starting from 2004 Lok Sabha elections and how he had delivered Amritsar seat to the party again and again only to be kept away from the state's affairs and then denied the seat in 2014.
He said he fought in 2004 on the request of the then Prime Minister Atal Bihari Vajpayee and won the seat with over one lakh vote margin, adding that he won it twice more including in 2009 when he was the only party MP among the 50-51 seats in the plains of North India.
"When storms were blowing, then Navjot Singh Sidhu was sent... Now when there was a wave in support of Modi sahab, I was drowned along with rivals," he lamented.
Top party leader Arun Jaitley had contested from Amritsar in 2014 but lost to senior Congress leader Amarinder Singh.
Sidhu, a cricket commentator and fixture at comedy shows on the television, recited a number of couplets and poems to underscore how he was treated as a 'sinner' by the party without being told the reason.
The Sikh leader, known for rapid-fire bytes, said he also worked for the victory for his wife Navjot Kaur Sidhu from a difficult seat.
Though he has maintained silence over his sour relations with the Akalis, his wife has been more vocal and has aired their anger with the SAD and also with the BJP over its alleged cold response time and again.
Akalis are in power in Punjab with the BJP as their junior ally. The AAP has emerged as a strong force in the state and Sidhu's departure from the party is seen as a major setback for the saffron party ahead of Assembly election next year.
The BJP has maintained that Sidhu has not quit the party yet.