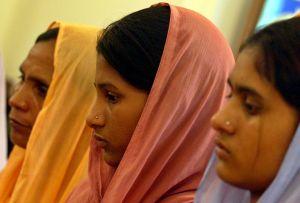 The Punjab government on Thursday announced an assistance of Rs 1 crore for the family of Sarabjit Singh, who died in Pakistan following a murderous assault in a jail there, and declared a three-day state mourning.
Flags will fly half mast on all government buildings and there will be no official ceremonial functions during this period, an official spokesman said in Chandigarh.
Punjab Chief Minister Parkash Singh Badal aannounced a financial assistance of Rs 1 crore to Sarabjit's family. The government has already announced that the two daughters of Sarabjit -- Swapanadeep Kaur and Poonam -- will be given government jobs in Punjab.
Badal assured the family members of Sarabjit Singh that Punjab government would extend all help and support to them.