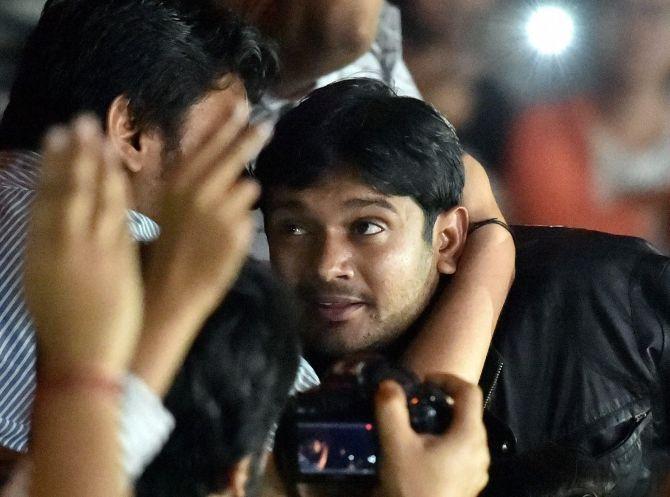 Jawaharlal Nehru University Student's Union president Kanhaiya Kumar on Monday accepted an invitation extended by a students' group in the city to take part in a discussion in Pune.
He also expressed solidarity with the students and called the Rashtriya Swayamsevak Sangh and its affiliates as "anti-constitutional".
Speaking to media over the phone during a press conference organised by All India Students Federation and other organisations here, Kumar assured the students from
Ranade Institute (Pune University's journalism college), Fergusson College and the Film and Television Institute of India that he will go to any city where students' rights were being suppressed and will stand by them.
"I express my solidarity and support for students community who have been fighting in Pune," he said during his brief phone conversation with media persons.
The situation in the country is very serious as the government is trying to snatch away the rights and freedom of students, he said. "We have to get united against forces like the RSS, the Akhil Bharatiya Vidyarthi Parishad and Bhartiya Janata Yuva Morcha to safeguard the democratic values and Constitution. ABVP, and the BJYM are the sections of the RSS and are anti-Constitutional and against the judicial system, and trying to suppress students' voice in India," he said.
After the fracas at FergussonCollege here during an ABVP-organised discussion on 'Truth of JNU', wherein a BJYM leader allegedly threatened the students of Ranade Institute that they would be thrashed if they invited Kumar, students from these two institutes and those from FTII came together and formed a joint forum to invite Kumar. Dates of Kumar's visit would be soon decided, local AISF members said.
The local All India Students Federation members said the JNUSU president will be visiting Pune, Kolhapur, Beed, Amravati and Aurangabad and may also visit drought-affected areas in Maharashtra.
Asked about the alleged threat given to the journalism students, Kumar said this was not new as RSS-affiliated outfits didn't let the people speak the truth.
"This fight is not of one student, or one college or one university, but of entire nation and students community has to come together to fight for their rights, education and employment," said Kumar, who is facing a sedition case and is out on bail.