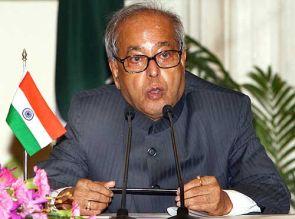 President Pranab Mukherjee has convened a three-day Governors conference from February 12 to articulate the stability of the Union Government, anticipating a hung Parliament in May 2014.
Pranab Mukherjee in his letter to the Governors stressed on internal security, food security, implementation of NREGA, university education, defence and external policies.
This will be the UPA regime's last conference of Governors that Prime Minister Dr Manmohan Singh and his Council of Ministers will address.
Pranab Mukherjee has been, at frequent intervals, holding video conferences with select Governors.
However, some question the timing of the Governors conference which comes when the country is readying for elections and the Parliament will be in session. But they also concede that the conference will allow President Pranab Mukherjee to give the Governors an opportunity to bid farewell to the UPA regime.
President Pranab Mukherjee will host a dinner for the Governors while the prime minister will host lunch.
Eminent personalities are expected to deliver lectures at the conference.
ESL Narasimhan Governor of Andhra Pradesh has been chosen for the third time as the Doyen of Governors to preside over the informal conference on February 12.