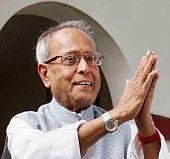 President Pranab Mukherjee who received a traditional reception reserved for a newly-wed Bengali groom on his visit to his in-laws' house at a village near Narail in Bangladesh, in return gave gifts to not just his relatives but to the people of the entire area.
During his maiden visit to Bhadrabila village, where the ancestral house of his in-laws is located, on March 5, Mukherjee announced a gift of six computers to the local Ramakrishna Ashram and promised construction of a 12-class room block or a girls' hostel for a local school located on the bank of Chitra river, according to official sources said on Thursday.
While Mukherjee was presented with a gold chain, his wife Shuvra -- who had accompanied him to Bhadrabila -- got a saree as a gift from her relatives.
Shuvra, who got married to Mukherjee in 1957, was born at Bhadrabila and did her early schooling there.
According to the first couple's relatives, Shuvra was overcome with memories of her childhood spent at Bhadrabila playing on the banks of Chitra, a river immortalised by Nobel laureate Rabindranath Tagore in his works. One of the anthology of Tagore's poems is also named "Chitra".
The ancestors of Shuvra Mukherjee migrated to India in early 1950s after the partition in 1947.


The first lady had previously visited her ancestral home once in 1995 along with her daughter.
President Mukherjee was in Bangladesh on his first overseas visit since taking office.