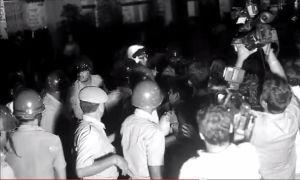 Refuting allegations of brutal lathi charge on Jadavpur university students, Kolkata police commissioner Surajit Kar Purakayastha on Thursday said the situation could have turned worse had the police not intervened as there were reports of armed miscreants entering the campus.
"The allegations that police had resorted to lathi charge inside the campus (in the early hours of Wednesday) is totally false. There were police men in civil dress and none of them had any lathis or weapons," Purakayastha said.
The police played a video footage which showed that no police personnel carried any weapons. "The allegation that there were no women police personnel is also baseless. There was enough police personal in the campus. In fact 11 police personal were injured," the CP said.
The university authorities, he said, had sought police help and asked it to come to the campus to help them as they were gheraoed for several hours and some of the women professors had fallen sick. "Had we not entered the campus and rescued the university officials and the situation had turned worse, who would have taken the responsibility?"
Asked whether the situation had really turned so bad that the VC would have been killed, Purakayastha said, "The situation was not good at all. Jadavpur university vice-chancellor Abhijit Chakraborty had said on Wednesday he might have been killed had not the police come to his rescue by forcibly lifting the gherao shortly after the 35 arrested students were freed by police in the early hours of Wednesday.
To questions on whether the police had identified the armed miscreants mentioned by him, Purakayastha said, "We are looking into the matter." He, however, did not reply when asked how students got injured and were admitted in hospital if police had not used force. Repeated queries posed by newsmen to Purakyastha about allegations of molestation against the VC and Jadavpore police station officer also drew a blank.
A section of JU students had on Wednesday lodged a police complaint against VC Abhijit Chakrabarty and Jadavpur police station officer-in-charge Vijay Kumar Singh accusing them of molesting girl students while forcibly lifting the gherao in the early hours of Wednesday.
The students had taken the VC and Registrar Pradip Ghose hostage on Tuesday evening demanding an independent probe into the alleged sexual harassment of a girl student inside a boy's hostel on August 28.