Prime Minister Narendra Modi on Wednesday said a blend of information technology and Indian talent would help shape the country's future.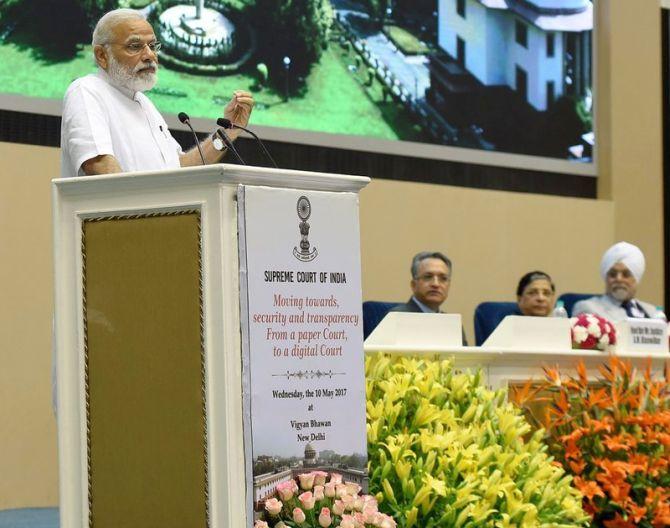 Addressing the gathering at an event to launch the Supreme Court's integrated case management information system in New Delhi, he said the formula -- IT plus IT is equal to IT (Information Technology plus Indian Talent is equal to India Tomorrow) -- would help the country stay ahead of others.
The prime minister said the future of India was in the use of latest technologies.
He also used his government's favourite tagline, Desh badal raha hai (the country is changing), to drive home the point of changing mindsets as regards the work culture.
"Desh badal raha hai. Aaj chutti hai, hum log kaam kar rahe hain (The country is changing. Today is a holiday, Buddha Purnima, but we are still working)," he said as the audience burst into laughter.
Chief Justice of India JS Khehar, senior judges of the apex court and Union Law Minister Ravi Shankar Prasad shared the stage with the prime minister at the event.
Modi had released a song -- Mera desh badal raha hai, aage badh raha hai (My country is changing, it is moving forward) -- to mark the second anniversary of his government last year.
Modi also hailed the judiciary for its decision to hear cases during the summer break, and said it would strengthen the sense of responsibility among people towards their work.
Launching an integrated case management information system in the Supreme Court which will enable digital filing of cases, he urged people to adopt technology to remain relevant in changing times.
Chief Justice of India J S Khehar had asked high court judges to volunteer working for a few days during the summer break for speedy disposal of cases, a step which the Supreme Court had already decided to take.
The CJI had on April 6 written to the chief justices of the 24 high courts, requesting them to work for a few days during summer vacations to bring down the pendency of cases.
Over 61,000 cases are pending in the apex court, while the 24 high courts have 38.70 lakh pending cases, according to the latest law ministry data.
Modi urged lawyers to become part of the pro bono scheme launched by the law ministry under which advocates can fight cases for the poor for free.
He said several gynaecologists now offer free services to poor pregnant women on 9th of every month on his request.
"42,000 students from IT worked for 36 hours non-stop to give solutions to 400 issues the government had flagged," he recalled.
Modi uploaded the integrated case information management system, marking the introduction of digital filing.
The system will help litigants access data and retrieve information online and will be a step towards a paperless Supreme Court.
Speaking on the occasion, CJI Khehar said he proposes to integrate the system with all the 24 high courts and subordinate courts.
It will help usher in transparency, reduce manipulation and help the litigant know about the progress of a case on a real time basis, he said.
Every central and state government department will know if they have been made party to the case and help them prepare accordingly.
Addressing the gathering, Modi said the decision of the Supreme Court and the high courts to sit during the summer break will help the poor in getting justice. "I thank them for this," he said.
The prime minister termed as "unfortunate" the mindset of people relating technology with new hardware.
He said in government offices, computers have replaced flower vases, but they are used as show pieces only.
"But no one uses (these computers)...mindset is a problem," he said.
He said while people go for the latest mobile phones, their use of gadget is limited to "red and green -- connect and disconnect -- buttons". "People send SMS but call up to check whether the other side has received their message," he said.
He said with a paperless approach, millions of litres of water and thousands of trees can be saved. Ten litres of water is used to make one A4 size paper, he claimed.
Referring to the demonetisation of Rs 500 and Rs 1,000 notes, he said it was time people moved on to digital transactions so that the money saved can be used to build homes for the poor and new schools.
He said millions of rupees are spent in manufacturing, safekeeping and transporting currency notes. A lot of manpower, he said, is used in securing ATMs.
Photograph: PIB