If you want to be happy, move to Finland.
The World Happiness Report published on Wednesday ranked 156 countries by happiness levels, based on factors such as life expectancy, social support and corruption.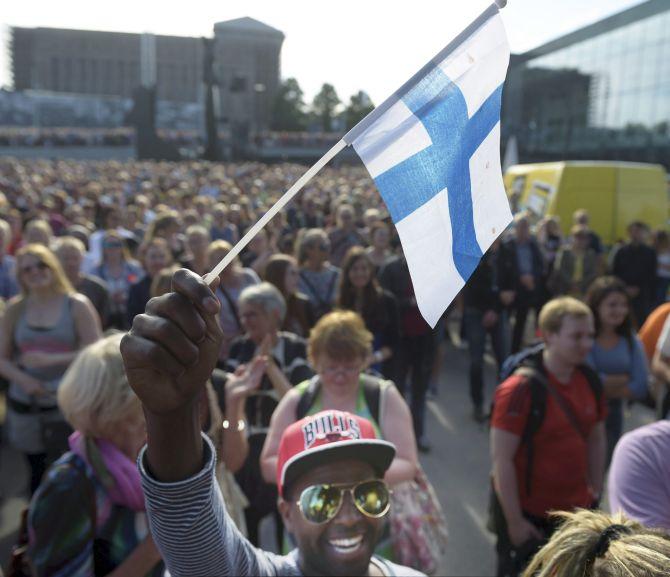 IMAGE: Finland, which boasts of long, dark winters and short summers bathed in almost continuous light, came in fifth place last year. Photograph: Vesa Moilanen/Lehtikuva/Reuters
Norway, last year's winner, came in second place in the 2018 report. It's followed by Denmark, Iceland and Switzerland.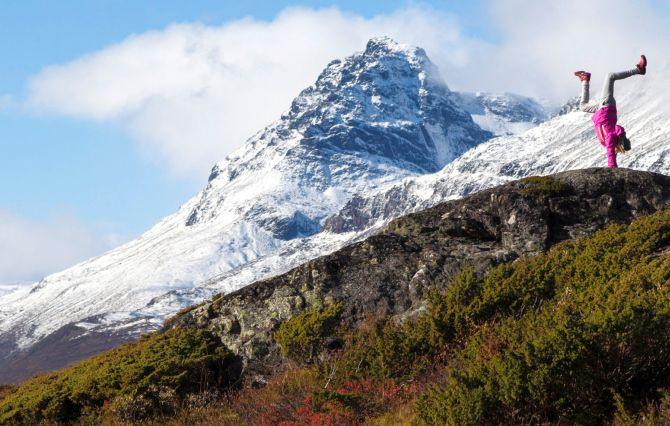 IMAGE: Although Norway slipped from the top spot to second place this year, the differences between the top five countries is so minimal that the report's editors aren't surprised by the yearly shifts. Photograph: Svein Nordrum/NTB Scanpix/Reuters
The Nordic country also had the happiest immigrants, a special focus of this year's report.
"The top five countries all have almost equally high values for the six factors found to support happiness, and four of these countries -- Denmark, Switzerland, Norway and now Finland -- have been in first place in the six World Happiness Report rankings since the first report," said report co-editor John Helliwell, a professor emeritus of economics at the University of British Columbia.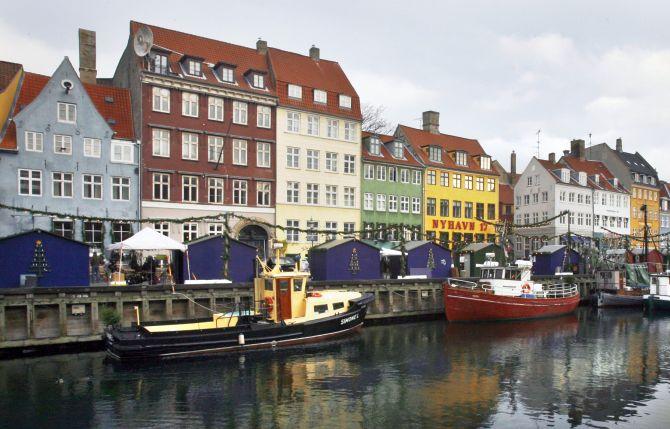 IMAGE: Denmark has topped the list of the world's happiest countries three times, the last time in 2016. Photograph: Bob Strong/Reuters
"In a division with such excellent teams, changes in the top spot are to be expected," he said.
Following Finland in the top 10 are Norway, Denmark, Iceland, Switzerland, Netherlands, Canada, New Zealand, Sweden and Australia.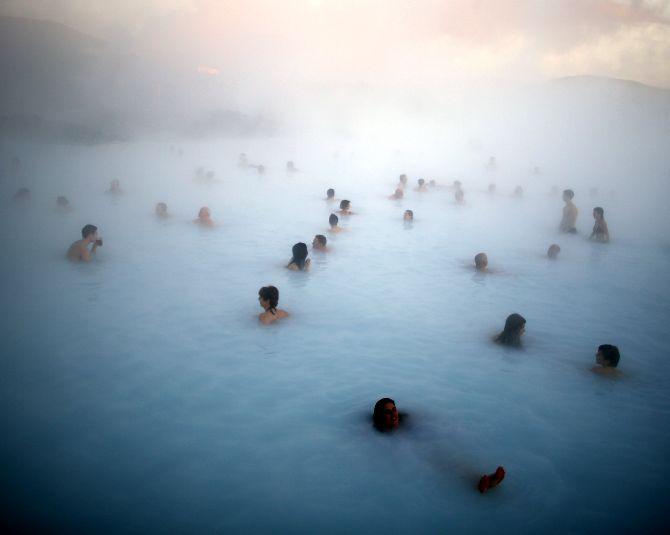 IMAGE: People relax in one of the Blue Lagoon hot springs near the town of Grindavik. Perhaps, the nature and the relaxed people of Iceland make it a good spot to get some happiness. Photograph: Stoyan Nenov/Reuters
The report, released ahead of the United Nations World Happiness Day on March 20, ranked 156 countries on six variables — income, life expectancy, freedom, social support, trust and generosity. The report included surveys of 117 nations based on the happiness of immigrants there. Finland came out on top in both categories.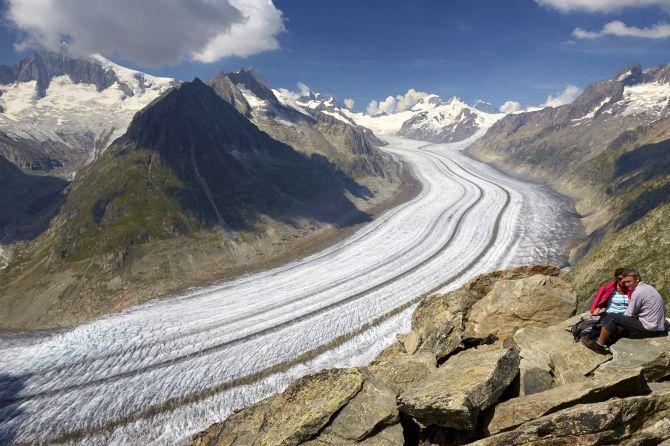 IMAGE: Hikers take a rest with a view on the Aletsch Glacier at the Eggishornn summit in Fiesch, Switzerland. Photograph: Denis Balibouse/Reuters
The United States came in at 18th, down from 14th place last year, while Britain came 19th.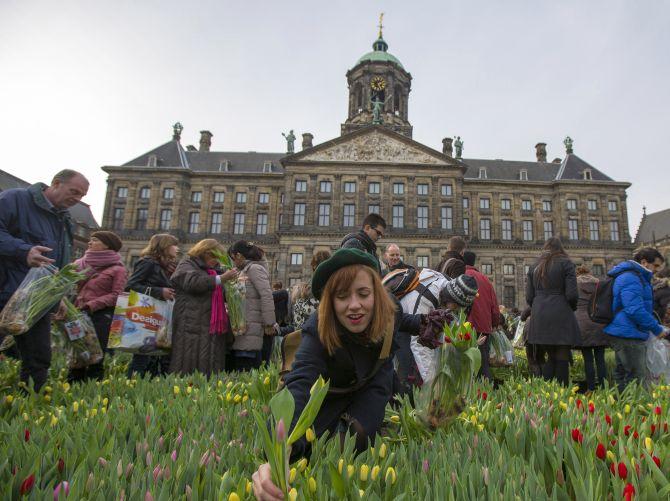 IMAGE: A woman picks a tulip in Dam square, in front of the National Palace in Amsterdam, Netherlands. Photograph: Cris Toala Olivares/Reuters
India was ranked at 133 in the report.
Topping the list of least happy countries are Burundi, Central African Republic and South Sudan, where political turmoil exists, incomes are low and access to adequate health care is difficult.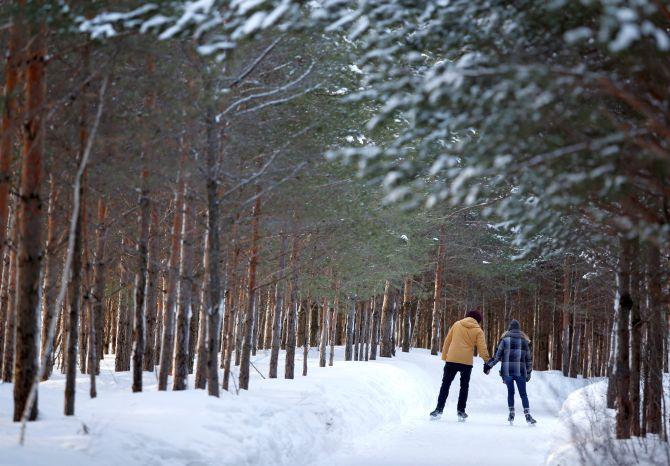 IMAGE: Canada was the only country in the Americas to make the top 10 list. Photograph: Christinne Muschi/Reuters
IMAGE: Known for stunning landscapes, New Zealand made the top 10. Photograph: Marcos Brindicci/Reuters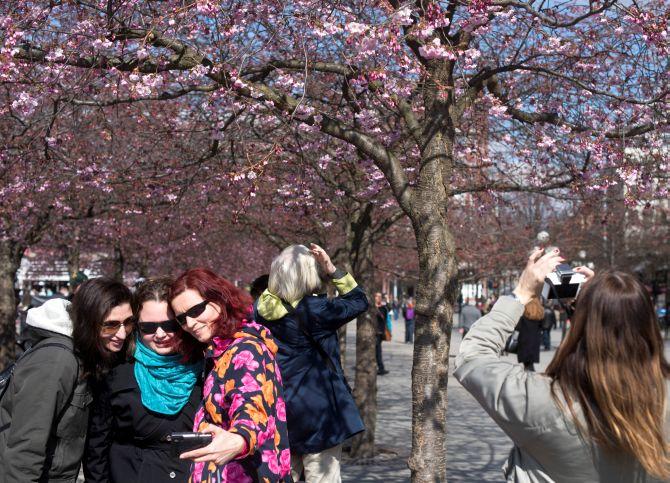 IMAGE: Visitors take a selfie with blooming cherry trees in the background in Kungstradgarden park in Stockholm, Sweden. Photograph: Henrik Montgomery/TT News Agency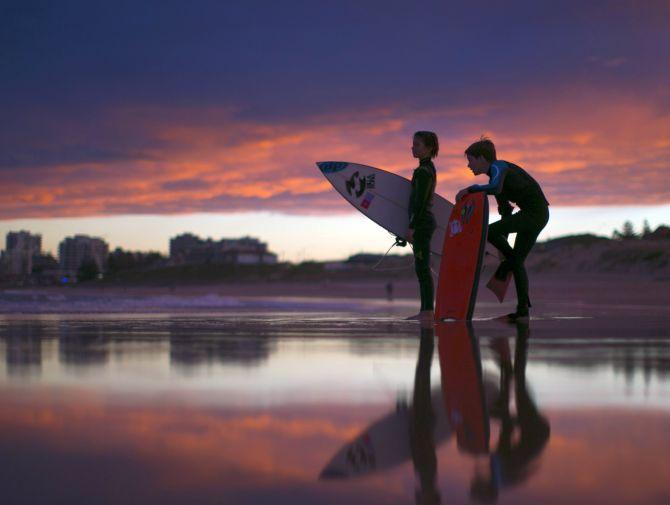 IMAGE: The World Happiness Report for 2018 ranks Australia among the top 10 of the planet's happiest nations -- no wonder with amazing natural wonders such as the Great Barrier Reef on its doorstep. Photograph: Jason Reed/Reuters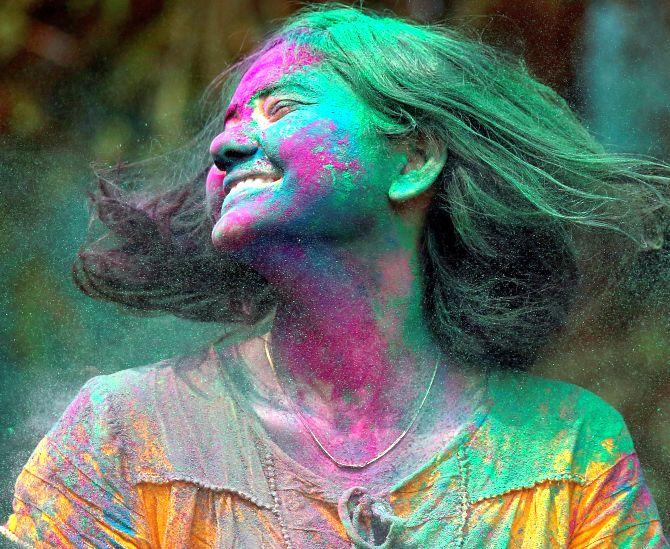 IMAGE: India ranks low on the list -- 133. Perhaps, the communal tension and the unemployment is to blame? Photograph: Francis Mascarenhas/Reuters
10 happiest countries
1. Finland
2. Norway
3. Denmark
4. Iceland
5. Switzerland
6. Netherlands
7. Canada
8. New Zealand
9. Sweden
10. Australia