The Bharatiya Janata Party swept the Uttar Pradesh civic polls on Friday pocketing 14 of the 16 mayoral seats as Yogi Adityanath emerged on top in his first major electoral test after taking over as chief minister in March.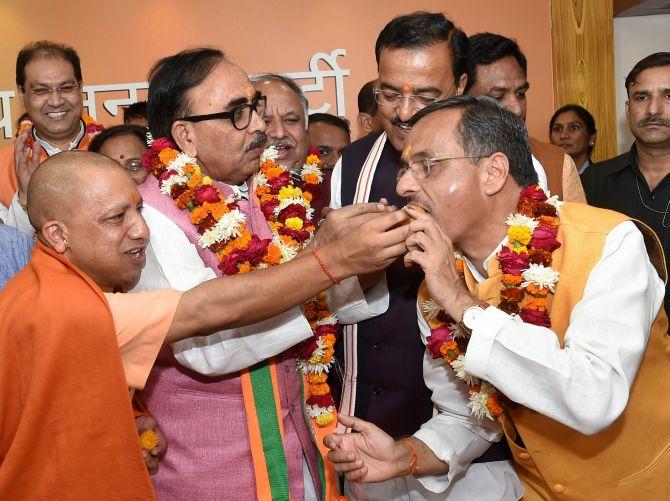 IMAGE: Uttar Pradesh Chief Minister Yogi Adityanath, his deputies Dinesh Sharma and Keshav Prasad Maurya and BJP state president Mahendra Nath Pandey celebrate the victory of the party in the state civic body elections. Photograph: Nand Kumar/PTI Photo
The Congress faced the embarrassment of losing in its bastion Amethi, the Lok Sabha constituency of its vice president Rahul Gandhi.
Mayawati-led Bahujan Samaj Party, meanwhile, sprang a surprise as it thwarted the challenge from BJP candidates to win the mayoral posts in western UP's Aligarh and Meerut towns.
Lucknow, which elected BJP's Sanyukta Bhatia as its first woman mayor, was among the prestigious seats including Prime Minister Narendra Modi's Lok Sabha constituency of Varanasi, temple town Ayodhya and Adityanath's home turf Gorakhpur, that the BJP won.
BJP also scored impressive victories in Kanpur and Ghaziabad with its nominees emerging victors by a margin of over a lakh votes.
Union Finance Minister Arun Jaitley said that the results reaffirmed people's support for the GST which has made doing business "easier" for traders.
BJP chief Amit Shah said that it was clear that the people had embraced the economic reforms and rejected politics of caste, appeasement and dynasty.
The results are all the more a boost to the saffron party as they come days before the high-stakes Gujarat assembly polls.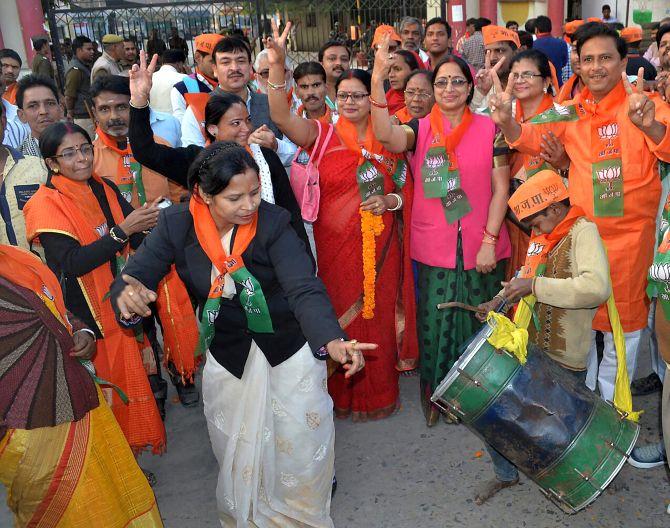 IMAGE: BJP activists celebrate in Varanasi on Friday after Mridula Jaiswal won the mayor's post in the Varanasi civic election. Photograph: PTI Photo
Among BJP's thumping victories was in Kanpur where, Pramila Pandey defeated Bandana Misra of the Congress by a margin of 1,05,134 votes. In Ghaziabad, BJP's Asha Sharma trounced Dolly Sharma of the Congress by 1,63,675 votes.
It was BJP all the way in Allahabad and Agra also. Abhilasha Gupta retained the Allahabad mayoral post defeating Vinod Chand Dubey of the Samajwadi Party by 63,384 votes. In Agra, Navin Kumar Jain defeated Digambar Singh of the BSP by 74,322 votes.
In Ayodhya, BJP's Rishikesh Upadhyay secured 44,642 votes and defeated his nearest rival SP candidate Gulshan Bindu, a transgender by 3,601 votes.
Prime Minister Modi's constituency Varanasi saw BJP candidate Mridula Jaiswal defeating nearest rival Shalini (Cong) by an impressive 78,843 votes. In Gorakhpur, BJP candidate Sitaram Jaiswal defeated Rahul Gupta of Samajwadi Party by 75,823 votes.
BJP candidate Vinod Agarwal defeated Congress's Rizvan Qureishi by a margin of 22,635 votes in Moradabad. In Saharanpur too, the BJP won with Madan Walia pipping BSP's Fazlurehman by 2,000 votes.
BJP's Mukesh won the Mathura-Vrindavan seat besting Mohan Singh of Congress by 22,108 votes. The Adityanath government, soon after assuming office, had constituted two municipal corporations : Ayodhya and Vrindavan-Mathura.
BJP's Ramtirth Singhal won the Jhansi seat defeating Brijendra Kumar Vyas of BSP by a margin of 16,373 votes. Congress had fielded former Union minister Pradip Jain Aditya, who came third.
In Firozabad, BJP candidate Nutan Rathore emerged victorious over Masroor Fatima of the All India Majlis-e-Ittehad-ul Muslimeen by a margin of 42,396 votes.
In Bareilly, Umesh Gautam of BJP trounced Iqbal Singh Tomar of SP by 12,784 votes.
In Aligarh, however, BSP's Mohammad Furqan wrested the saffron stronghold defeating BJP nominee Rajiv Agarwal by a margin of 11,990 votes in a virtual direct contest.
Another BSP win came from Meerut where Sunita Verma defeated Kanta Kardam (BJP) by 29,582 votes. This was the first time that BSP contested UP civic polls on its poll symbol - elephant.
IMAGE: BJP's Sanyukta Bhatia showing victory sign after won the Mayors seat in civic elections in Lucknow. Photograph: PTI Photo
Adityanath who went on a whirl wind tour of the state to ensure the victory of his party candidates, described it as a "historic win". He credited the victory to Prime Minister Narendra Modi's vision and Shah's guidance.
The BJP will now look forward to achieving the goal of one hundred per cent success in the 2019 Lok Sabha polls, he said.
Adityanath also pointed out that the Congress has been wiped out in its pocket-borough of Amethi.
UP civic polls officials confirmed a win for the BJP in Amethi, a traditional Congress bastion.
The Congress lost in Jais and Gauriganj where nagar palika polls were held. In Amethi and Musafirkhana, where nagar panchayat polls were held, the party had not fielded candidates.
From Gauriganj, SP's Rajpati Devi won by defeating BSP nominee Tara Devi by 1,395 votes. The Musafirkhana seat was won by independent Brijesh Agrihari while the Amethi seat was won by BJP candidate Chandra Devi.
Meanwhile, Deputy Chief Minister Dinesh Sharma said the people had shown full faith in the BJP.
"The SP, the BSP and the Congress contested the polls as each other's relatives. (SP chief) Akhilesh Yadav and Rahul Gandhi, who were together during assembly polls as 'UP ke ladke' have become like the punctured tyre and tube of a cycle," Sharma said taking a jibe.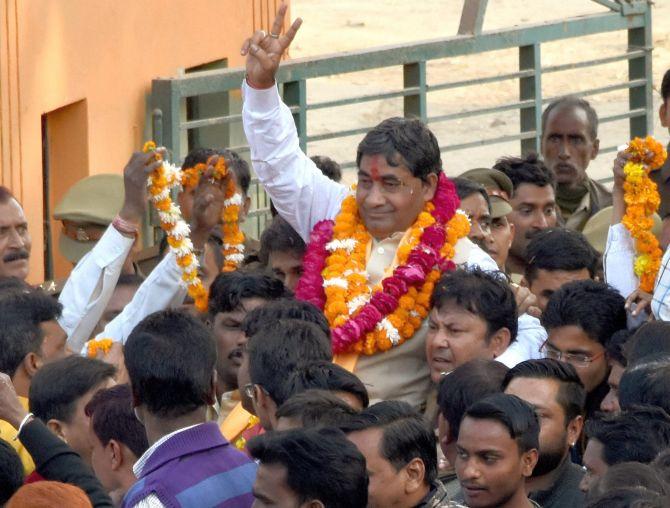 IMAGE: BJP candidate Vijay Arya Bandhu celebrates the party's victory. Photograph: PTI Photo
He rejected opposition's charges of EVM tampering.
SP leader and MLC Rajpal Kashyap alleged it was "disheartening" that the BJP gained on places where EVMs were used. The SP is closely analysing the results, he said.
The SP, which previously ruled the state, failed to win a single mayoral seat.
The counting of the ballots polled in three phases on November 22, 26 and 29 was held under tight security cover and CCTV surveillance at 334 centres in district and tehsil headquarters, the state election commission said.
Polling was held for 16 nagar nigams, 198 nagar palika parishads and 438 nagar panchayats with an average turnout of all the three phases estimated at 52.5 per cent of the 3.32 crore voters.
Cong downplays civic poll loss, says ruling party normally wins such elections
The Congress downplayed its loss in the Uttar Pradesh civic polls saying such elections are contested on local issues and are normally won by the state's ruling dispensation.
Congress spokesperson Manish Tewari said the party will analyse the results and draw lessons for improving its performance in the future.
He, however, said the results could have been different had these polls been held under the supervision of the Election Commission instead of the State Election Commission.
"Local bodies elections are contested on local issues and the people of the country know very well which are national, state and local issues. As far as local bodies elections are concerned, everyone knows that... it goes in favour of the party in power, to help get small works done," Tewari said.