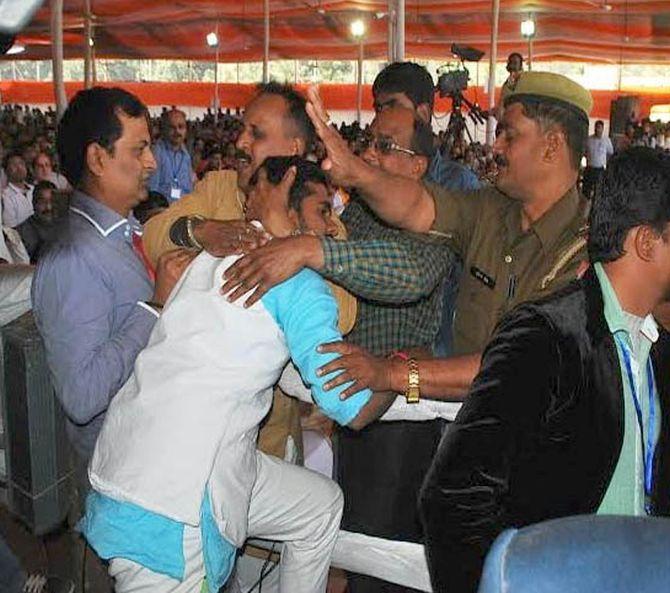 At the Benaras Hindu University convocation, a youth on Monday raised the demand for restoration of students' union at the university and wanted Prime Minister Narendra Modi to listen to him but was detained by police.
The youth, who identified himself as BHU's BA second year student Ashutosh Singh, started shouting "Modi ji, please listen to the voice of the students community" as soon as the PM finished his speech and was getting off the stage.
He was immediately whisked away by the police personnel present there.
In a video tweeted by ANI, the student was quoted saying that the "voices of the students are being curbed in the institute". A man from behind slaps him, while he was making the statement. Police officials eventually escorted him out of the event.
The commotion apparently did not catch sight of the prime minister or other dignitaries accompanying him as the visitors' gallery was a few hundred metres away from the stage.
While being taken out of the Amphitheatre Ground, where the convocation ceremony was held, the youth told reporters "my name is Ashutosh Singh and I am a student of B.A II year. I wanted to apprise the PM of the fact that the students' union at BHU was banned long ago and varsity authorities have been reluctant to restore the same."
The policemen who whisked away the youth said he would be "released soon without being booked for any serious crime."
The students' union in BHU was banned about a decade ago after the varsity campus was rocked by violence. The union has thereafter been replaced by a students' council, which has office-bearers elected by "representatives" from each class.
A section of students has been, however, demanding restoration of the students' union wherein the president and other office-bearers are elected directly.
Ashutosh, who was sitting in the Visitors' Gallery, said he had wished to submit a memorandum to the PM with the demand that the BHU students' union be restored but permission for the same was not granted by the varsity authorities.
Outside, a number of Bahujan Samajwadi Party supporters were chased away by police from the Lanka Chauraha, a few hundred metres from the BHU premises, where they were shouting slogans in protest against the visit of the PM.
Modi's visit came at a time when political temperatures are running high over the issues of Rohith's suicide and JawaharlalNehruUniversity student leader Kanhaiya Kumar being sent to jail on charges of sedition.
However, the PM, who donned a white kurta-pyjama and an orange turban - the attire that students and dignitaries wore on the occasion -- steered clear of making any reference to the contentious issues.
Image: The student demanded that students' union elections be held just as Modi ended his speech at Banaras Hindu University. Photograph: Sandeep Pal