The Republican Party was plunged into an epic and historic political crisis with just a month to go until Election Day as a growing wave of lawmakers called on the defiant US presidential nominee Donald Trump to drop out of the race in the wake of a video showing him make crude sexual remarks.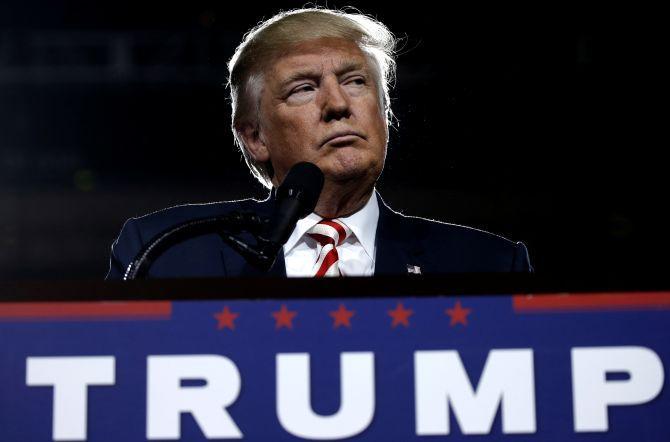 IMAGE: Republican presidential nominee Donald Trump is in big trouble after a 2005 video surfaced in which he makes extremely lewd and offensive remarks against women. Photograph: Mike Segar/Reuters
A 2005 video recently surfaced in which the Republican presidential nominee was caught on mic making extremely lewd and sexually offensive remarks against women. He was newly married in 2005 when he spoke in an uncovered video about trying to have sex with married women and groping others without permission.
He's a dog: Rober De Niro
Actor Robert De Niro has released a video lambasting the Republican presidential candidate.

"I mean he's so blatantly stupid," De Niro says, sitting in front of the camera.

"He's a punk, he's a dog, he's a pig, he's a con, he's a bulls*** artist, a mutt who doesn't know what he's talking about."
De Niro went on to describe Trump as an embarrassment to the country, saying he doesn't do his homework and doesn't pay his taxes.

He said he cared about "the direction of this country" and was worried that it might go in the wrong direction if Trump were elected.
The video has led to several lawmakers pulling their support for Trump. Senator John McCain, a senior figure in the Republican Party who was its 2008 presidential nominee, formally withdrew his support for Trump.
"I have wanted to support the candidate our party nominated. He was not my choice, but as a past nominee, I thought it important I respect the fact that Donald Trump won a majority of the delegates by the rules our party set. I thought I owed his supporters that deference," read a statement from McCain, the latest in a growing number of Republicans to withdraw support for Trump.
"But Donald Trump's behaviour this week, concluding with the disclosure of his demeaning comments about women and his boasts about sexual assaults, make it impossible to continue to offer even conditional support for his candidacy.
"Cindy and I will not vote for Donald Trump," he added, referring to his wife.
"I have never voted for a Democratic presidential candidate and we will not vote for Hillary Clinton. We will write in the name of some good conservative Republican who is qualified to be president."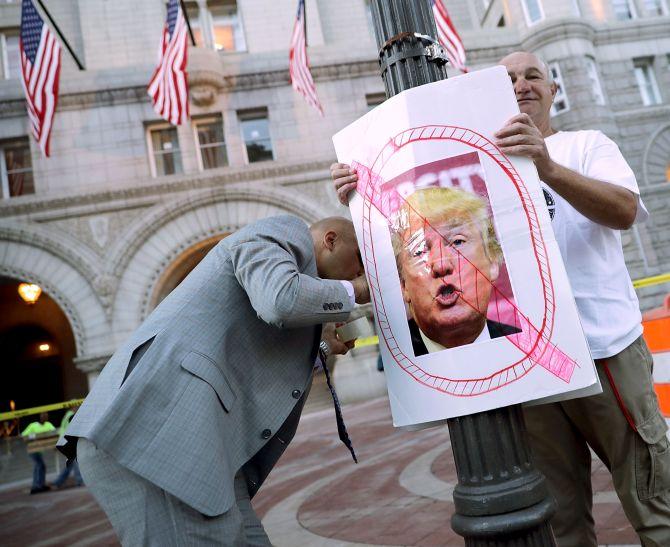 IMAGE: Demonstrators gather in front of the newly opened Trump International Hotel to protest against Republican presidential candidate Donald Trump and what they say are his racist, sexist and anti-immigration positions. Photograph: Chip Somodevilla/Getty Images
Former Secretary of State Condoleezza Rice said: "Enough! Donald Trump should not be president. He should withdraw."
House Speaker Paul Ryan said he was "sickened" by what he had heard and rescinded his invitation to the real estate magnate to a campaign event in Wisconsin.
The Republican vice presidential nominee Mike Pence said that he won't "condone his (Trump's) remarks and cannot defend them."
"We pray for his family and look forward to the opportunity he has to show what is in his heart when he goes before the nation tomorrow night," the Indiana governor said.
Ted Cruz, who only recently endorsed Trump after a brutal primary battle, is considering rescinding that backing, according to a source close to the Texas senator.
IMAGE: People hold anti-Trump signs outside a campaign rally for Republican presidential candidate Donald Trump. Photograph: Ralph Freso/Getty Images
Meanwhile, Melania, Trump's wife of 11 years and a former Slovenian model, said, "The words my husband used are unacceptable and offensive to me. This does not represent the man that I know. He has the heart and mind of a leader. "
She said she hoped people will accept her husband's apology "as I have, and focus on the important issues facing our nation and the world."
Trump, 70, had married his third wife Melania, 46, in 2005.
Meanwhile, Trump remained defiant in the face of the severe backlash and criticism within his own party over his remarks in the video, telling the Washington Post that he will not quit the presidential race.
-- With inputs from Agencies