Renowned sand artist Sudarsan Pattnaik has created five sand sculptures of A P J Abdul Kalam on Puri beach to pay tribute to the former president on his second death anniversary.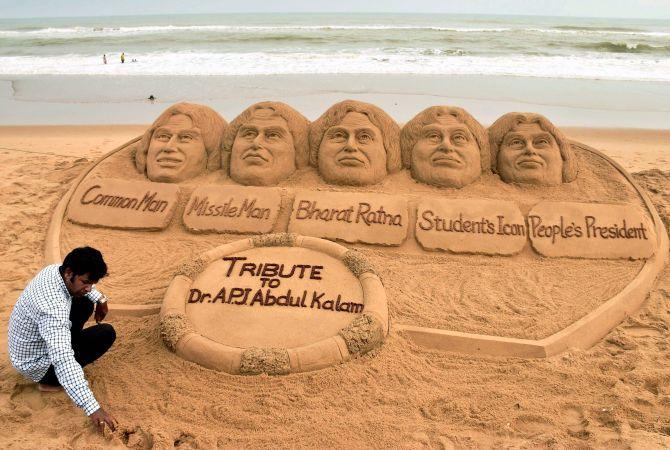 IMAGE: Sand artist Sudarsan Pattnaik with his tribute to the former president at Puri beach on the occasion of his death anniversary. Photograph: PTI Photo
The globally acclaimed artist said he created the sculptures with messages portraying Dr Kalam as the 'Common Man, Missile Man, Bharat Ratna, People's President, Student's Icon'.
Six tonnes of sand were used to create the five faces of Dr Kalam with these five messages, he said.
Pattnaik recalled that Dr Kalam had invited him for the first time to Rashtrapati Bhawan in 2005 when sand art was not so popular in the country and encouraged him a lot.
"It was a great honour for me when he (Kalam) gave me a cheque of Rs 3,000 from his personal account. We have lost the nation's Missile Man, People's President with a simple heart and beautiful mind and soul who was an inspiration to the youth," he said.
Meanwhile, Prime Minister Narendra Modi will inaugurate APJ Abdul Kalam's memorial in Rameshwaram in Tamil Nadu.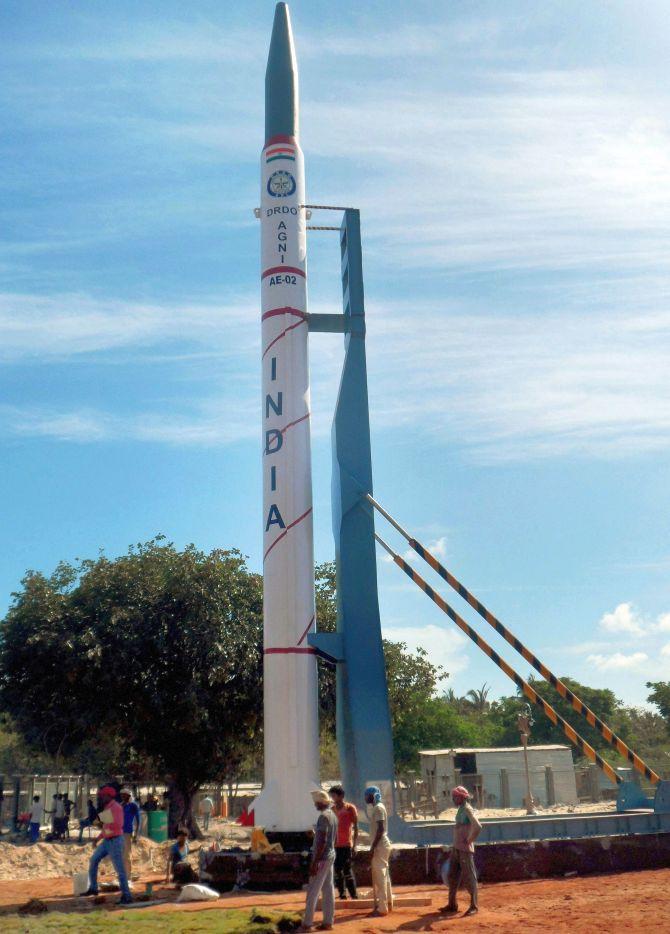 IMAGE: A replica of Agni Missile being installed near the APJ Abdul Kalam Memorial ahead of its inauguration in Rameswaram. Photograph: PTI Photo
The prime minister will hoist the national flag at the memorial designed and built by the Defence Research and Development Organisation in Pei Karumbu, the PMO said in a statement.
Later, the PM would flag off 'Kalam Sandesh Vahini', an exhibition bus which would travel across various states of the country and reach Rashtrapati Bhavan on October 15, the birth anniversary of the former President, the statement said.