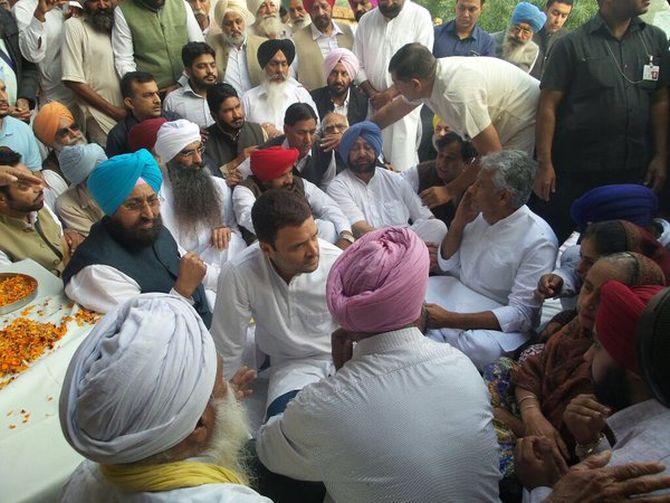 Rahul Gandhi on Thursday hit out at the ruling Shiromani Akali Dal, saying only Akalis are prospering in Punjab and stressed the Congress is united in the state as he along with two feuding state leaders met the families of the two youths killed in police firing.
Rahul, who arrived here by train to meet the families of the youths killed during protests against incidents of sacrilege last month, said, "Right now no one, but the Akalis are prospering in Punjab. Only they (Akalis especially Badals) seem to have a future. We want that everybody in Punjab is prosperous in the future."
"I can't see anyone's future here (Punjab). Punjab is in crisis... Farmers have problems here...drugs are a big problem," he said.
With his eyes on the assembly elections and the growing factionalism in the state unit, Rahul said, "Congress in Punjab will collectively fight for the future of Punjab, its farmers, Dalits and labourers and change the present government (in 2017 assembly polls)".
"Congress will change the present SAD-Bharatiya Janata Party government by giving a united fight. All the senior leaders of party in Punjab have given me an assurance that they would remain united for the better future of the state," he said while pointing towards various state leaders accompanying him including state unit chief Partap Singh Bajwa and former chief minister Amarinder Singh.
He, however, cautioned the state leaders that a divided Congress would not attain its aim.
Rahul said the families of the two youths killed in firing at Behbal Kalan want justice.
"One thing I gathered after meeting the families is that they want justice," he said, adding that if they do not get justice, a delegation of Congress would meet President Pranab Mukherjee to take up their cause.
He said Congress would put pressure on the SAD-BJP combine to ensure justice for the families of the two Sikhs.
"Action must be taken against erring cops," he said.
"Every Congressman will work for ensuring justice for the victims of firing at Behbal Kalan," said Gandhi who spent some 30 minutes with the family of Gurjit Singh, a motor mechanic killed during the protests, said.
The Gandhi scion shared his grief with the family and sought details about the incident.
At Behbal Kalan, Rahul visited the spot where the firing took place.
Later, Rahul walked for about eight kilometre to reach the house of another deceased youth Krishan Singh at nearby Niamiwala village.
Sadhu Singh and Mohinder Singh, the fathers of the two deceased Sikhs apprised Rahul about the plight of their family and "injustice" done to them allegedly by the Akali government.
During his padyatra, Rahul interacted with the people, including villagers, children and women.
Besides meeting those injured in the firing incident, he held a 'Chaupal' (small gathering) at the site.
Rahul noted that there is a need to focus on agriculture and education in Punjab.
"For a better future of Punjab, there is need to focus on agriculture and education sector besides waging a battle against the problem of drugs," he said.
Holding that Punjab government is not helping farmers in the state, he said farmers must get the Minimum Support Price for their produce and that generation of employment avenues is of paramount importance.
Congress leaders Sunil Kumar Jakhar, Vijay Inder Singla and Rajinder Kaur Bhattal, AICC General Secretary Shakeel Ahmad, party MPs Deepinder Singh Hooda and Ravnit Singh Bittu also accompanied Rahul.
Earlier on his way from Sarawan to Niamiwala village, Rahul met students of GovernmentPrimary School at Guru Shar village and exchanged pleasantries with the young ones.
Later, Rahul spent some time in a dharamshala of village Guru Shar and interacted with locals over a cup of tea. The villagers shared their problems with Rahul.
The Congress vice president also interacted with a shopkeeper and had biscuits from his shop.
During his two-day visit to the state, Rahul is also expected to meet farmers in Bathinda district besides families of the 1984 riot victims.
Image: Congress vice president Rahul Gandhi condoles the family of Gurjit Singh, victim of the police firing. Photograph: @OfficeofRG/Twitter