North Korea has fired a ballistic missile powerful enough to hit America, Europe or Australia into Japanese waters.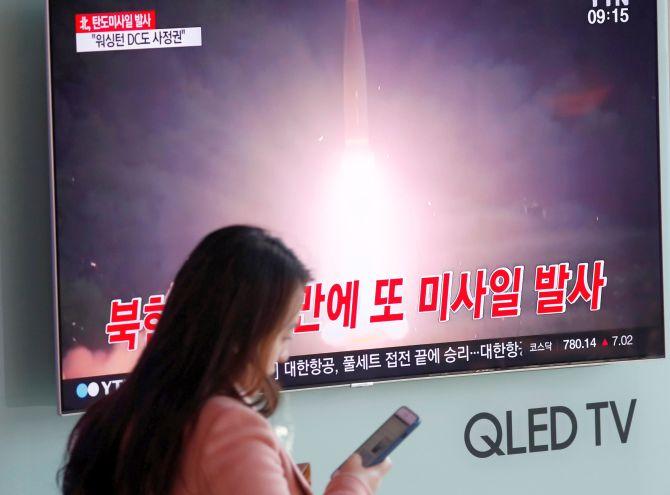 IMAGE: A woman walks past a television broadcast of a news report on North Korea firing of an intercontinental ballistic missile that landed close to Japan, in Seoul, South Korea. Photograph: Kim Hong-Ji/Reuters
The Hwasong-14 intercontinental ballistic missile was launched eastward from Pyongsong in North Korea's South Pyongan Province around 3.30 am local time.
It is the latest in a series of weapons tests that has raised tensions. Pyongyang last launched a ballistic missile in September.
It also conducted its sixth nuclear test that month. North Korea has continued to develop its nuclear and missile programme despite global condemnation and sanctions.
United States Defence Secretary Jim Mattis said the missile launch "went higher, frankly, than any previous shots they have taken".
Hours after the launch US President Donald Trump promised 'we will take care of it' and 'it is a situation we will handle'.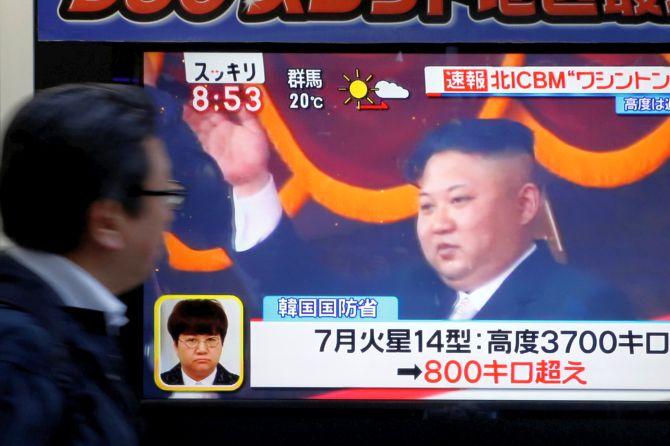 IMAGE: A man walks past a street monitor showing North Korea's leader Kim Jong Un after the launch of the missile that was powerful enough to hit America, Europe or Australia. Photograph: Toru Hanai/Reuters
Speaking in a broadcast from the White House Trump said: "A missile was launched a little while ago from North Korea.
"Let me tell you that we will take care of it. We have had a long discussion on it. It is a situation we will handle."
Mattis has accused North Korea of endangering world peace, regional peace and "certainly the United States".
Shortly afterwards the US, Japan and South Korea requested an urgent meeting of the UN Security Council.
It comes just days after US President Trump added North Korea to America's list of 'state sponsors of terror' and announced further sanctions targeting the country's shipping.
Pyongyang branded the move 'a serious provocation and violent infringement'.