Light to heavy rains lashed several parts of north India intensifying cold wave conditions in the region following snowfall in higher reaches that brought down day temperature considerably in Delhi and neighbourhood.
Snowfall was recorded in the higher reaches of Uttarkhand and Jammu and Kashmir and some places in Himachal Pradesh while many places in Delhi, Haryana, Punjab, Uttar Pradesh and some places in Rajasthan were lashed by showers with MeT department predicting more snowfall in the higher reaches.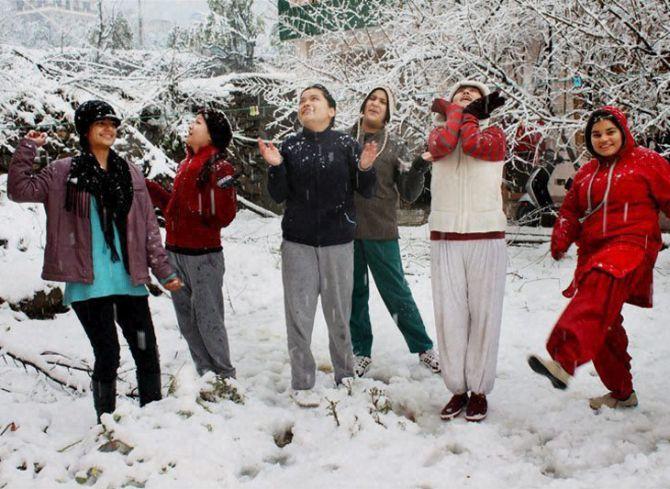 Girls enjoy playing in the snow in Kullu. This is the first snow of the year. Photograph: PTI photo
"We have predicted heavy snowfall in parts of Uttarakhand and Jammu and Kashmir. In Himachal, only few regions would experience snowfall, whereas in Uttarakhand, snowfall would be experienced in 1-2 regions," India Meteorological Department Director B P Yadav said.
The sky remained overcast as scattered rains and icy winds swept through Delhi keeping people indoors.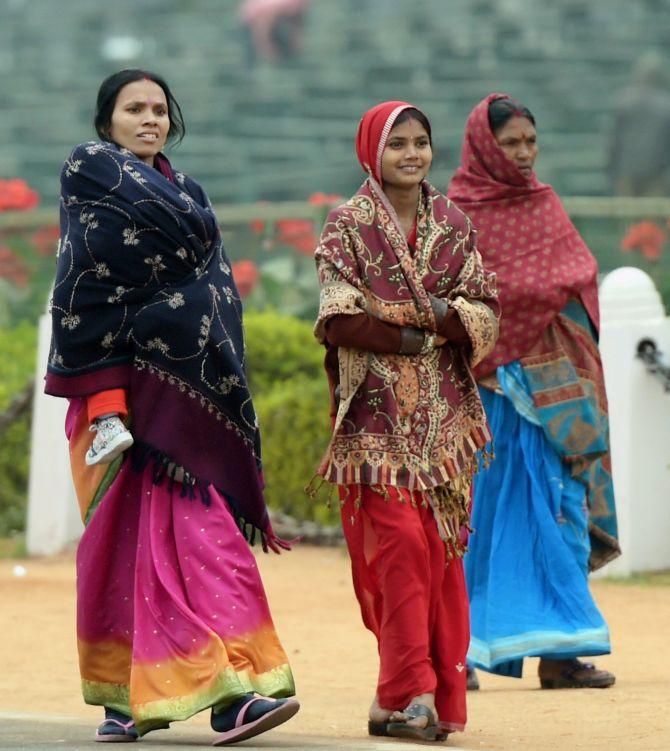 After the mercury dipped, women were seen covering themselves in shawls to protect them from the cold. Photograph: PTI photo
The maximum temperature settled seven notches below normal at 16 degrees celsius, while the minimum was recorded at 14.2 degree celsius, six points above normal, MeT department said.
The city received 3.8 mm of rains during the day as high humidity persisted between 87 and 93 per cent.
As overcast conditions coupled with shallow fog loomed throughout the day, the MeT department predicted similar conditions for tomorrow and possibility of more rains during the night.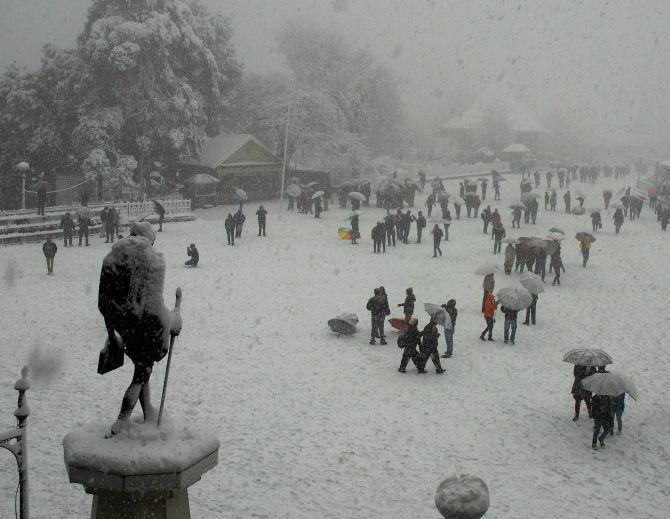 People enjoy the first snowfall on a ridge in Shimla. Photograph: PTI photo
Snowfall in the higher reaches and rains in low lying areas of Uttarakhand brought down temperatures in the state intensifying the cold conditions.
In the Garhwal division, Badrinath, Kedarnath, Gangotri, Yamunotri, Hemkund and Chakrata and in the Kumaon division Munsyari and Dharchula received snowfall, MeT department said. Some low lying areas including state capital Dehradun received sporadic rainfall.
Women cover their heads with their dupattas after it suddenly started raining in the capital. Photograph: PTI photo
Misty weather affected normal life in Rajasthan as the sun remained elusive for the second consecutive day on Sunday, a MeT report said.
Jaisalmer and MountAbu recorded the lowest temperatures of 6.4 and 6 degree celsius respectively on Sunday night, the report said.
Colllege students enjoy themselves in the shower that drenched the city. Photograph: PTI photo
Mercury plummeted at all places by one to six degrees celsius as light rains occurred in parts of Hadaui region as Jhalawar recorded the most rainfall of 7 mm, the report said.
Mist led to poor visibility up to 1,500 metres, a MeT official said, adding, the weather is not foggy.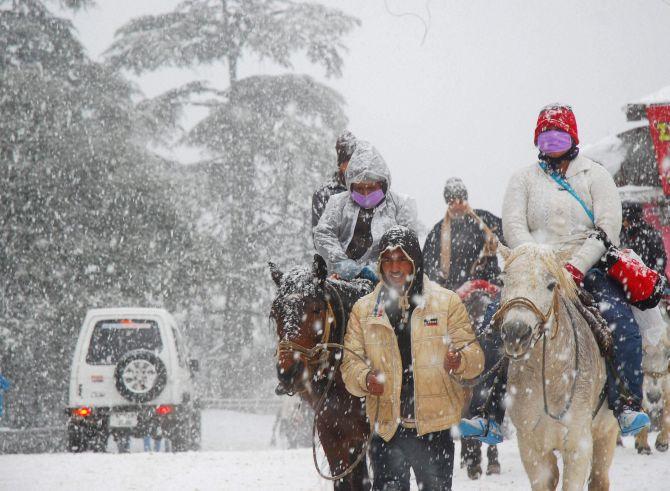 Light to moderate rain or thundershowers occurred at many places in Uttar Pradesh in the last 24 hours.
According to the MeT department, 7 mm rainfall was recorded in Mahrauni, 6 mm in Lalitpur, 5 mm in Rath, 4 mm in Maharajgunj, 3 mm each in Garotha, Nakur, and Banda, 2 mm each in Bahraich, Kanpur, Fursatgunj, Hardoi, Fatehgarh, Jhansi, Hamirpur, Orai, Bindki, Mahoba, and Kalpi.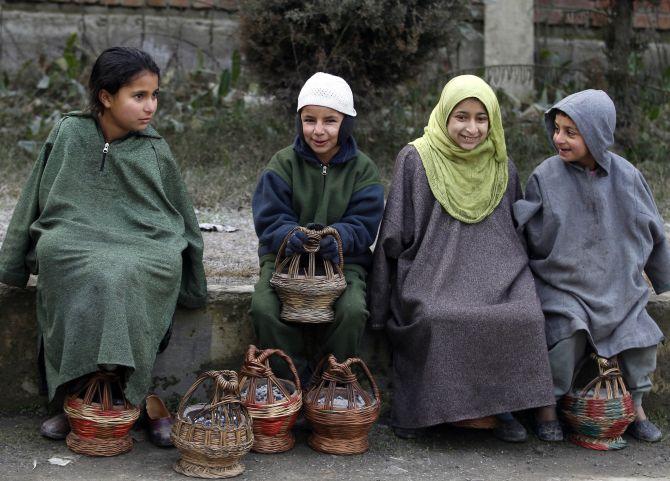 The lowest minimum temperature was recorded in Shahjahanpur at 3 degrees celsius.
Owing to the snow, many vehicles started moving slowly causing a traffic jam at between RohtangPass and Solang Nallah. Photograph: PTI photo
People warm themselves next to a fire on a winter morning along a road in the western Indian city of Ahmedabad. Photpgraph: Amit Dave/Reuters