The deadline given by the Haryana police to controversial 'godman' Rampal to surrender and his followers to vacate his ashram has ended. Police said that water and electricity connection to the ashram have been cut off.
TV reports on Wednesday morning said that Rampal's supporters were using women and children inside the ashram as human shields.
Armed devotees on Tuesday tried to hold off the police, attacking them with acid pouches, sticks and stones. Petrol bombs were also allegedly also thrown at the police.
The police had called off their search till Wednesday saying the ashram is built like a maze with deadly traps set up.
Violent clashes broke out at the ashram in Haryana with police lobbing teargas shells and resorting to lathicharge to disperse his supporters who allegedly fired back, leaving over 100 persons, including security and media personnel, injured.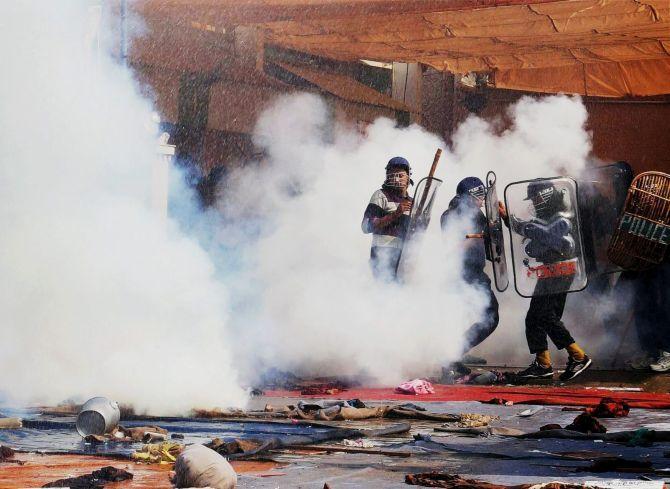 Tension mounted as supporters of Rampal refused to heed to repeated announcements by the police over loud speakers to allow them to enter the premises to arrest him.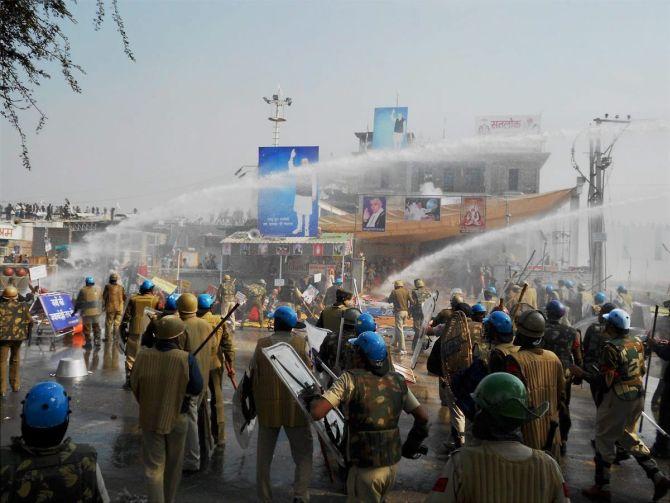 Police and Sant Rampal's followers indulge in violent clashes at Satlok Ashram in Hisar. Photographs: PTI Photo
In the entire operation being carried out by police and paramilitary forces, which State DGP S N Vashisht described as "very tough" since they were dealing with presence of many women and children inside, police lobbed teargas shells and used batons and water cannons to disperse Rampal's supporters who allegedly fired back, pelted stones and hurled "petrol bombs" back at them.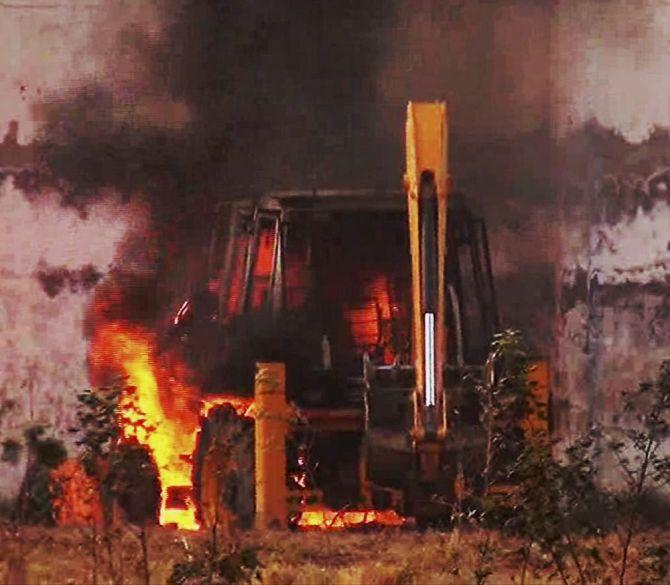 The Haryana government had given Rampal's followers a 30-minute ultimatum to vacate the Satlok Ashram at Barwala in Hisar district.
However, it was not clear in the melee whether Rampal was holed-up inside the ashram or had moved out as was claimed by an ashram spokesman on Monday.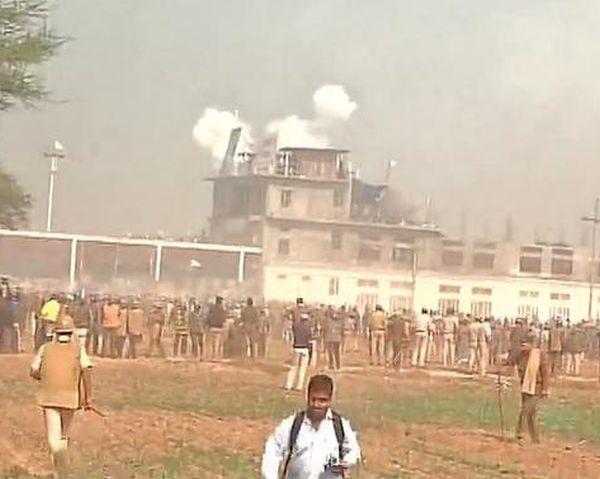 Plumes of smoke erupt from Satlok Ashram in Hisar after the clashes between the supporters and cops became violent. Photograph: ANI/Twitter
Police said that over 100 persons had been injured that include many followers, media persons and security personnel and some of them had been admitted to various hospitals at Hissar, Barwala, Agroha and Uklana after being injured in the violence.
A JCB machine was set on fire by the miscreants inside the Ashram as authorities attempted to break the third wall of the 50-feet high boundary wall surrounding the huge building.
Towards the evening, the operation was briefly halted as authorities gave some time to the followers to come out and cooperate so that they could carry out the job to execute the court orders to arrest Rampal.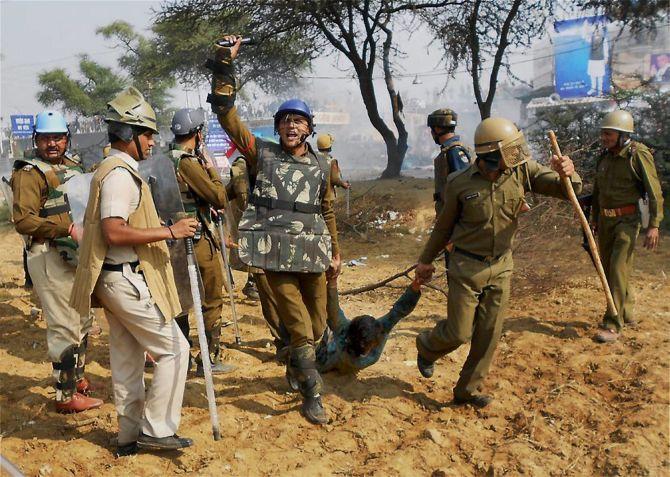 Security personnel drag away a follower of Rampal during a clash outside Satlok Ashram in Hisarr. Photographs: PTI Photo
Security personnel were attempting to storm the premises and arrest Rampal, against whom fresh Non-Bailable Warrants were issued by the Punjab and Haryana High Court on Monday.
There were conflicting reports with some stating that Rampal was inside the ashram.
Ashram spokesman Raj Kapoor had said that Rampal was "unwell" and was being treated at an "undisclosed location".
However, DGP S N Vashisht told reporters in Chandigarh that as per their information Rampal "is still inside the Ashram".
The stand-off of several days between the authorities and Rampal's supporters took a violent turn as the Haryana government was racing against time to get hold of the 'godman' to meet the deadline of Friday set by Punjab and Haryana High Court for producing him in a contempt case.
Media crews faced the brunt of the violence that left some of them injured while cameras of many private electronic news channels were damaged.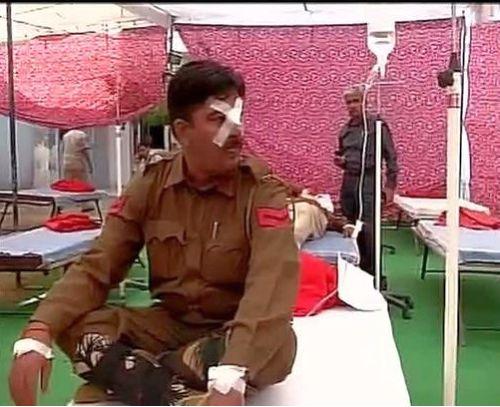 A policeman who was injured in the clashes receives treatment at a hospital. Photographs: ANI/Twitter
An injured reporter said that some mediapersons covering the operation were suddenly chased by the cops and attacked, even though they were discharging their duties and were at a "safe distance" from the ashram.
Police said that many security personnel had also been injured in the violence including serious injuries suffered by ASI, Ravinder, as they were was firing and stone pelting from the ashram side, with some followers making last-ditch attempts to thwart the forces from storming the premises.
Vashisht said police was in the midst of a tough operation.
He said there was firing at the police from inside the ashram from people who were wielding pistols, revolvers and other firearms.
Two policemen suffered bullet wounds, one in the neck while another was shot in the leg, he said.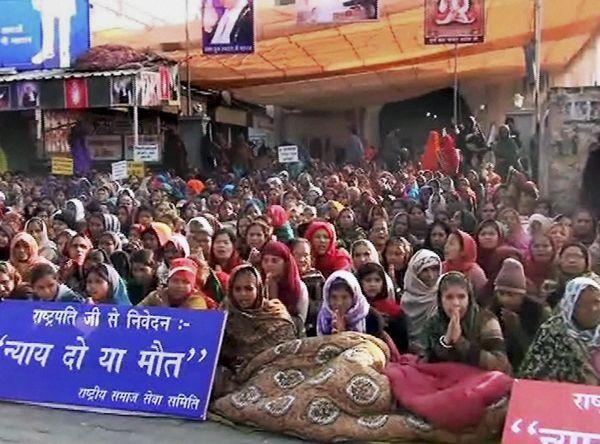 Sant Rampal's followers have been camping outside his ashram since Sunday shielding him from the cops. Photograph: PTI photo
Asked about injuries to the mediapersons, he said, "Earlier I got two phone calls that they (media personnel) were stopped from entering the operational areas.
There were 86 reporters and I permitted each one of them.
"It has been brought to my notice that some media persons have been injured in the ensuing melee or the stone pelting...One I have seen on the news that he has been beaten up by police. I assure you that the matter will be investigated," he said.
Asked about delay on part of the police to arrest Rampal, the DGP said, "one has to understand that we are facing a very hostile group inside the Ashram. We know that there are women and children in numbers inside the Ashram, and even babies, some just one-year old. We have over-riding priority to save the innocent lives".
"We are committed to carry out the directions of the High Court and at the same time use minimum force and avoid casualties altogether or keep it minimum," the DGP added.
Chief Minister Manohar Lal Khattar was also closely monitoring the situation and was being given constant updates, his OSD, Jawahar Yadav said in Chandigarh.
A portion of the outer wall of the Satlok ashram had been razed even as thick cloud of smoke billowed out in the afternoon from the roof of the Ashram which is spread over an area of 12 acres.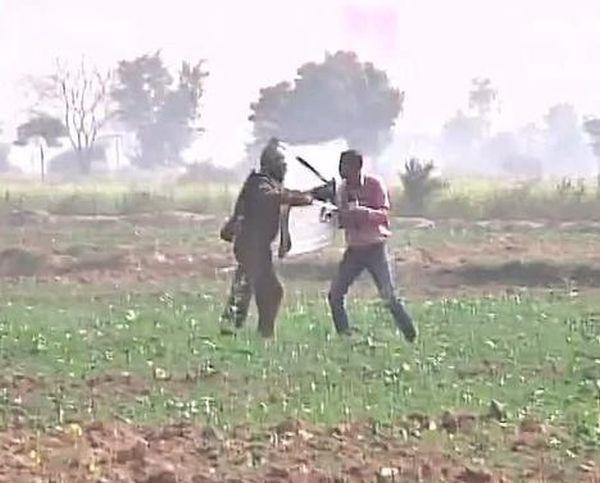 Media persons were also injured during the clashes after the police lathi charged camera crew. Photograph: ANI/Twitter
Some disciples who managed to come out from the ashram claimed that "thousands" of people were inside the premises and a vast majority of them wanted to leave immediately but were being prevented by lathi-wielding supporters of the 'godman'.
A woman follower, who identified herself as Kusum from Uttar Pradesh, said she somehow managed to come out from the ashram today. "I forced my way out. There are scores of people still inside," she said.
A young male follower of Rampal from Haryana, said, "I was forced to stay back. Some followers of the Baba who are from other states asked us to stay inside."
Rampal's followers to protest in Delhi?
Following the violence, Haryana government has ordered immediate screening of all Delhi-bound vehicles to check the movement of followers of the godman to the capital for a reported dharna at the Jantar Mantar.
Official sources said that the directions were issued following intelligence inputs which suggested that Rampal's followers were planning to travel to Delhi for a dharna at Jantar Mantar in support of the Satlok Ashram chief.
Security personnel, including traffic and general police, have been directed to screen all vehicles, including private cars and buses, state-owned buses of various states like Haryana, Punjab, Himachal Pradesh and Chandigarh and goods-carrying vehicles headed for Delhi, sources said.
Government Railway Police has also been directed to screen Delhi-bound trains from Haryana, the sources added.