A major fire that broke out in a rubber godown in south Delhi's Malviya Nagar area was brought under control after an 18-hour fire fight with help from the Indian Air Force (IAF), which conducted a 'Bambi Bucket' operation on Wednesday, police said.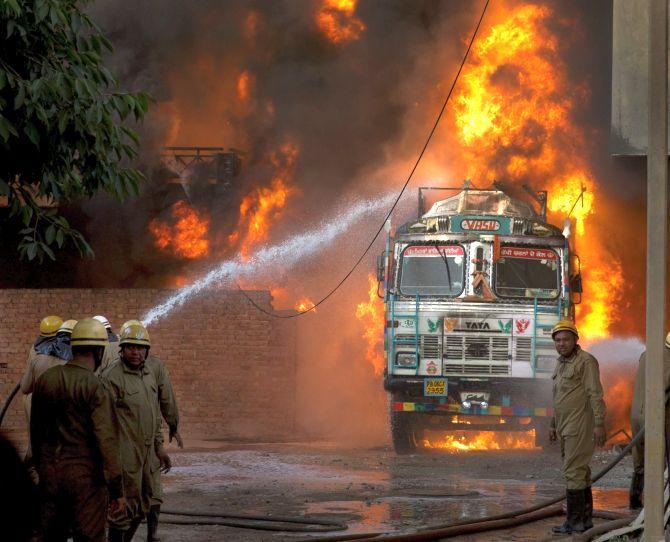 Cooling operations are still underway at the site.
A dense plume of smoke billowed from a truck and spread to a godown in Khirki Extension area on Tuesday night, causing panic among locals. The godown and the truck had inflammable rubber sheets and winds flared up the fire that started at 5 pm on Tuesday.
The city police has arrested Sanjay Saini, owner of the godown, in the incident.
It was found that he was storing inflammable materials without proper permission from the MCD and there were no fire safety measures in place at the godown, the police said.
WATCH: IAF's Mi-17 helicopter tries to douse flames at Malviya Nagar godown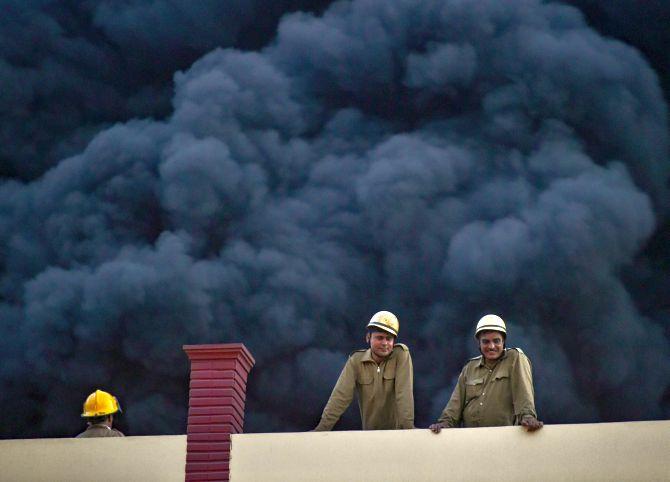 The fire was brought under control by 7 am, according to the Delhi Fire Services.
However, smaller fires in the inflammable materials were brought under control later, it said.
Police said that the fire was doused by 11 am and 65 firetenders were used to contain the blaze.
Cooling operations were still underway till evening with the police predicting that they would continue for another 10 hours.
It was the first time that a Bambi Bucket operation was carried out by the air force in an urban situation, the IAF said in a statement.
'Around midnight, a request was received at HQ Western Air Command for containing a fire at Malviya Nagar. A MLH class helicopter airborne from Sarsawa did a recce and landed at Palam.
'Thereafter, the helicopter got airborne with bambi bucket to contain the fire,' according to the statement.
The helicopter filled water from the Yamuna reservoir and poured it over the site.
'This had to be repeated thrice to contain the fire. This was the first time the Bambi Bucket operation was done in an urban situation wherein the nitty gritties of drop are very precise, owing to high rises around and chances of collateral damage,' the statement said.
The operations picked up this morning wherein a helicopter flown by Wing Commander Pradeep Bhola of the Mighty Armours assisted in dousing the fire, the IAF said.
Approximately 8,000 litres of water have been used in the operation.
Thirteen buildings, a school and a gym had to be evacuated for safety reasons..