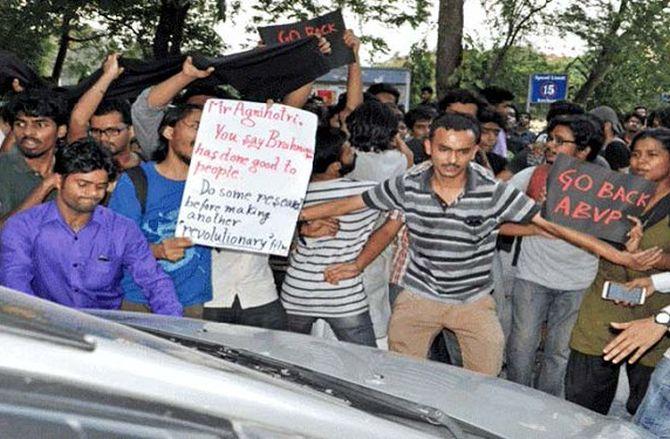 Rival groups of students on Friday clashed at the Jadavpur University campus over the screening of Vivek Agnihotri-directed political film 'Buddha in a Traffic Jam' triggering chaos during which some girls were allegedly molested and Bharatiya Janata Party actor-turned-politician Roopa Ganguly was not allowed to enter its premises.
The fracas began after the film's screening ended late in the evening, and students from Akhil Bharatiya Vidyarthi Parishad fought with activists of Left-backed student unions in which a few of them received minor injuries, officials said.
Agnihotri faced black flags at the campus gates, sloganeering and placards bearing message that asked him to leave.
The filmmaker claimed he was "manhandled and gheraoed" by some students and even the glass pane of his car was left shattered in the commotion.
The agitating students said they have nothing against the screening of the film, but were protesting against the "divisive content" in it, which also stars Anupam Kher.
"We all know Kher's views in the whole debate on whatever happened in Jawaharlal Nehru University. He is acting in this film which has divisive content. We are protesting against that," Sounak Mukherjee, a first year MA student of English Department, said.
Some girl students were allegedly molested during the melee that ensued after the incident, police said.
"The students had isolated four of them inside the campus following the incident. I have handed them to the police. There were some outsiders also. The students said they molested some girls," University Vice Chancellor Suranjan Das said late Friday night.
A senior varsity official said "the four youths were outsider and FIR is being lodged against them".
BJP leader Roopa Ganguly also rushed to the campus but was stopped at the gate by the police.
The state-run varsity's alumni association, which runs the Triguna Sen auditorium, had decided to cancel the booking for a pre-release screening of the film in their hall.
The producers, however, went ahead with the screening at an open-air space in the campus claiming they have support from another group of students.
"The students arranged a bedsheet and turned it into a screen to see my film. Many watched it and realised it's not what they were thinking. It is a realistic film," Agnihotri, the director of "Hate Story" and "Goal" said.
Even as the screening was going on in the evening, after classes were over, the agitators carried on with demonstration near the spot.
"We did not arrest anyone but keeping a close watch on the situation so that it does not escalate beyond control," a senior Kolkata Police official said.
Meanwhile, ABVP activists were holding demonstrations demanding arrest of those who had allegedly "beaten up" some of their fellow members.
Police has put up barricades few metres away from Jadavpur police station to stop a rally led by university students who were on way to the police station to stop any possible clash between ABVP members and JU students.