At least 42 people have died so far in the fast-moving wildfire which began in California on November 8. The numbers are expected to rise.
Authorities confirmed that as many as 228 people are unaccounted for in Northern California, media reports said.
Here are a few glimpses of the devastation caused by the fire, stated to be the deadliest in the state's history.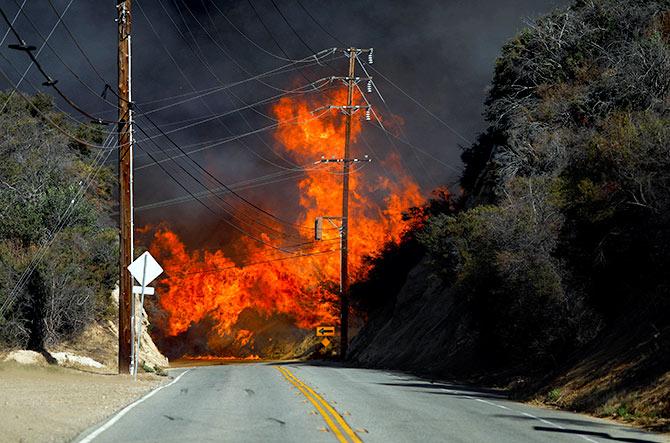 The fire which is now dubbed as 'Camp Fire' destroyed Northern and Southern California and displaced as many as 3,00,000 people. According to the California Department of Forestry and Fire Protection, 1,09,000 acres of land has burned down since the fire first began. Photograph: Eric Thayer/Reuters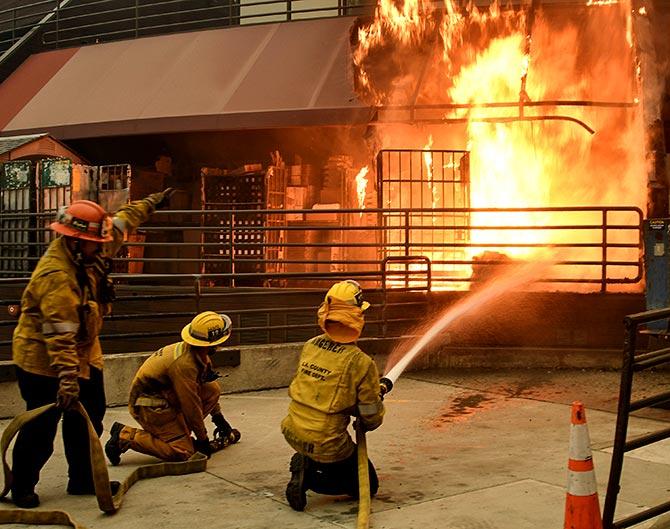 US President Donald Trump has blamed 'poor' forest management for the fires. He has called for proper forest management to combat wildfires, days after threatening to cut off federal payments due to mismanagement. Photograph: Gene Blevins/Reuters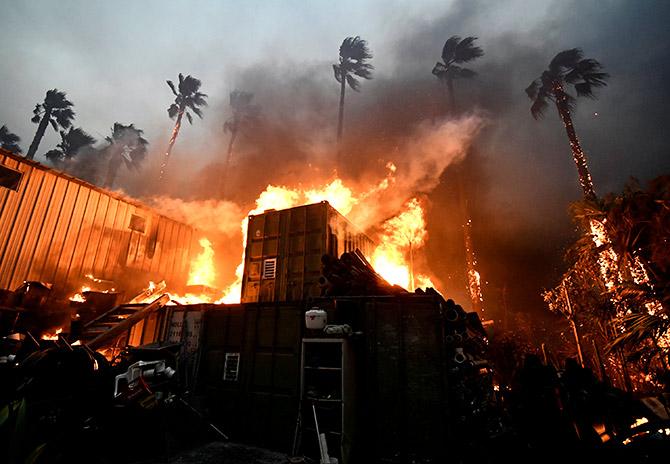 Huge plumes of smoke still rose in the fire area, which stretches miles from the northwest corner of Los Angeles' San Fernando Valley to the Malibu coast. The fire's cause remained under investigation but power authorities report that there was an outage on an electrical circuit near where it started as Santa Ana winds blew through the region. Santa Ana winds, produced by surface high pressure over the Great Basin squeezing air down through canyons and passes in Southern California's mountain ranges, are common in the fall and have a long history of fanning destructive wildfires in the region. Photograph: Gene Blevins/Reuters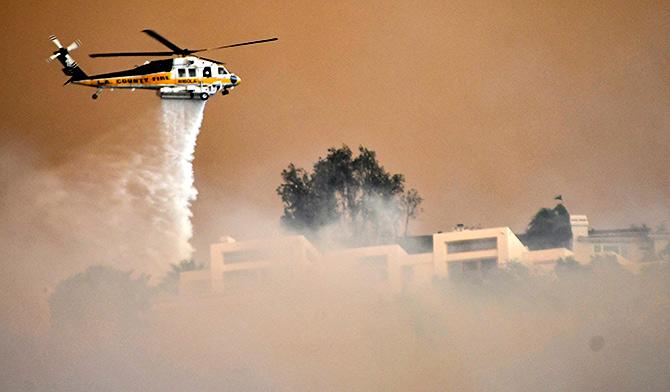 Airplanes and helicopters swooped low over hills and canyons to drop loads of fire retardant and water. Smaller fire to the west in Ventura County was 70 per cent contained at about 18 square kilometers, bringing reduction in evacuations. But thousands remained under evacuation orders due to the Woolsey fire. Photograph: Gene Blevins/Reuters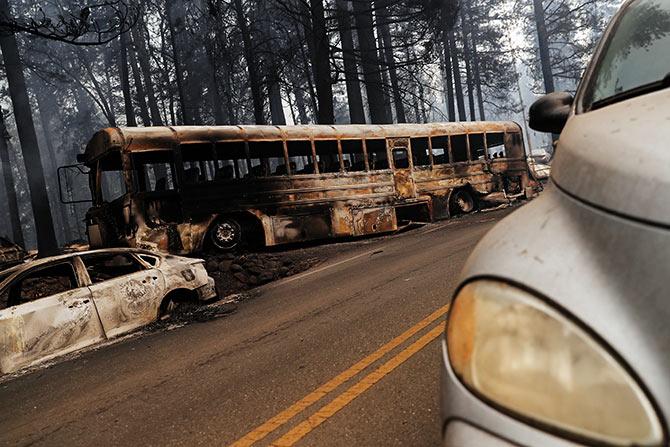 The blaze had started on Thursday night and moved towards Malibu and the Pacific Ocean, prompting evacuations in Malibu, Calabasas, Agoura Hills, and other neighbouring regions. "This is truly a tragedy that all Californians can understand and respond to," California Governor Jerry Brown said. Photograph: Stephen Lam/Reuters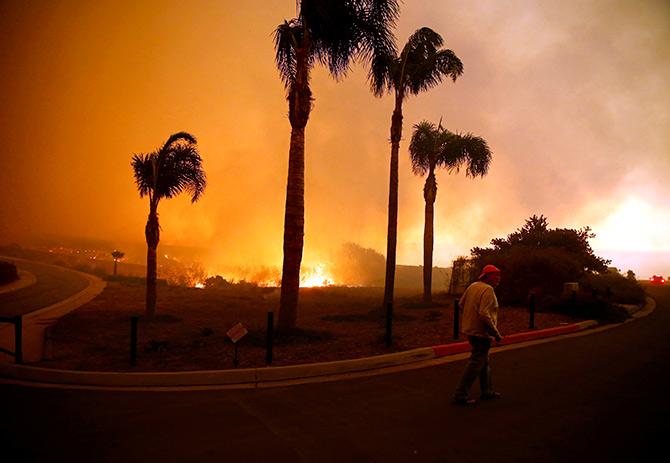 Ten search teams were working in Paradise -- a town of 27,000 that was largely incinerated last week -- and in surrounding communities in the Sierra Nevada foothills. Authorities called in a DNA lab and teams of anthropologists to help identify victims. More than 8,000 fire crews are battling the wildfires. Photograph: Eric Thayer/Reuters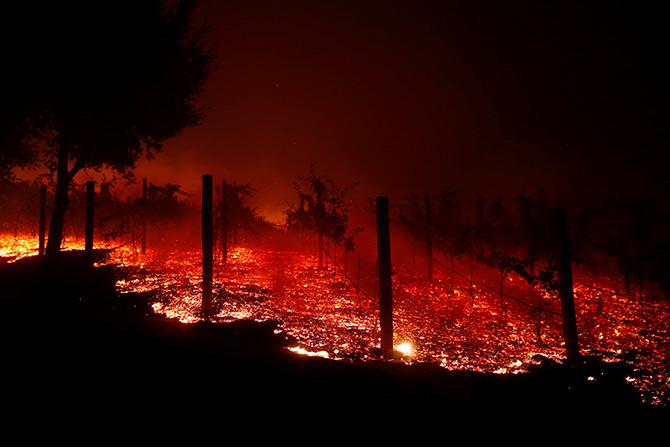 Brown, who has declared a state emergency, said California is requesting aid from the Trump administration. He said federal and state governments must do more forest management but that climate change is the greater source of the problem. Drought and warmer weather attributed to climate change, and the building of homes deeper into forests have led to longer and more destructive wildfire seasons in California. While California officially emerged from a five-year drought last year, much of the northern two-thirds of the state is abnormally dry. Photograph: Eric Thayer/Reuters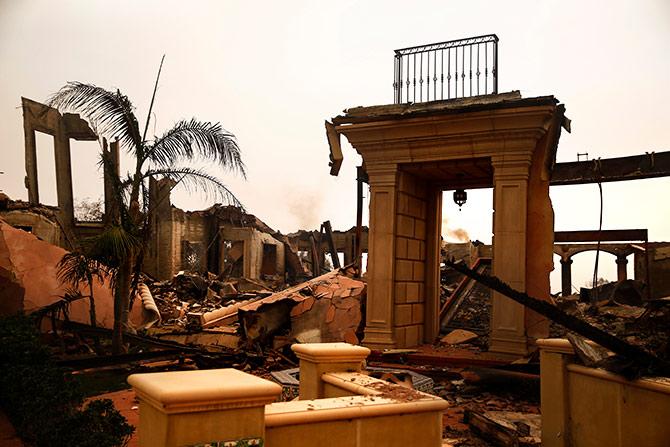 At the southern end of the state, the 'Woolsey Fire' is threatening mansions and mobile homes alike in the coastal celebrity redoubt of Malibu. Coastal homes of a few celebrities were also damaged or destroyed. Celebrities who were forced to flee from the flames expressed sympathy and solidarity with other people hurt by the blazes. Actor Gerard Butler said on Instagram that his Malibu home was 'half-gone', adding he was 'inspired as ever by the courage, spirit and sacrifice of firefighters'. Photograph: Eric Thayer/Reuters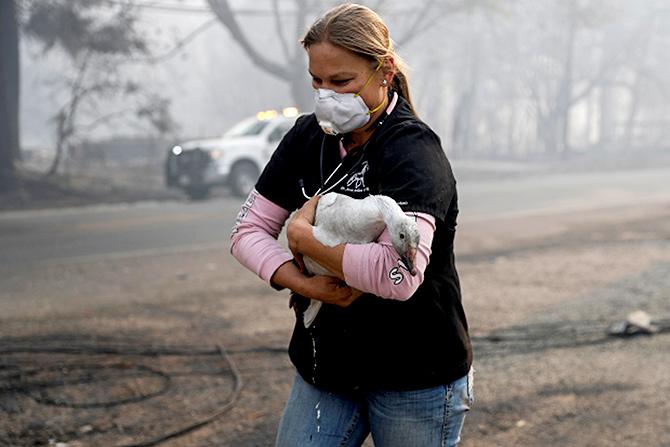 Flames also besieged Thousand Oaks, the Southern California city in mourning over the massacre of 12 people in a shooting rampage at a country music bar last week. Photograph: Stephen Lam/Reuters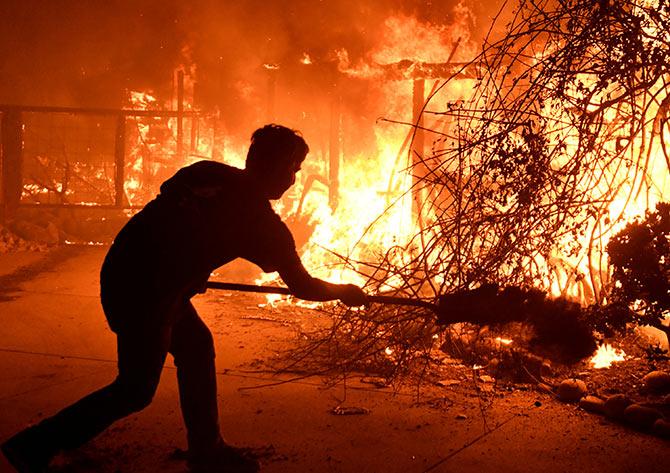 In Northern California, where more than 6,700 buildings have been destroyed, the scope of the devastation was beginning to set in even as the blaze raged on. In some cases, investigators have been able to recover only bones and bone fragments. Photograph: Gene Blevins/Reuters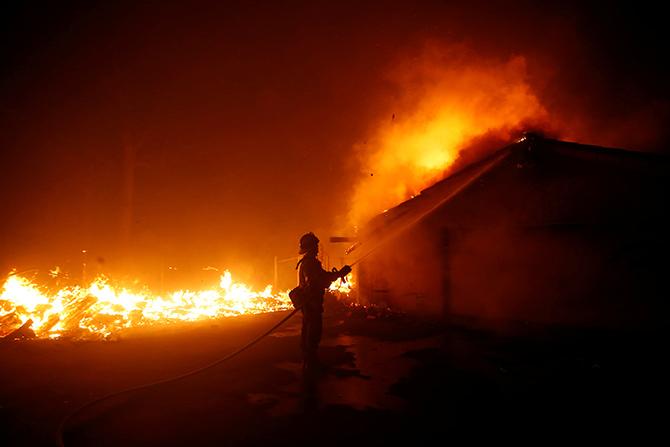 Public safety officials, touring the Paradise area to begin discussing the recovery process, say that much of what makes the city function is gone. 'Paradise was literally wiped off the map,' a representative for International Association of Fire Fighters was quoted as saying. Photograph: Eric Thayer/Reuters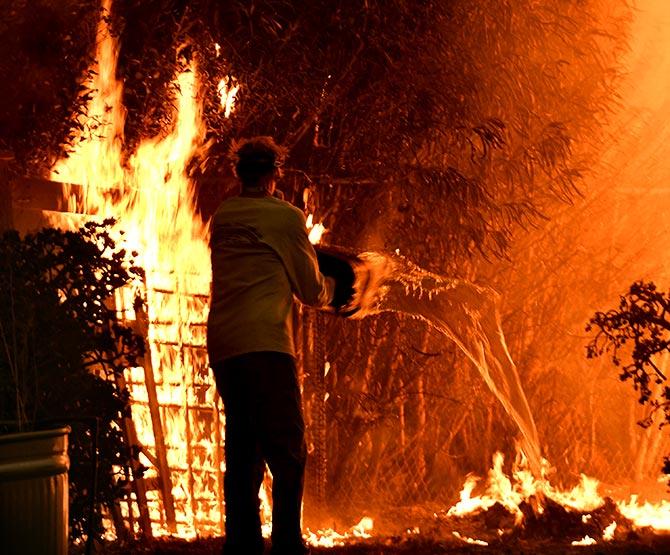 Rescuers spent hours collecting bodies around Paradise and placing them in a black hearse. Body parts were transported by bucket, while intact remains were carried in body bags. Firefighters estimate they will need three weeks to fully contain the blaze. Gene Blevins/Reuters