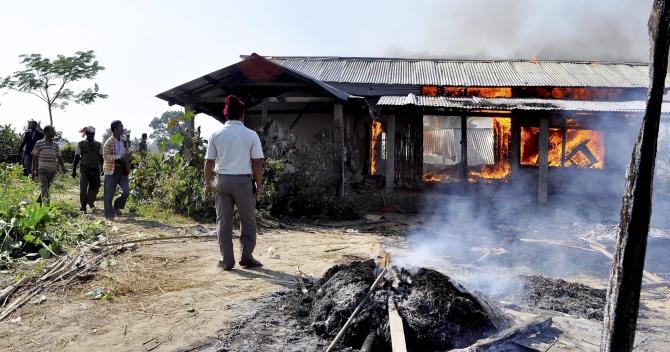 An ablazed village house of Bodo resident burnt by the tribal villagers as they retaliate after attacks by National Democratic Front of Bodoland militants, in Balidaga on Wednesday. All photographs: PTI Photo
Violence surged in Assam on Wednesday as the toll in the massacre of tribals by Bodo militants rose to 65 including 21 women and 18 children, sparking a retaliation in which Bodo homes and a police station were attacked leaving three persons dead allegedly in police firing.
As authorities mulled an offensive against Songbijit faction of National Democratic Front of Bodoland-Songbijit which was behind Tuesday's ethnic violence, the police said that the Bodo cadres attacked new areas in the state, opening fire and setting houses afire in Udalguri district.Union Home Minister Rajnath
Singh, who rushed to Assam to review the situation, decried the 'cowardly' killings and said it was a 'terror' act and will be dealt with accordingly.
Thirty-seven people were killed in Sonitpur district, 25 in Kokrajhar and three in Chirang district after heavily armed militants allegedly belonging to the anti-talk faction of NDFB-S swooped down on remote Adivasi villages of the three districts and killed the inhabitants last evening. Among the dead, 21 were women and 18 children, according to the police.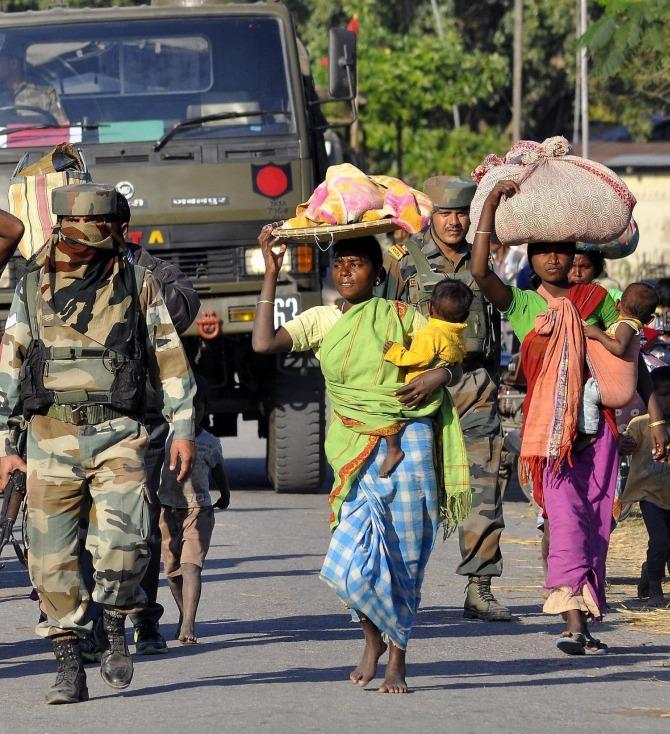 Army personnel patrolling after the attacks by Bodo militants that left several people dead, in Sonitpur.
The Centre said it was rushing about 5,000 paramilitary personnel at the request of the Assam government. Prime Minister Narendra Modi expressed grief over loss of lives and sanctioned ex-gratia relief of Rs two lakh each to the next of kin of the deceased and Rs 50,000 to each of the seriously injured.
An amount of Rs 86 lakh is being released to the state government from Prime Minister's National Relief Fund, a Prime Minister's Office statement said. An all-out offensive will be launched against NDFB militants jointly by the police, paramilitary forces and army in the wake of the violence, sources said in Delhi.
The decision was taken at a high-level meeting chaired by Home Minister Rajnath Singh in Delhi and attended by top officials of ministries of Home, Defence and paramilitary forces, they said.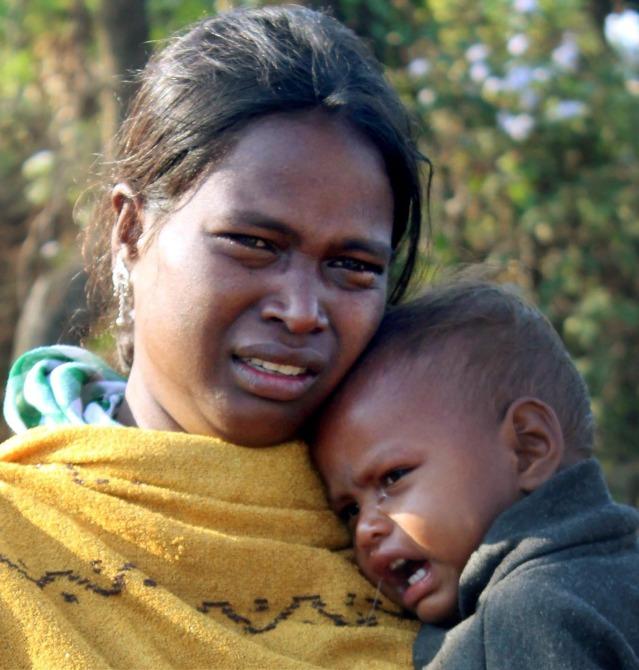 A village woman mourns after the death of her relative during attacks by Bodo militants, in Phulbari on Wednesday.
"This was an act of terror and we will deal with it accordingly... whatever action is required, we will take," Singh told media persons after the meeting. More areas were also brought under curfew as hundreds of tribals reportedly fled from their homes out of fear of more attacks.
Even as Chief Minister Tarun Gogoi said firm steps were being taken to prevent the situation from escalating, violent protests by Adivasis erupted against the killings.
The police opened fire as angry protestors turned violent in Dhekiajuli of Sonitpur district, a police official said. The protestors, armed with bow and arrows, were marching towards the police station in Dhekajuli town and despite repeated appeal by police to stop, they marched on and attempted to storm the police station, he said.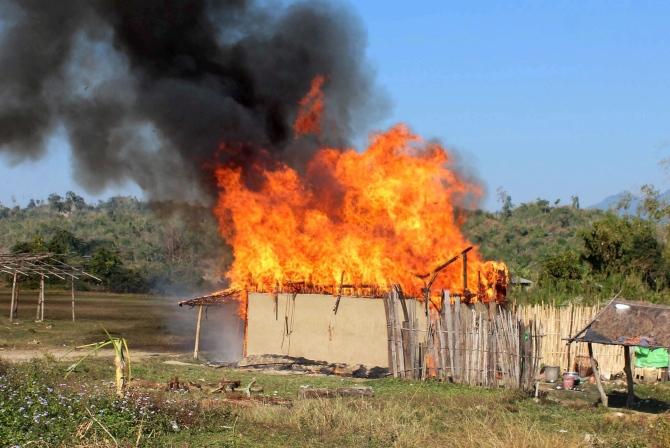 An ablazed village house during attacks by National Democratic Front of Bodoland militants, in Phulbari.
The police initially attempted to disperse the protestors by resorting to lathicharge, but opened fire when the situation worsened, the official said. Three persons were killed and several others injured in police action, he said.
Angry protestors also set ablaze twenty houses allegedly belonging to the people of the Bodo community in Phuloguriin Sonitpur district. A seven-km stretch of National Highway 15 was also blocked by Adivasi protestors near Dhekiajuli in Sonitpur.