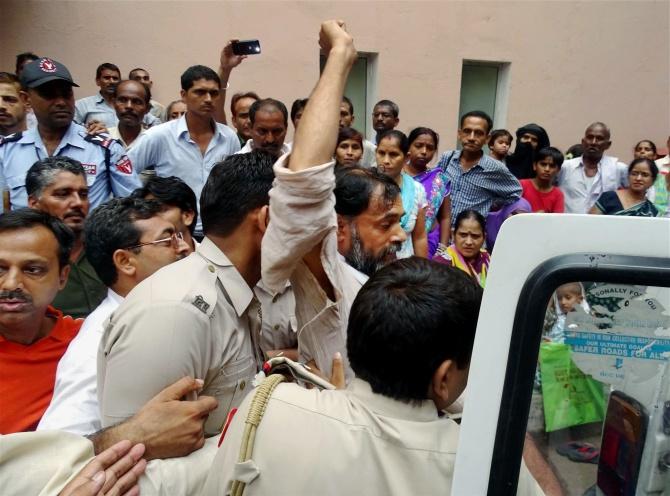 Swaraj Abhiyan leader Yogendra Yadav, detained by the police, after his medical examination at the RML Hospital in New Delhi on Tuesday. Photograph: PTI

The Delhi high court on Tuesday passed the order on a petition, directing the Delhi police to release Yogendra Yadav and all the 85 persons detained immediately.
Yadav was arrested along with 85 volunteers of his Swaraj Abhiyan during a protest on farmers' issue at Jantar Mantar but hours later was released by a court and accused the police of highhandedness.
Condemning the post-midnight police crackdown on protesters who were demanding a farmers' memorial at Race Course in New Delhi, Delhi Chief Minister Arvind Kejriwal and his Aam Aadmi Party came out in support of Yadav, four months after they had a bitter public falling out leading to Yadav's ouster from the party.
The police said they made the "preventive arrests" of Yadav, AAP Member of Legislative Assembly Pankaj Pushkar and others under sections 107 (action where breach of the peace or disturbance is apprehended) and 151 (arrest to prevent the commission of cognisable offences) of the Criminal Procedure Code (CrPC) as they were planning to take out a rally without permission in the high security Delhi Race Course area.
"Yadav and 85 others were arrested at around 1.30 am on Tuesday. They had permission to carry out the protest for two days. Last evening they asked to extend for permission until August 16. As the deadline got over, we asked them to vacate the place," said a senior police officer.
The protesters alleged that the policemen manhandled Yadav and other volunteers and the the Station House Officer of the Parliament Street Police Station, where they were lodged, threatened to kill him, a charge denied by the police.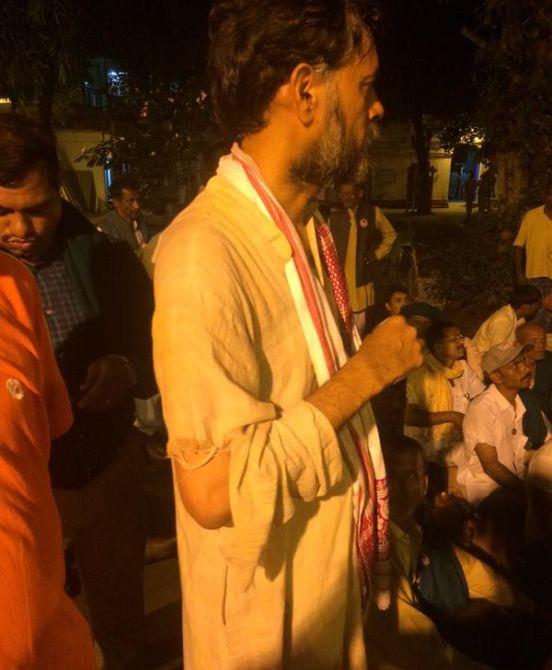 I have been beaten up, manhandled, dragged, pushed and arrested at the parliament street police station, tweets Yadav along with this picture. Photograph: @_YogendraYadav/Twitter
Later, Yadav and the other volunteers were produced before a Special Magistrate at Mandir Marg Police station. "The Special Magistrate ordered unconditional realease of Yadav and other members," said Swaraj Abhiyan leader Ajit Jha.
Yadav hailed his release as a "small victory" for the farmers' of the country. "All allegations against us have been quashed," he said.
"We did not intend to marhc towards Race Course road. Our plan was to stand with the plough at Jantar Mantar, as a symbolic protest, till August 15. Since when standing with plough has become a crime?" Yadav asked.
He said Swaraj Abhiyan was mulling over filing an first information report against the "ill-treatment" meted out to him and AAP MLA Pankaj Pushkar by the police.
"The SHO threatened to kill me...he said only his writ runs there," Yadav said.
Asked about the allegations, Delhi police chief BS Bassi said the police has always acted in the ambit of law. "We always act within the ambit of the law," he said.
The outfit had on Monday organised a 'tractor rally' over farmers' issue which culminated into a day-long protest at Jantar Mantar and was attended by farmers from many states like Punjab, Haryana, Uttar Pradesh and Maharashtra.
Prior to the protest, police and volunteers had clashed on Sunday night.
AAP's National Convener and Delhi Chief Minister Arvind Kejriwal lashed out at the police, saying it is the fundamental right of every citizen to protest peacefully and demanded that Home Minister Rajnath Singh seek a report from police on the incident.
"We condemn the way police behaved with Yadav and our volunteers. This is not right as in this country peaceful demonstration is a fundamental right under Article 19 of the Constitution and we condemn such action against peaceful protesters.
"I appeal to Home Minister Rajnath Singh to step in and ask for a report regarding the issue," Kejriwal said.
A large number of other AAP leaders and supporters also expressed solidarity with Yadav, their former colleague. "India is a democracy. Citizens have a right to protest peacefully. Police have no business to ill treat Yadav/supporters. Condemn it. (sic)," AAP leader Ashutosh wrote on Twitter.
Dharamvira Gandhi, AAP's Patiala member of Parliament, said that when he along with a Janatya Dal-United MP went to the Parliament Street Police Station, they were denied a meeting with Yadav.
"I wanted to raise this issue in the House and also sought permission from Lok Sabha speaker Sumitra Mahajan, but she denied it saying it is a state related issue," Gandhi said.
However, AAP leader Sanjay Singh along with other party supporters were heckled by Yadav's supporters when they tried to meet him at Parliament Street Police Station.
Yadav and Bhushan were expelled from the AAP in April after they raised questions over the functioning style of Kejriwal and alleged lack of transparency.
Swaraj Abhiyan, formed by the two expelled AAP leaders, had undertaken Jai Kisan Andolan, a farmers' agitation against the alleged "anti-peasants" policies of the Centre.
Earlier, speaking to reporters outside Parliament Street Police station, Bhushan said he was not allowed to meet Yadav or any volunteer despite repeated attempts though it was their "constitutional right".
"On Monday night, we wanted to take the plough and keep it at the Delhi Race Course because the place is a symbol of forcible land acquisition from the farmers by the British, which has now become a gambling den just opposite the Prime Minister's residence.
"We told the police that the widows of the farmers who committed suicide wanted to keep the plough there, but a permission was denied. We then said that if going to Race
Course was not possible, then we will wait till August 16. But the police in a midnight crack down, destroyed the stage and arrested Yadav and our volunteers," Bhushan said.
Calling the police's action "dictatorial" and "authorative", Bhushan said he has filed a Habeas Corpus petition in the Delhi high court.
A union of farmers' bodies today came out in support Yadav over his arrest.
All India Co-ordination Committee of Farmers' Movement, an umbrella body of farmers organisations, also supported Yadav and warned they "won't tolerate" such attacks.
Asserting that Yadav has a fundamental right to protest peacefully, it supported the leader's demand that a farmers' memorial should be built at the Delhi Race Course.
With inputs from PTI