Here's a look at India's most notorious murder cases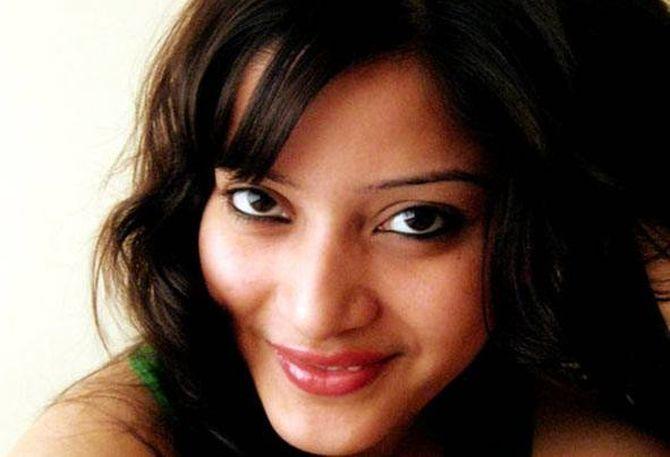 Sheena Bora, the daughter of Indrani Mukerjea was killed in April 2012. The case has come to the fore three years later.

A wife of a TV mogul arrested for the murder of her daughter, who she claimed was her sister. The wife's second husband has now been arrested and so is her driver. But yet no one knows why Sheena Bora was killed more than two years ago.
As the case unravels, Rediff.com looks at other sensational murder mysteries that left India shell-shocked.


1) Sunanda Pushkar murder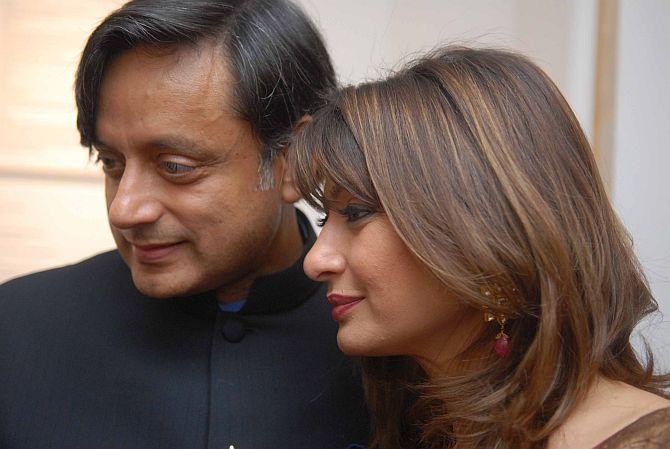 Former Union minister Shashi Tharoor with wife Sunanda Pushkar

A shy Kashmiri girl, she went on to become a vivacious entrepreneur who wined and dined with Delhi's glitterati.
After two failed marriages, Sunanda married then Union minister Shashi Tharoor in August 2010. The Tharoors were once celebrated as Delhi's dream couple.
The fairytale soon ended with Sunanda being found dead in a hotel suite under highly mysterious circumstances on January 17.
A day before, she had a nasty spat with Pakistani journalist Mehr Tarar on Twitter. Her tweets hinted at a possible affair between Tharoor and Tarar.
Her autopsy report said that Sunanda died of an overdose of sleeping pills, but in October the medical team probing the case said that they were pressured into providing a 'tailor-made' report.
Police claim Sunanda, 51, was poisoned, and registered a murder case in January this year, without naming any suspect. No arrests have been made in the case yet.
---
2) The Tikku, Kakkar double murder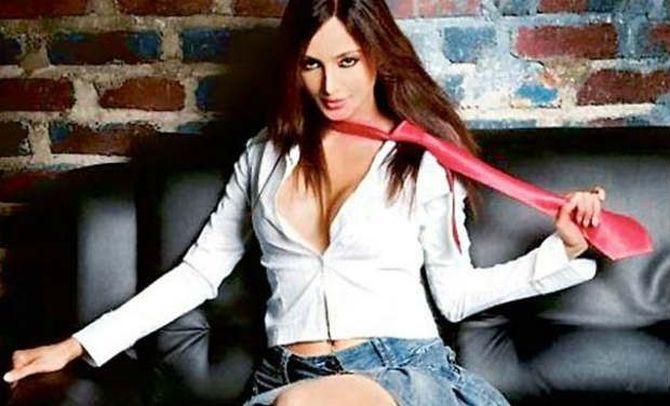 Starlet Simran Sood often introduced her husband Palande as her brother

The sensational murders of two Delhi residents at the hands of a money-crazy criminal and his female accomplice are no short of a thriller. Former gangster and prime accused Vijay Palande used his model wife Simran Sood as a 'honeytrap' to commit the crimes for usurping properties of the victims, police said. In April 2012, Palande along with his aides Dhananjay Shinde and Manoj Gajkosh, murdered Delhi-based businessman Arunkumar Tikku, 67.

Palande had befriended the victim's actor son Anuj Tikku with a motive to acquire his plush apartment in upscale in Mumbai's upscale Lokhandwala Complex, police had said. The trio were nabbed by the Mumbai crime branch. Simran Sood was also arrested in connection with the abduction and murder of Delhi-based aspiring producer Karankumar Kakkad, 28. Palande confessed that he killed Kakkad because he suspected the latter of being an underworld mole, who would eventually kill him.

Simran introduced Palande as her "brother" to Anuj and Karankumar, police said.

Palande was earlier convicted of a double murder in 1998, and again in 2002, he jumped parole in 2003, went to Bangkok for a cosmetic surgery to change his features, and returned to Mumbai in 2005.

Read: A maiden, a honey-trap, and crimes most foul in Maximum City
---
3) The Aarushi-Hemraj double murder


The 2008 double murder of a teenage Noida girl and a house help is one of India's murkiest murder mysteries. Fourteen-year-old Aarushi Talwar was found murdered in her house on May 16, 2008. As the servant Hemraj went missing, he was the prime suspect in the case only till his decomposed body was discovered on the terrace, a day later.

The case grabbed headlines as a whodunit story. Aarushi's parents -- Dr Rajesh and Nupur Talwar -- both dentists -- were then looked at as prime suspects and were arrested. Rumour mills have been abuzz with theories of honour killing, the Talwars having extra-martial affairs, wife swapping and more.

According to the Central Bureau of Investigation SP AGL Kaul, who led the second probe team in the case, Rajesh Talwar found his daughter in a compromising position with Hemraj. Aarushi's parents, both currently in jail, however, plead innocence till date.
---
4) Neeraj Grover murder


Maria Susairaj was found guilty of destroying evidence alone

It was a murder most gruesome.

The body of Mumbai-based television executive Neeraj Grover was chopped into pieces, stuffed into three bags and set on fire in a forest.

Fourteen days after Maria Susairaj, a struggling Kannada actress, lodged a compliant with the Malad police that her friend had gone missing after leaving her house on May 7, 2008, it was found that she was involved in his killing. Maria's fiancee Emile Jerome, a naval officer, killed Neeraj, in a fit of rage.

The reason? Jerome came to know on May 6, 2008, that Grover had stayed at Susairaj's flat. Suspecting that the two were having an affair, he flew down to Mumbai from Cochin and found Grover with his fiancee. An angry Jerome murdered Neeraj, then went to a nearby mall, purchased a chopper and with Maria's help disposed the body off.

Jerome and Maria both got off lightly. He has been convicted of culpable homicide not amounting murder and she was let off saying she was only guilty of destroying evidence.
---
5) The Nithari massacre


Servant Surender Koli and Moninder Singh Pandher. Photograph: PTI

In December 2007, India woke up to the horror of Noida's Nithari village, where body parts of dead children and young adults were traced to the house of Moninder Singh Pandher.

It was revealed that his servant, Surendra Koli, had been raping and killing the women, often minors, even eating their body parts, in one case even cooking them. Pandher was in 2009 acquitted of charges in one case. He is still a co-accused in other cases, but his death sentence has been overturned.

Of 15 cases, Koli has been convicted in five. In January this year, the Allahabad high court commuted his death sentence to life imprisonment.
---
6) The Pramod Mahajan killing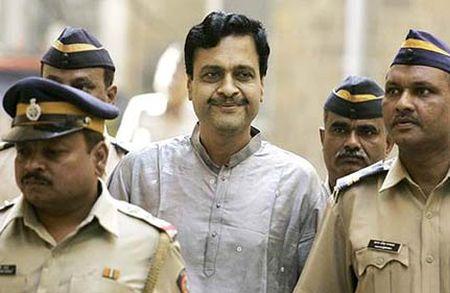 A flamboyant Bharatiya Janata Party politician was killed in broad daylight in his house. The story left India shell shocked.

Pramod was shot dead by his younger brother Pravin (in the picture above) on a quiet morning in April 2006 at his Worli residence.

Pravin killed his brother, then walked calmly to a nearby police station and said, "I am Pravin… I shot Pramod." It was during the court hearings that the troubled relationship came to the fore. Pramod raised me "like a pet dog," he had said.

Pravin was sentenced to life; he died in March 2010 of a suspected brain haemorrhage.
---
7) The Rizwanur Rehman murder


Rizwanur Rehman was found dead near railway tracks on September 21, 2007, weeks after he got married to Priyanka, daughter of industrialist Ashok Todi who heads the Lux Hosiery Group.

Rizwan and Priyanka had not informed their families, as they expected fierce opposition, particularly from Priyanka's family. On a friend's advice, the couple wrote to commissioner of police, DC (south) and Karaya police station informing them about the marriage and requesting police protection. Then, Priyanka informed her father Ashok Todi over telephone about her marriage with Rizwan. Her family, especially her father, was extremely disappointed.

Ashok Todi tried to persuade the cops and asked them to separate the couple. Rizwanur was forced to send his wife Priyanka to her father's home and later wasn't allowed to talk to her. On September 21, 2007, his body was recovered from railway track in Kolkata. The incident was brushed aside as a case of suicide.

But Todi, his relatives and some police officers were charged with abetment to suicide. On October 13 2008, the Supreme Court of India stopped all proceedings in the case till the Calcutta high court decided Ashok Todi's petition challenging CBI's chargesheet against him
---
8) The Jessica Lall murder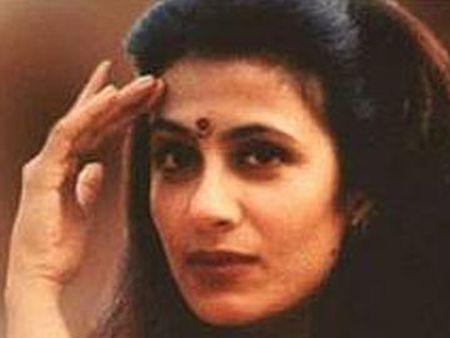 The murder exposes the dark side of power.

On April 29, 1999, Manu Sharma, the former son of Union minister Venod Sharma, shot dead Jessica Lall after the 34-year-old refused to serve him liquor at the Tamarind Court restaurant owned by socialite Bina Ramani in south Delhi's Mehrauli.

The case continued to hit the headlines long after the murder when Sharma was acquitted by a trial court in February 2006. Following a nationwide public outcry, the case was taken up by Delhi high court through a fast track trial that ended in his conviction on murder charges. He has been sentenced to life in the case.
---
9) The Shivani Bhatnagar case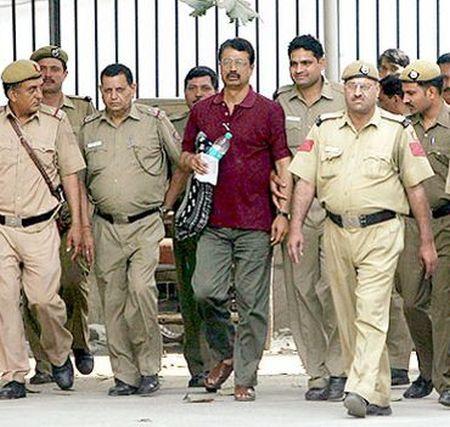 Former IPS officer Ravi Kant Sharma was acquitted in the case

Shivani Bhatnagar, who was working as the principal correspondent with a leading national daily, was brutally murdered in her Navkunj Apartment flat in East Delhi in January, 1999.

Investigations in the case sent shockwaves across the nation. Her relationship with an influential BJP minister also surfaced.

Finally, then Inspector-General of Haryana Police, Ravi Kant Sharma emerged as the prime accused. The mystery unravelled and curtains were raised from a nasty and soured love affair between Sharma and Shivani. Cops alleged that Sharma got Bhatnagar killed because he feared she would expose their intimate relations.

Sharma surrendered to the police on September 27, 2002 after avoiding the police for three years. The lower court on March 24, 2008, convicted four persons including Sharma in the case. But, in 2011, the high court acquitted Sharma.
---
10) The Priyadarshini Mattoo case


Law student Priyadarshini Mattoo was found dead on January 23, 1996 at her uncle's residence in New Delhi.

Her senior, Santosh Kumar Singh who had been stalking and harassing her for years, was named main accused. Later, it was revealed that Santosh, the son of an influential IPS officer, strangulated her by wrapping an electric wire around her neck. He smacked her face many times with a helmet that made her face unrecognisable.

The Delhi high court had on October 30, 2006 sentenced him to death which was later converted into life imprisonment by the Supreme Court.
---
11) The Tandoor murder case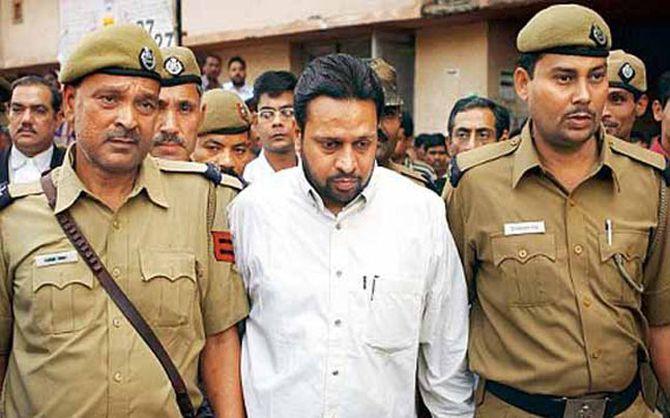 Sushil Sharma, a former Delhi Pradesh Youth Congress president, was convicted in 2003 for the murder of his wife Naina Sahni, a former functionary of the Delhi unit of the Mahila Congress.

The murder took place in July 1995. Sharma had been in a live-in relationship with Naina for some time before the two got married, with him choosing to keep the wedding under wraps. On July 2, 1995 Sharma reportedly saw Naina on the phone as he entered the house.

She hung up, but he hit redial to find the call answered by Naina's former classmate and Congress colleague. Enraged, he used his pistol to kill her, then carried her body to the restaurant where he chopped it into small pieces and tried to burn it in the tandoor.

The case went to trial later that year with the judgment in what came to be known as the 'Tandoor Murder Case' coming in 2003 when he was awarded the death penalty. The Supreme Court in 2013 commuted his death penalty to life term.
---
12) The Shakereh Khaleeli murder

The Shakereh Khaleeli murder case shook the Bangalore and the nation in the 1990s. Shakereh, a descendent of the Mysore diwan Sir Mirza Ismail, had married diplomat Akbar Mirza Khaleeli who was the Indian Ambassador to Iran, Italy and high commissioner to Australia.

They had four daughters. She left her husband and married Murali Manohar Mishra, a self-styled godman also known as Swami Shradhananda. She went missing in 1991. In May 1994, the Karnataka police found Shakereh's remains buried in the courtyard of her home.

She had been buried alive in a coffin after being drugged. Mishra was initially sentenced to death but the Supreme Court commuted it to a life sentence.

Read the full mystery here
---
13) The Syed Modi killing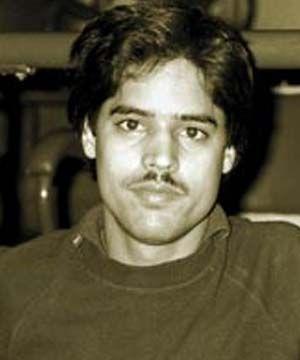 National badminton champion Syed Modi Modi was shot dead while he was coming out of the K D Singh Babu Stadium in Lucknow on July 28, 1988.

Investigations revealed that one Akhilesh Singh had commissioned the murder even though the actual execution was done by four other accused.

Former Union minister Sanjay Singh and Ameeta Modi, widow of the slain badminton champion, who were also accused in the case, but were discharged by a Lucknow court.

Singh later married Ameeta, who was later elected as the Congress MP from Amethi.

Photograph: Wikipedia
---
14) Sanjay and Geeta Chopra murders


This case left the India of 1970s numb. In August 1978, Kuljeet Singh alias Ranga Khus and Jasbir Singh alias Billa, murdered two teenagers, children of a senior naval officer, after subjecting them to sadistic torture. Ranga and Billa were two hardened criminals from Mumbai who had just been released from Mumbai's Arthur Road Jail.

Geeta and Sanjay Chopra were kidnapped for ransom in New Delhi, but after learning their father was in the navy they were killed. Geeta was allegedly raped before being murdered, but forensic evidence could not confirm this. The two kidnappers were sentenced to death and the execution was carried out in 1982.