These images from across the globe show that it is a crazy world out there.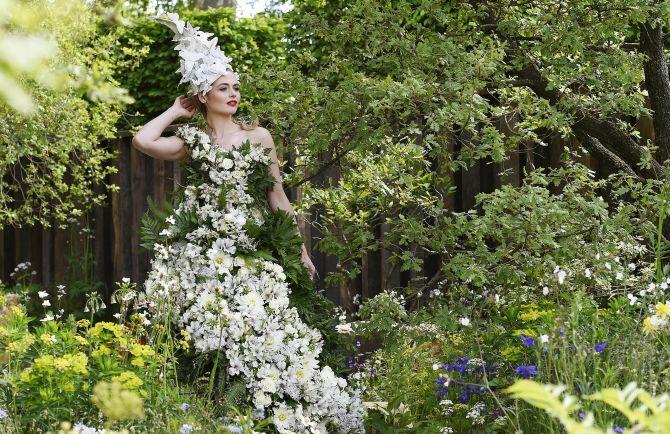 A model poses in a floral dress at the Chelsea Flower Show in London, Britain. Photograph: Toby Melville/Reuters
---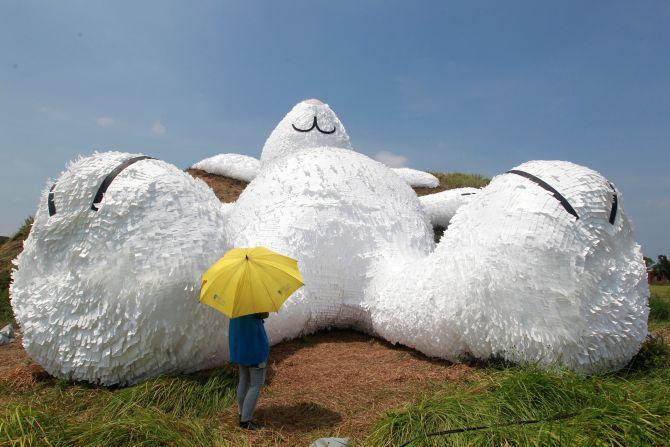 A person stands in front of a 25.3-meter-long giant rabbit designed by Dutch artist Florentijn Hofman at an old aircraft hangar as part of the Taoyuan Land Art Festival in Taoyuan, northern Taiwan.
The rabbit is named "Moon rabbit" for the coming mid-autumn festival or the Moon Festival and will be displayed from September 4 to 14 at the Taoyuan military base. Photograph: Pichi Chuang/Reuters
---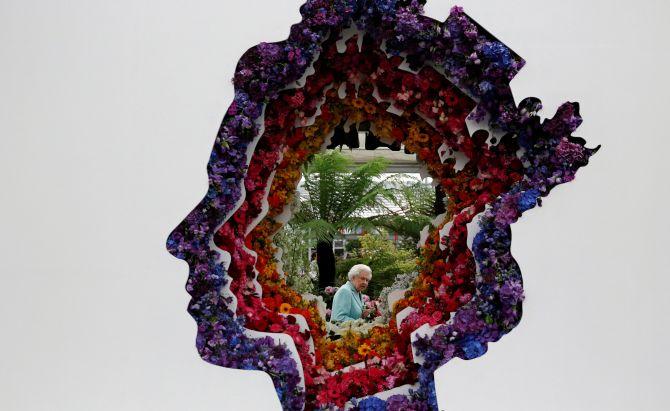 Britain's Queen Elizabeth II is pictured through a gap in a floral exhibit by the New Covent Garden Flower Market, which features an image of the Queen, during a visit to the 2016 Chelsea Flower Show in central London. Photograph: Adrian Dennis/Reuters
---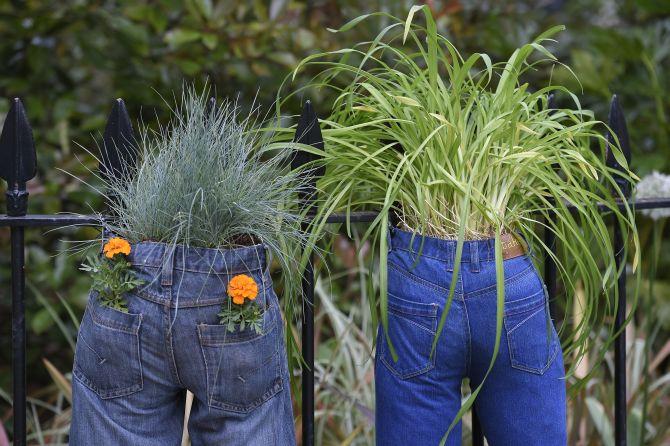 Plants grow out of jeans hanging on railings of a house in west London. Photograph: Toby Melville/Reuters
---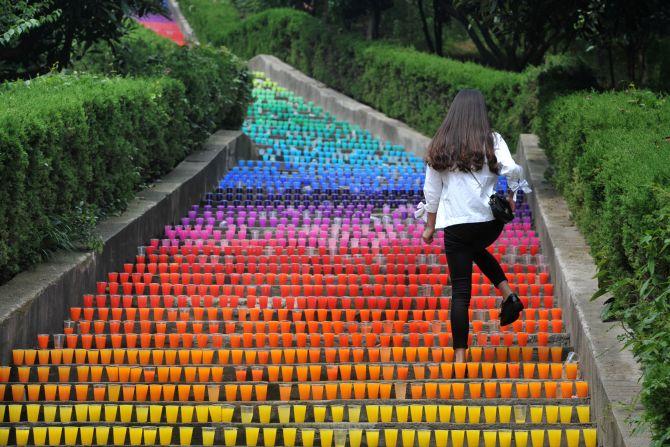 A woman walks on steps lined with plastic cups, an art project of four college students, in Wuhan, Hubei Province, China. Photograph: Reuters
---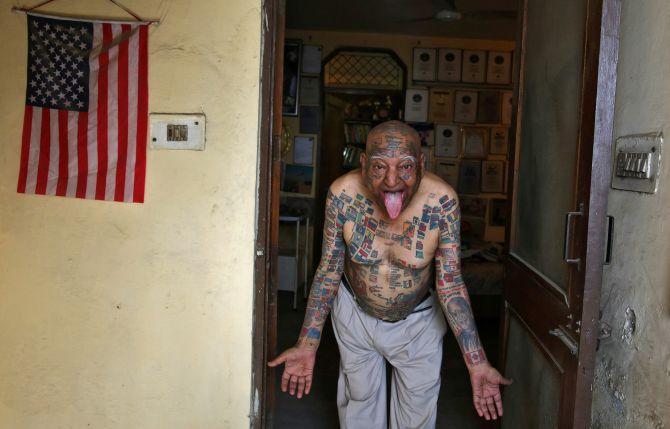 Guinness Rishi, 74, multiple world record holder including most flags tattooed on his body, poses for a photograph outside his apartment in New Delhi. Photograph: Cathal McNaughton/Reuters
---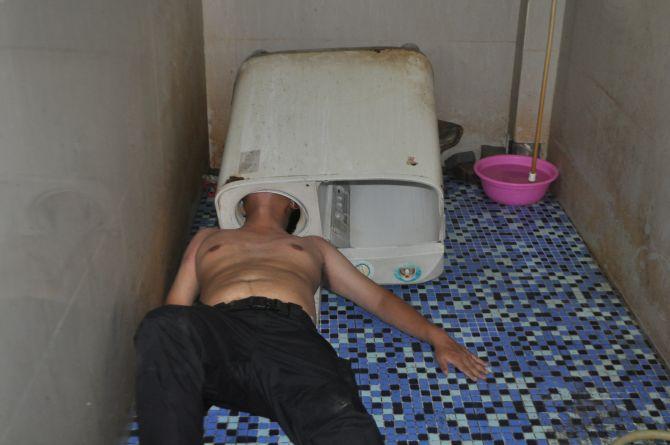 A man lies on the ground as his head is stuck in a washing machine in Fuqing county of Fuzhou, Fujian Province, China. Photograph: Reuters
---
A mural that has been painted on a derelict building in Stokes Croft showing United States presidential hopeful Donald Trump sharing a kiss with former London Mayor Boris Johnson is seen in Bristol, England.
Boris Johnson is currently one of the biggest names leading the campaign for Britain to leave the European Union in the referendum which takes place on June 23 and the Republican presidential hopeful has also backed a so-called Brexit. Photograph: Matt Cardy/Getty Images
---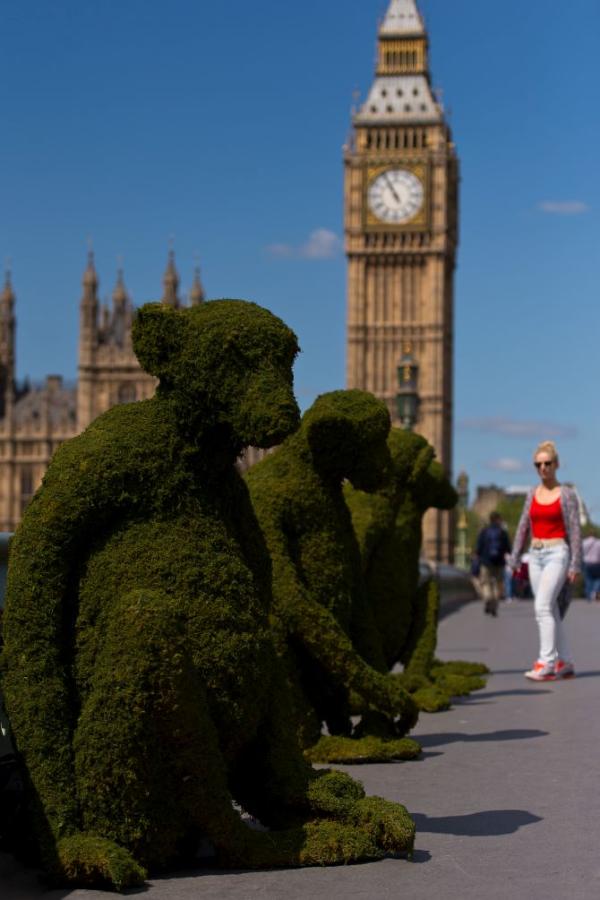 The Body Shop transforms Westminster Bridge installing five six-foot monkeys to mark the launch of The Body Shop's new Bio-Bridges programme, which aims to regenerate 75 million square metres of forest and protect it from exploitation, poaching and unsustainable harvesting, at Westminster Bridge in London, England.
The monkeys represent a rare and endangered species, the Red Shanked Douc, which is found in the Khe Nuoc Trong forest in North Central Vietnam, where The Body Shop's first Bio-Bridges project will be located. Photograph: Ben A. Pruchnie/Getty Images
---
A 3D comic book display at Hang Lung Plaza in Shenyang, Liaoning Province of China. The three-dimensional and vivid pictures and albums attracted citizens especially children and parents. Photograph: VCG/VCG via Getty Images
---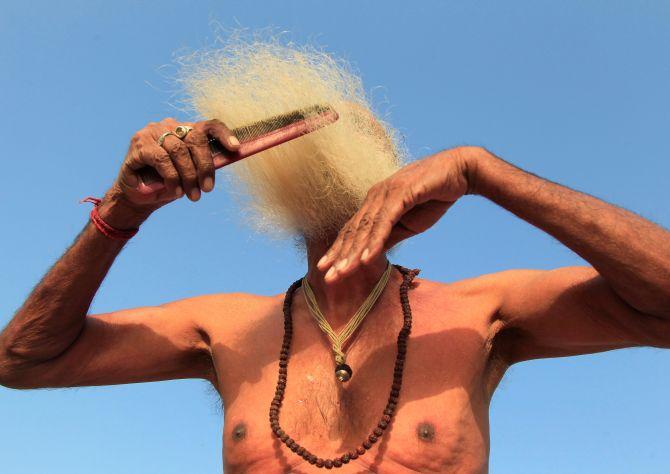 A Sadhu combs his beard after taking a dip in the waters of Shipra river during Simhastha Kumbh Mela in Ujjain. Photograph: Jitendra Prakash/Reuters
---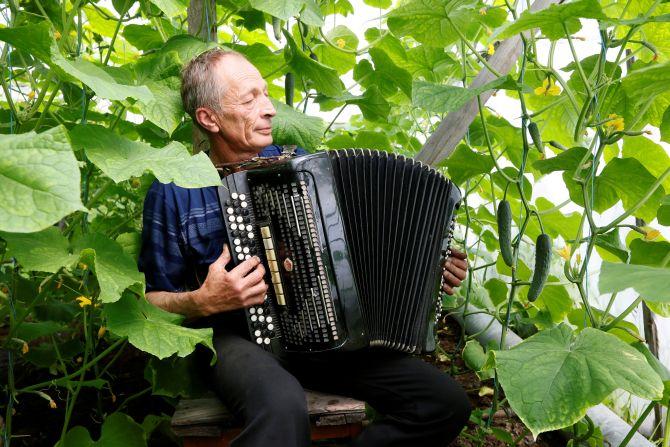 Valery Danilenko, 55, owner of a cucumber farm located in the yard of his wooden house, plays the bayan or chromatic button accordion inside a greenhouse during a demonstration in the village of Tes, Minusinsk district of Krasnoyarsk region, Siberia, Russia.
Danilenko cultivates cucumbers for sale and believes that his daily musical concerts inside a greenhouse improve the growth and taste of cucumbers. Photograph: Ilya Naymushin/Reuters