Self-styled godman Asaram Bapu was on Wednesday convicted by a court in Jodhpur for raping a teenager at his ashram in 2013.
Here's a look at few other gurus who have attracted controversy in recent times.
Asaram Bapu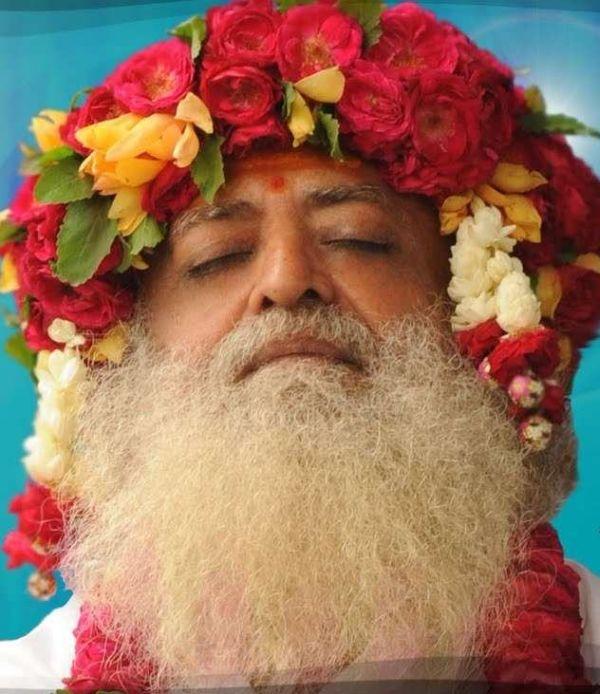 Asaram Bapu has over 425 ashrams and more than 50 gurukuls all over, and a tremendous following both in India and aboard.
Spirituality aside, he has also been courting controversy.
Controversies:
1: Asaram Bapu was accused of sexually abusing a 16-year-old girl at his Jodhpur ashram even as her mother was waiting outside. He has been in jail since August 2013. The godman claims that he is innocent and that he regarded the minor as his "daughter".
2: Commenting on the December 16 Delhi gang rape incident, Asaram suggested that the victim was equally responsible for the crime. He said the girl could have called her assailants brothers and begged them to stop. His comments invited sharp criticism from across the political spectrum and from women's activists.
3: The ministry of corporate affairs said it had received complaints against him and his son in an alleged 700-acre land-grabbing case and the serious frauds investigation office is looking into the matter.
4: Asaram and his son were also investigated in the mysterious deaths of two boys whose decomposed bodies were found from the banks of Sabarmati River near his ashram in 2008.
---
Gurmeet Ram Rahim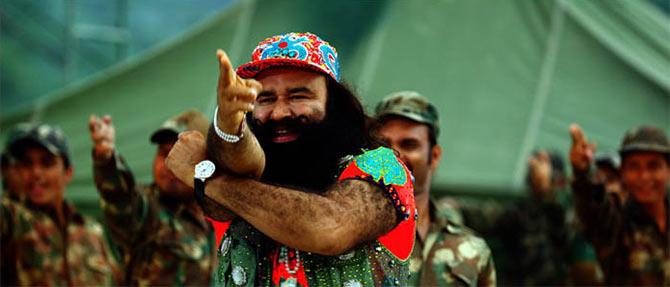 On August 25, 2017, maverick self-styled godman Gurmeet Ram Rahim Singh was convicted of rape by a court in Panchkula, triggering widespread violence and arson in Haryana where 30 people were killed and over 250 injured after which curfew was imposed and several other places.
Central Bureau of Investigation judge Jagdeep Singh held Ram Rahim, the 50-year-old flamboyant chief of the Dera, guilty of rape in a case that was registered on the basis of an anonymous written complaint in 2002 that he had sexually exploited two female followers.
---
Radhe Maa

Radhe Maa was one of the top trending charts on social media, not for the supernatural powers that she supposedly possesses but for posing in a red mini-skirt.
The photographs, which were released on social networking website Twitter by celebrity Rahul Mahajan (son of late BJP leader Pramod Mahajan), went viral.
A more serious problem for Radhe Maa is the police complaint registered against her, accusing her of instigating a family to harass a woman for dowry. Last heard, she had filed an anticipatory bail in the Mumbai sessions court.
The self-proclaimed Radhe Maa's real name is Sukhvindar Kaur. She was born in Gurdaspur on April 4, 1965. She was introduced to spirituality by Shri Mahan Ramdeen Das at the age of 23. She is married and has three kids. In fact, she's a grandmother as well.
Some of her devotees consider her to be a reincarnation of goddess Durga and her coterie includes 'Chhoti Ma' and 'Talli Baba'.
Former devotee and Bigg Boss alumnus Dolly Bindra has written to the Mumbai Police Commissioner complaining that she is receiving threat calls, allegedly from Radhe Maa and her associates.
She has also been accused of instigating seven people to commit suicide in Gujarat's Kutch area.
---
Sant Rampal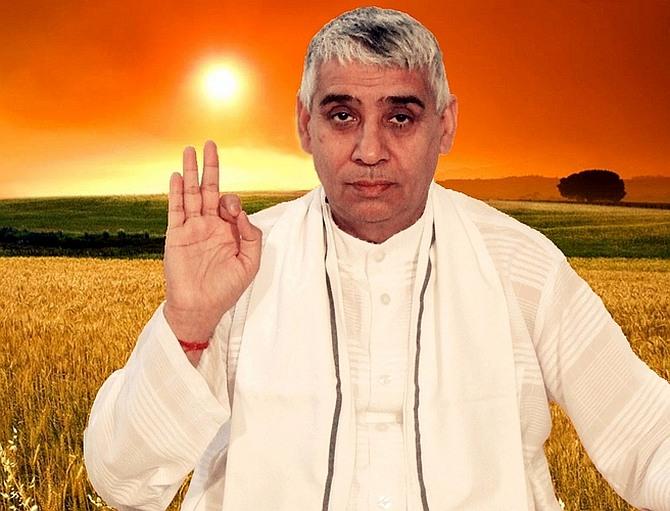 Sant Rampal, as he is called by his followers set up Satlok Ashram in 1999 after he came in contact with a seer named Ramdevanand. Soon, he had a number of followers and began opening ashrams all over Haryana.
The 63-year-old engineer owns a fleet of luxury cars, and lives in an ashram in Barwala, Haryana, spread over a sprawling 12 acres.
His legal woes began in 2006 when he clashed with supporters of Arya Samaj founder Swami Dayanand Saraswati, which led to the death of one person.
Since then, Rampal, who faces contempt of court, murder and attempt to murder cases in various courts, has skipped hearings 42 times.
Rampal is said to have over 25 lakh followers in Haryana, Uttar Pradesh, Rajasthan, Madhya Pradesh, Punjab and Delhi and has his own Facebook and YouTube page too, with a huge fan following.
For over 10 days, Rampal's ashram witnessed violent clashes as his supporters refused the police entry into the guarded fortress, which also led to the deaths of six devotees. Today, he is cooling his heels in prison.
---
Swami Nithyananda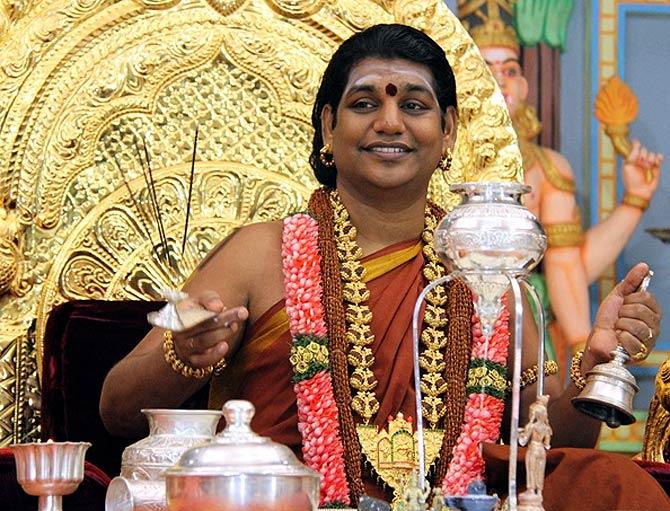 Popular for his spiritual discourses and meditation programmes, Swami Nithyananda was named as one of the 100 most spiritually influential living people in the world by Watkins'Mind Body Spirit magazine.
He claims to be the most-watched spiritual teacher on YouTube.com with more than 14 million views, and the author of more than 300 books published in 27 languages.
Controversies:
1: Nithyananda landed in a controversy after a purported video footage showing him in a compromising position with an actress was telecast by local TV channels. Nithyananda said the video was morphed and manipulated to misrepresent his personal life but did not deny his images with actress Ranjita in the film.
The video aired on Tamil TV channels caused a furore, with some Hindu groups and others protesting against Nithyananda. The Karnataka government too promised "very strict" action against him.
Lenin Karuppan, who had exposed the alleged sex scandal, was arrested after a complaint by the manager of Nithyananda's ashram that Lenin had demanded money to keep the video secret.
2: Swami Nithyananda was also accused of rape by Indian-born American citizen, Arthi Rao, in June 2012. Rao went on Indian television accusing Nithyananda of raping her for several years. Nithyananda again denied the allegations.
---
Rajneesh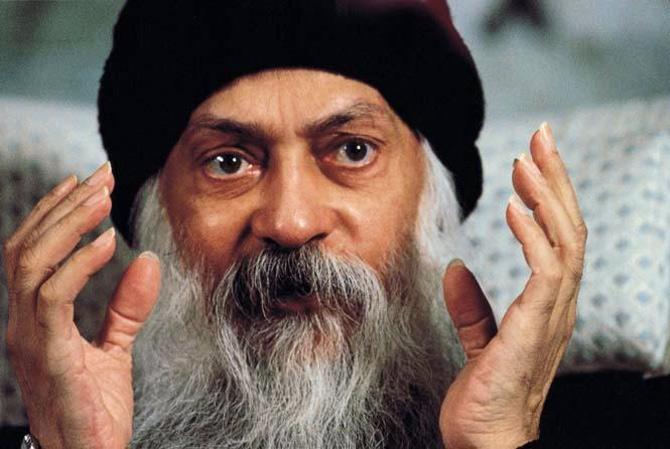 Considered one of the most controversial spiritual leaders to have emerged from India during the 20th century, Rajneesh or Osho was outspoken in his criticism of socialism, Mahatma Gandhi and institutionalised religion.
He advocated a more open attitude towards sexuality, which earned him the sobriquet of "sex guru".
Rajneesh discouraged marriage and having children. He saw families as prone to dysfunction. His communes in Oregon and England accepted contraception, sterilisation, and abortion.
A former personal secretary, Ma Anand Sheela, of the controversial spiritual guru in a bare-all memoir said that "Osho Rajneesh disregarded all laws, ethics and legalities as he wanted to create a society of his own vision with its own laws and rules." Rajneesh had once, out of the blue, demanded to get him 30 new Rolls-Royces within one month in spite of already possessing 96 brand new Rolls-Royces.
The 1984 Rajneeshee bioterror attack was the first bioterrorist attack in United States history. Around 751 individuals were poisoned through the deliberate contamination of salad bars at ten local restaurants in Oregon with salmonella.
The attack was orchestrated by followers of Rajneesh to rig the election so that their own candidates would win the 1984 Wasco County elections.
In 1985 high-ranking followers of Rajneesh hatched a conspiracy to assassinate then United States Attorney for the District of Oregon Charles Turner. However, the plot was never carried out and was only discovered later during investigations into the bioterror attack and other illegal acts by the Rajneeshpuram leadership.
Popular Bollywood personalities who were part of the Rajneesh movement include Parveen Babi, who joined the movement in mid-1970s along with her boyfriend, producer Mahesh Bhatt.
Film star Vinod Khanna became a sannyasi on December 31, 1975, and received the name Swami Vinod Bharti. He was Osho's gardener at Rajneeshpuram.
Controversies:
1: Increased criticism of his activities at the Pune ashram in 1981 and threats of punitive action by authorities led Rajneesh to move to the United States. However, his Oregon commune collapsed in 1985 when Rajneesh revealed that the commune leadership had committed serious crimes. He was charged with immigration violations and deported.
2: At the Second World Hindu Conference in 1969 he came under criticism when he claimed "any religion which considers life meaningless and full of misery, and teaches the hatred of life, is not a true religion. Religion is an art that shows how to enjoy life."
3: Not only was his therapies questioned, there were allegations of drug use among sannyasins.
---
Chandraswami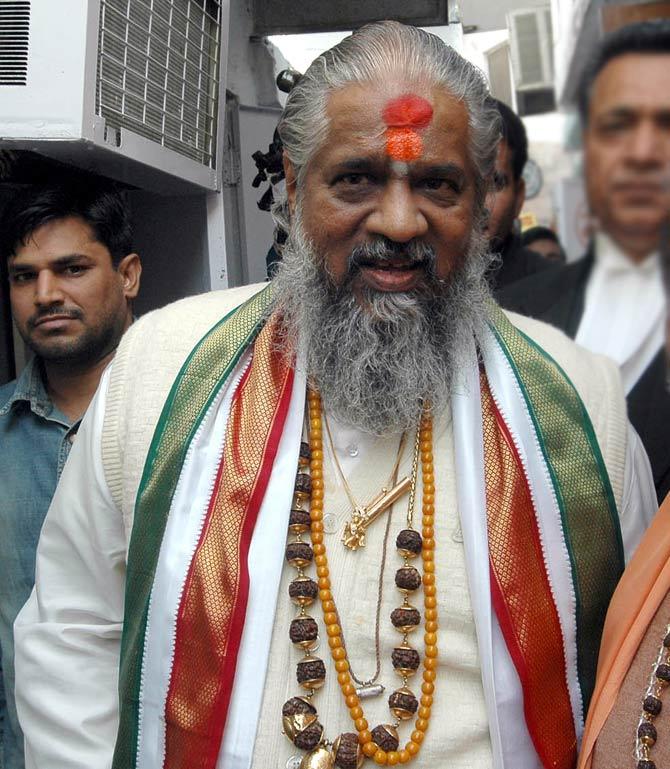 His association with former Prime Minister PV Narasimha Rao brought Chandraswami -- the controversial tantrik -- into prominence.
Interestingly, the godman's finances have fluctuated with his political fortunes.
Controversies:
1: Chandraswami has been accused of several financial irregularities and was ordered by the Supreme Court to pay a penalty in several Foreign Exchange Management Act violation cases registered by the enforcement directorate. The ED has imposed a total penalty of Rs 9 crore (approx) on Chandraswami in 13 cases of Foreign Exchange Regulation Act violations for acquiring foreign exchange in contravention of the Act.
2: In 1996, he was arrested on charges of defrauding a London-based businessman of $100,000.
3: The CBI has been investigating the suspected role of the self-styled godman in the Rajiv Gandhi assassination case. The Jain Commission dedicated a volume to his alleged involvement in the assassination. The Enforcement Directorate is still investigating his alleged role as financier in the killing.

---
Jayendra Saraswati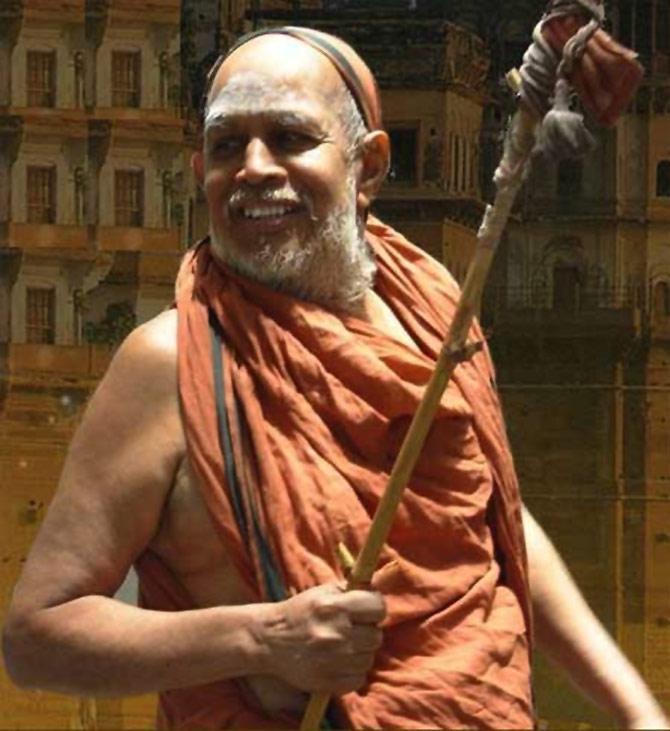 Jayendra Saraswati is the sixty-ninth Shankaracharya of the Kanchi Kamakoti Peetham. Keeping with the Shankaracharya's oft-expressed concerns the Jayalalithaa government in Tamil Nadu enacted a law to ban religious conversions and enforced a ban on animal sacrifice in temples.
The Shankaracharya attracted controversy when he left his mutt in 1987 during the Chaturmasya vrata and was not traceable for a few weeks.
Kanchi seer Jayendra Saraswati and his junior Vijayendra were the prime accused in the murder of Sankararaman, the manager of the Varadarajaperumal temple at Kanchipuram, in September 3, 2004. The two seers were charged under IPC sections for criminal conspiracy and murder.
But on November 23, 2013, they were acquitted along with 21 other accused in the sensational case that saw nearly half of the 189 witnesses, including the family of the victim and an approver, turning hostile.
In August 2014, Attorney General Mukul Rohatgi is understood to have asked Puducherry government not to appeal against the acquittal of the two Sankaracharyas.
Rohatgi is understood to have opined that it is not a fit case to file an appeal in the Madras high court against the trial court order as the appeal would not only be time-barred but there would be no merit in it in view of the sound reasoning given by the trial court.
---
Sathya Sai Baba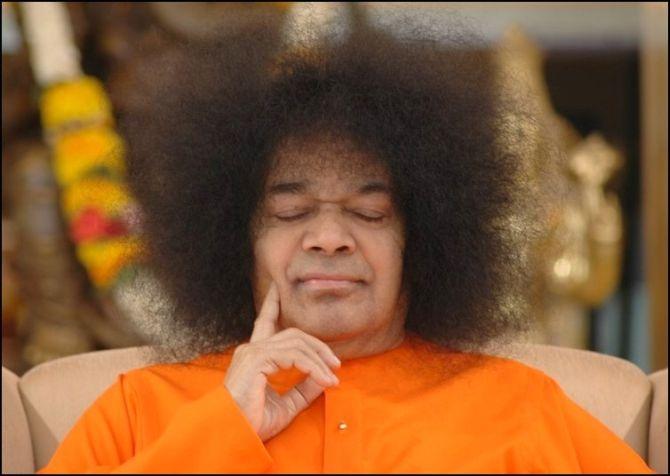 The list will remain incomplete without a mention of Sathya Sai Baba of Puttaparthi, probably the most famous guru with millions of followers across 126 countries.
Often regarded as 'Bhagwan', Sathya Sai Baba, who passed away in 2011, ruled the hearts of his devotees through many social service endeavours like building multi-specialty hospitals providing free treatment, schools and colleges among others.
However, his life and times were also marked by several serious controversies involving allegations of faking 'miracles', sexual abuse and even pedophilia -- all of them vociferously refuted by his followers.
Sai Baba has often been charged, both nationally and internationally, over the veracity of his 'miracles' -- be it producing holy ash or vibhuti, gold ornaments and rings from thin air -- by his critics. Skeptics and rationalists have alleged from time to time that his miracles 'were simple magic tricks to woo his devotees'. Nevertheless, such allegations, although never taken on directly by the Baba, have not dented the faith of his followers.
There have also been allegations, sometimes by former followers, that Sai Baba used to indulge in sexual abuses and pedophilia. However, the allegations have never been proven.
The biggest ever controversy to have haunted Sathya Sai Baba's Puttaparthy ashram Prashanti Nilayam was on June 6 1993, when four persons were shot dead by the police after they had allegedly stabbed four devotees in Baba's bedroom, killing two and serious injuring the other two.
There also have been allegations of misappropriation of funds in the name of donations in running the Rs 40,000 crore Sathya Sai Baba trust. Moreover, even after the Baba's demise, trustees found cash of Rs 11.5 crore, 98 kg of gold and silver articles weighing 307 kilograms from his private room, which again raised eyebrows. The money and valuables took 36 hours to be counted.