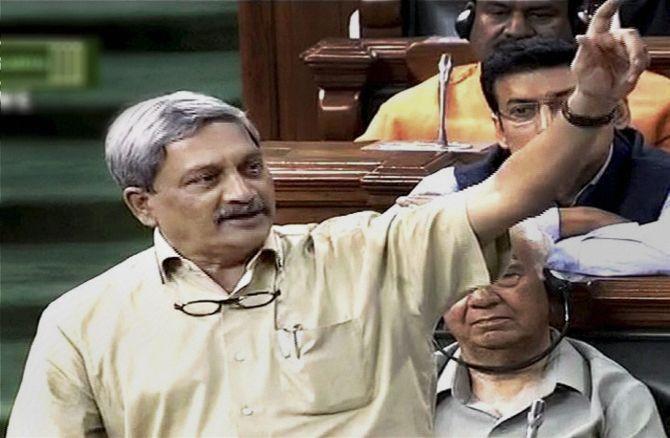 Mounting attack on the Congress, the government said on Friday the previous United Progressive Alliance government had 'done everything' to help AgustaWestland bag the chopper deal and asserted that the main beneficiaries of the kickbacks will be tracked so that 'may be we can do' what 'we could not do in Bofors'.
In a hard-hitting speech in the Lok Sabha, Defence Minister Manohar Parrikar said the 'entire corruption' in the deal took place during the UPA tenure but former Air chief S P Tyagi and Gautam Khaitan are 'small people' who 'simply washed their hands in a flowing ganga (of corruption)' and that the government will 'find out where the river was going'.
He said while the decision on the contract was taken in 2010, Tyagi had retired in 2007 and 'might have got just a 'chillar' (loose change)'.
Amid a walkout by the Congress, which was pressing for a Supreme Court-monitored probe, he said the Central Bureau of Investigation is 'very seriously' investigating the case.
"I hope members are satisfied and members will support government in finding the truth. The truth may lead to many unwanted realism. What we could not do in Bofors, may be we will do it in AgustaWestland," Parrikar said while replying to a debate on the Calling Attention Motion during which he continuously targeted the Congress but deliberately refrained from naming anybody.
He said the UPA government had 'done everything' to help AgustaWestland bag the Rs 3,600-crore deal for purchase of 12 VVIP helicopters and that its action against the company following the disclosure of corruption was not pro-active but 'forced by circumstances'.
He asserted that the government will recover damages to the tune of €398 million (Over Rs 300 crore) as well as the 'bribe'.
Referring to the Italian court's recent judgement, Parrikar said, with this, the criminal conspiracy has been established and 'we will get the documents very fast'.
Alleging that the Congress had close links with Christian Michel, the middleman in the deal, he said the contract was given to a company which had not even participated in the tendering process.
Finding loopholes in the deal, the Defence Minister said the tender was submitted by Italy-based AgustaWestland but the contract was given to the United Kingdom-based AgustaWestland International Ltd, which was not Original Equipment Manufacturer.
"I am shocked, how could you accept order from a company who has not given tender? They lost sense of proportion. They thought they will be in power forever. The smell and sight of Euro was so attractive, so intoxicating that they forgot everything. They should take consultation from Michel on how to cover up and how to do white wash," he said taking a dig at the Congress.
As the Congress created uproar and tried to disrupt his speech, he remarked, "Why are you (Congress) concerned? I have not named anybody. You seem to know where the ganga was going."
"An investigation is underway with regard to those who washed hands in the flowing ganga. Those who wash hands in the ganga have an idea about temperature of the water, how fast the water is flowing. Based on that, we are assessing whether water was cold or hot, whether the water had Hindi, English, Italian or German and what was the issue," Parrikar said.
Refusing to spell out what the CBI probe had revealed, the defence minister told the House, "I can assure you that I will not disappoint you."
He said he has already started personally 'monitoring' the probe even though the CBI and the Enforcement Directorate are not under him.
"I am personally taking interest into the sequence of events," he said.
When Communist Party of India-Marxist member Mohammed Saleem questioned how he could 'monitor' the CBI and whether it was not affecting its independence, the minister amended his version to say that he was not telling the CBI what to do but only 'trying to find out what they are doing' and 'monitoring its progress' to check if they are doing something.
He asserted that it was within his right as otherwise he would not be able to inform the House about the progress of the probe.
Parrikar, while giving details of the case, said the decision to prescribe higher cabin height of 1.8 metres of the helicopter was taken by the UPA government on May 9, 2005 and to buttress his point, he placed on the table of the House the minutes of the meeting that was chaired by the then National Security Advisor M K Narayanan.
Making 1.8 metre height of the cabin mandatory ensured that only AgustaWestland could qualify.
Noting that the scam surfaced in 2012, the defence minister said nothing was done by the UPA government till January 2014.
Describing the then Defence Minister A K Antony as 'bechara' (helpless), Parrikar contended that his 'hands were tied' and he took no action as he 'feared that his sainthood would be disrobed'.
He said Antony acted only after a top official of Finmeccanica, the parent company of AgustaWestland, was arrested in Italy in connection with bribery in the deal.
Soon after the arrest, Antony gave the files to the CBI in 2-3 hours, he said, adding, "He (Antony) wanted to protect his image....Whether he knew or didn't know, I don't know."
Responding to the Congress' contention that the Italian judge had said that there was no evidence against Sonia Gandhi, Parrikar said it was half-truth as the judge had said that it was for India to investigate and for its investigating agencies to 'prove the guilt of people who are suspected'.
With regard to the Congress charge that the Modi government had allowed an AgustaWestland affiliate to participate in another tender despite the company being blacklisted, the defence minister said the firm had only put on website its Request for Information which anybody can do in a digital world.
"Any person who wants can put his own information there. Now it is on open Internet and if anyone wants to put information, whether it is (Congress leader) Jyotiraditya Scindia, or Christian Michel or Agusta Westland, we cannot stop him," he said.
He then took a dig at the Congress, saying they seemed to know every action of AgustaWestland. He said he was not aware that the company had uploaded something on the website and he looked for it only after Congress raised the issue.
"So on RFI, if someone has put it, I didn't know. It came to my notice, when these people (the Congress) raised it. So with these (company) people, how much close relation they share, it comes to our mind. I didn't know about it that they have loaded information on RFI," Parrikar said.
Suggesting conspiracy to eliminate evidence in the deal, he referred to a 'mysterious' fire incident on July 3, 2014 in the Air Force headquarters here and said he would be asking the CBI to probe that.
He said all files were burnt in that fire but luckily three files related to the AgustaWestland deal were saved as those had been kept by an official in his locked drawer.
"If it was in somebody's mind to set it on fire, we think that failed as the official who was there because the Agusta issue was sensitive. He had locked the files in his drawer. So three files were saved and the three files related to AW-101 helicopters," the defence minister said.
"One good point is (that) everyone has agreed that corruption had taken place. It is clear that money has been paid to someone on the other side," the defence minister said pointing towards Congress benches.
"Euro 250.32 million was paid as advance. From that advance payment, whatever was to be received, that would have been distributed. And that is why these people were not considering withdrawing advance, because they might not have got kickbacks till then," Parrikar said.
He said Tyagi might have 'facilitated movement of documents....For this small work, what he had to get he might have received or not received, might have received partly. Who gave order in 2010?... How much that person has got we have to find that out.... He (Tyagi) was not there then'.
Parrikar said Tyagi 'would have got chillar (loose change) or 'prasad'. But when did the order go? Order went on February 8, 2010'.
He went on to add: "You can make out the mind. You require a criminal mind to think about the criminal, but you don't have to be criminal yourself. Why didn't they put on hold the full procurement on February 2012?"
Referring to the Italian court judgement, Parrikar said, "We don't have evidence against XYZ, I don't want to take name. Why should I unnecessarily get defamed? They (Court) said 'AP' means 'phuli phuli phuli'... Why do I have to unnecessarily spoil my own reputation by taking names? The whole world knows who is Signora and others."
Targeting Congress, he said they have links with Christian Michel. "Whatever they (company) write to the prime minister, they get to know.... They have found a witness a Michel and if we raise the Italian court verdict, they start making noise."
The defence minister said the Congress can get any document from Michel very fast as they are 'lucky' because 'they have support from all these people including Italian translation into English'.
He alleged that the UPA government had added certain paraphernalia to the Agusta chopper as a result of which its payload capacity had reduced substantially.
Responding to questions over the government still doing business with some subsidiary companies of Finmeccanica, he said the government has put on hold all future contracts with the company.
However, contracts which have been already signed are being honoured 'because to us national security is important'.
"The guns which are placed on top of naval ships are manufactured by Finmeccanica subsidiary. Will I compromise on security by depriving the naval ships of bullets by blacklisting them," he questioned.
Parrikar said the Congress government had talked about blacklisting Finmeccanica but did not do it and it was actually Arun Jaitley as defence minister in the current government who put all their contracts on hold.
He suggested that the UPA government had jeopardised even the security of the President.
Contending that all corruption in arms deal occurred during the UPA tenure, Parrikar said he was proud to say that there is not a single such allegation against the present government.
Image: Defence Minister Manohar Parrikar speaks in the Lok Sabha on Friday. Photograph: PTI Photo