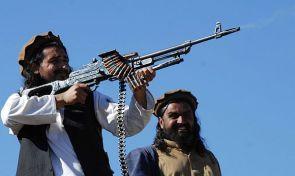 Pakistani Taliban chief Hakimullah Mehsud was among six militants killed in a US drone strike on Friday in the lawless North Waziristan tribal region.
Besides Mehsud, his uncle, bodyguard Tariq Mehsud and driver Abdullah Mehsud were killed when the CIA-operated spy plane targeted a compound in Danday Darpakhel area of North Waziristan Agency, Pakistani media reported.
Taliban sources confirmed that Mehsud has been killed and the funeral will be held in Miranshah on Saturday at 3 pm.
Earlier, intelligence sources were quoted by Dawn as saying that the attack left Mehsud dead. Geo News too quoted security sources as confirming the Taliban chief's death.
The compound was "completely destroyed" when two missiles hit it while an important meeting of the Taliban was being held there, the sources said.
There was no official word on the killing of Mehsud. This would be the latest in a string of setbacks for the top leadership of the Taliban and Al Qaeda, who have been repeatedly targeted by US drones in the tribal belt.
Pakistani and international media had reported Mehsud's death several times in the past but he had surfaced after lying low for some time.
Interior Minister Chaudhry Nisar Ali Khan called up Prime Minister Nawaz Sharif and a host of political leaders to discuss the fallout of the strike.
He claimed the strikes were aimed at sabotaging efforts for establishing peace in the country. "A delegation was about to be sent to talk to Taliban tomorrow (Saturday)," he said.
The drone strike came days after US special forces captured TTP deputy chief Latif Mehsud in Afghanistan. This was the second drone strike in two days. Three suspected militants were killed in an attack on Thursday.
It was also the second drone strike since Prime Minister Nawaz Sharif visited the US last month. Sharif had raised the strikes during his meeting with President Barack Obama in Washington and asked the US to halt the attacks.
Danday Darpakhel area is located five kilometres north of Miranshah, the main town of North Waziristan Agency, which is described by US and Afghan officials as a safe haven for Taliban and Al Qaeda elements.
The compound targeted in today's attack was reportedly used by Mehsud. The TTP has a central office in the area that Mehsud frequently visits, sources said.