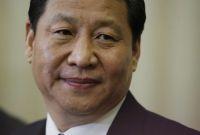 It was a week of major developments on the foreign affairs front for India.

In Washington, DC, an incumbent regime has been voted back to power. While that in itself may not mean major foreign policy reworking on India's part, it would mean some adjustment in focus, perhaps, to ensure that the wrinkles in the bilateral ties are ironed out soon.

Inscrutable China is another ball game altogether. With a new leadership set to take over the communist nation on Friday, the task before newly-appointed Foreign Minister Salman Khurshid assumes an even greater sense of urgency. The need to balance Washington, DC, and Beijing, tricky at the most benign of times, pose a challenge now.

On November 9, Srikanth Kondapalli, professor in Chinese studies at the Jawaharlal Nehru University, interacted with Rediff readers on the transition of power in China during a live chat.
We present the chat transcript.
Suvarna: With the new leadership taking over in Beijing, will we see any new direction vis-a-vis Tibet, you think?
Srikanth Kondapalli: Hi Suvarna! Thanks for the query. The new leadership will definitely take a major policy decision on Tibet as it had been configured as one of the two "core interests" by the Chinese leaders (the other being Taiwan).
Also, the new leader Xi Jinping, who is expected to take over as general secretary of the party, had taken over the charge of Central Tibetan Work Committee from Jia Qinglin in July 2011.
Mr Xi also had toured Tibet extensively and met the political leadership, the military and the para-military there. It then appears that he wanted to have a first-hand information about Tibet before he implements his policy.
Mr Xi's father Xi Zhongshun was one of the few who met the Dalai Lama, with the latter gifting him with a watch! Thirdly, Xi as the party secretary of Zhejiang Province had organised a World Buddhist Conference in 2006. Xi's wife Peng Liyuan is a devout Buddhist.
Overall, Xi is known to be a moderate and relatively tolerant.
xxx: China and India began their journey almost simultaneously. But the huge advances the Chinese made can't be put down entirely to its absence of democracy, can it? There must be something in the Chinese genetic frame, which perhaps we lack, that makes them so focused on their goal, while we Indians are happy to squander our strengths in internecine battles. What do you think?
Srikanth Kondapalli: I agree with you. China's management related issues are superb. Their learning capacity and hardwork are legion. We need to learn from them.
Southee: What should India do or achieve to earn respect from China? We all know that China and India are unequal in terms of Economic wise, International Political influence wise and Military wise, so I think there won't be any friendship between these two countries. Do India have to give concessions forever to keep China from hurting us?
Srikanth Kondapalli: Thanks for that interesting question. My answer is that India should keep its house in order and embark on economic development.
Phenome: Will the South China Sea continue to exercise passions among the dragon's neighbours? And will India continue to fish in troubled waters, you think? Will the leadership be more amenable on this issue?
Srikanth Kondapalli: Phenome! That's a billion dollar question!! This issue is a significant issue and is of concern to several countries and regional security. Firstly, South China Sea islands have been depicted as a third "core interest" of China officially in 2009. It appears that China had communicated as such three times in writing on the subject.
Secondly, there is rising nationalism in China which needs to be factored by the party which may also trigger nationalism as it controls the levers of media power.
Thirdly, the Chinese military is also egging on the leadership to resolve this issue by use of force or threat of use of force. For the new leadership, this issue is an opportunity as well as a challenge -- opportunity because it could ride on the rising nationalism in the country and consolidating its power. It is a challenge because of the couter-protests in Vietnam and Philippines and the US "re-balancing" in the region.
Also, Xi Jinping is in charge of the South China Sea emergency rehabilitation centre in the small leading group of the standing committee of the politburo. So he will be careful on this issue.
Deepak: Do you know there is a strong possibility of sudden collapse of chinize economy in near future....
Srikanth Kondapalli: My answer is in the negative Deepak. China's economic growth rates are declining due to the global financial crisis and Euro Zone crisis. However, this is also happening with many other countries. Nevertheless, China is more dependent on exports than say India is.
Image: China's president-in-waiting Xi Jinping
Photograph: Jason Reed/Reuters