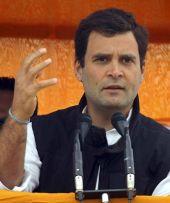 Rahul Gandhi is set to assume a "larger" role in the Congress very soon with the reshuffle of the All India Congress Committee secretariat on the cards this week.
With the much talked about rejig of the Union Council of Ministers over on Sunday, Congress president Sonia Gandhi is expected to focus her attention to the organisational changes to make the party battle ready ahead of Lok Sabha elections.
"Well, I have already mentioned a number of times that I will be happy if he joins the Cabinet, but he has other pre-occupations. He wants to strengthen the party," was the refrain of Prime Minister Manmohan Singh today when asked about Gandhi.
An indication to Rahul's imminent promotion in party hierarchy was available when party general secretary Digvijay
Singh told mediapersons in Bhopal to wait till the reshuffle in the party when he was asked why Gandhi was not taken into the Cabinet or given any new post in the party.
"When there will be reshuffle in Congress, wait till that time," he said.
Another senior AICC functionary speaking in the national capital hinted that the much awaited reshuffle of the organisation is likely to happen "anytime now".
Union Minister Ambika Soni, who resigned from the Cabinet on Saturday, is tipped to play a key role in the organisational affairs.
She had earlier been the political secretary to Congress president as well as the AICC general secretary in-charge of media department.
A number of general secretaries in AICC are likely to be changed in the upcoming organisational reshuffle.