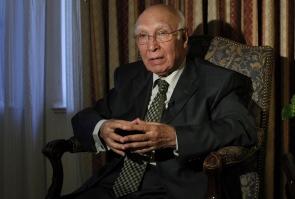 Amid continued strain in ties, Pakistan on Wednesday said it does not see any prospect of having structured talks with India in the near future and made it clear that the ball is in India's court to initiate dialogue.
Pakistan Prime Minister's Advisor on Foreign Affairs and National Security Sartaj Aziz said India had cancelled the Foreign Secretary-level talks and it was for it to initiate talks.
"I do not see any structured talks between the two countries any time soon," Aziz said when asked whether there was any possibility of talks between the two countries.
Noting that Pakistan was ready for talks, he said the initiative has to come from India.
"We are ready for talks with India. But the initiative will have to come from India as they had cancelled the Foreign Secretary-level talks," he said.
External Affairs Ministry Spokesman Syed Akbaruddin said India has no plans for a structured meeting between Prime Minister Narendra Modi and his Pakistani counterpart Nawaz Sharif on the sidelines of the 18th South Asian Association for Regional Cooperation summit in Kathmandu.
"We don't have any plan for a structured meeting between our prime minister and the Pakistani prime minister simply because we have not received a request to that extent," Akbaruddin said.
Prime Minister Modi held bilateral talks with presidents of Afghanistan, Maldives and Sri Lanka and prime ministers of Bhutan and Bangladesh.
Asked about Modi raising the issue of 26/11, Aziz said it was the sixth anniversary of the attack and that is why the Indian prime minister mentioned it.
Queried about tension along the LoC, Aziz said, "India maintains Pakistani side violated the ceasefire while Pakistan maintains it was India."
India and Pakistan have been involved in a war of words after New Delhi cancelled the foreign secretary-level meeting in August after Pakistan's envoy in India met Kashmiri separatists ahead of the talks.